Du 10/04 au 17/04
Electrons Can Split Into Two
'Dr Who's sonic screwdriver invented at Dundee University
19 April 2012Last updated at 14:59 GMT It is hoped the Dundee device could improve ultrasound surgery Scientists claim to have invented their own version of Doctor Who's famous sonic screwdriver. The Dundee University researchers have created a machine which uses ultrasound to lift and rotate a rubber disc floating in a cylinder of water. It is said to be the first time ultrasound waves have been used to turn objects rather than simply push them.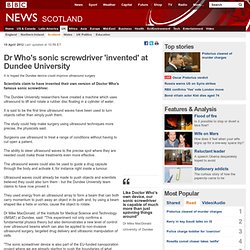 Ettore Majorana (Catane, Sicile, 5 août 1906, présumé disparu en mer Tyrrhénienne le 27 mars 1938) avait selon les dires de son mentor, Enrico Fermi, une intelligence supérieure à la sienne. © DP-Wikipédia Des fermions de Majorana auraient bien été produits dans un transistor - 2 Photos À lire, notre dossier sur l'ordinateur quantique Il y a plus d'un mois, on apprenait de Leo Kouwenhoven, un physicien de l'université de Delft, lors d'un colloque de l'American Physical Society, que lui et ses collègues avaient probablement découvert les premiers signes convaincants de l'existence de fermions de Majorana. Il ne s'agit pas de particules fondamentales, comme le sont jusqu'à nouvel ordre les électrons, mais d'excitations quantiques particulières au sein d'un solide, comme le sont les phonons impliqués dans la supraconductivité.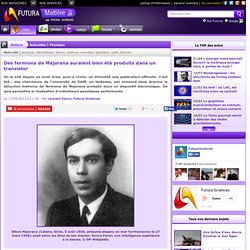 Des fermions de Majorana auraient bien été produits dans un transistor
Une : "Une caméra pour voir à travers les murs
One of the most terrifyingly incomprehensible theories in physics...explained!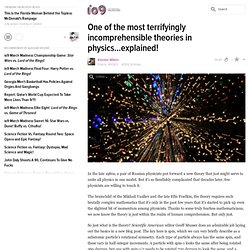 I think common or garden string theory also has higher (>2) spin fields, corresponding to excited string modes. But they're massive. Whereas in Vasiliev theory they're massless. Vasiliev theory keeps getting mentioned lately in relation to dS/CFT correspondence, i.e. a holographic principle, in which the string theory/theory of gravity in the de Sitter space (that is, 3+1 dimensional spacetime with a positive lambda, like our universe) is dual to a quantum field theory without gravity on the conformal boundary (with one less dimension).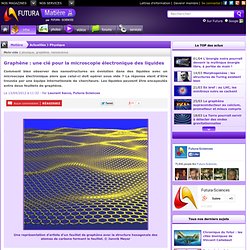 Graphène : une clé pour la microscopie électronique des liquides
Une représentation d'artiste d'un feuillet de graphène avec la structure hexagonale des atomes de carbone formant le feuillet. © Jannik Meyer Graphène : une clé pour la microscopie électronique des liquides - 2 Photos La nanotechnologie bouleversera-t-elle notre monde ? On peut l'espérer mais il faudra attendre probablement quelques dizaines d'années pour savoir si les rêves de certains à son sujet sont à la hauteur de la réalité.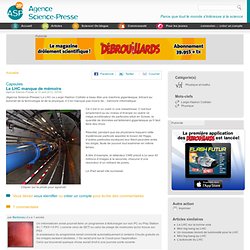 Le LHC manque de mémoire
(Agence Science-Presse) Le LHC ou Large Hadron Collider a beau être une machine gigantesque, trônant au sommet de la technologie et de la physique, il n'en manque pas moins de... mémoire informatique. Cliquer sur la photo pour agrandir Ce n'est ni un oubli ni une maladresse.
By Jim Heirbaut, ScienceNOW For more than a decade, physicists have been developing quantum mechanical methods to pass secret messages without fear that they could be intercepted. But they still haven't created a true quantum network — the fully quantum-mechanical analog to an ordinary telecommunications network in which an uncrackable connection can be forged between any two stations or "nodes" in a network.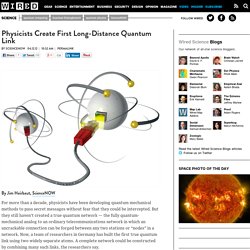 Physicists Create First Long-Distance Quantum Link | Wired Science