Acta
No to ACTA flyer. You will find here a flyer against ACTA which you can use, share, remix and translate.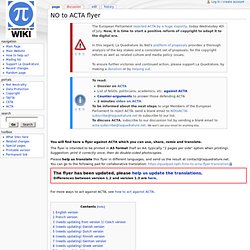 The flyer is intended to be printed in A5 format (half an A4, typically "2 pages per side" option when printing). Suggestion: print it correctly once, then do double-sided photocopies. Please help us translate this flyer in different languages, and send us the result at contact@laquadrature.net. You can go to the following pad for collaborative translation: For more ways to act against ACTA, see how to act against ACTA. Romanian Prime Minister Admits He Has No Idea Why Romania Signed ACTA. ACTA: The new threat to the net.
2,008,307 have signed.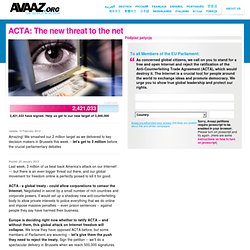 Help us get to our new target of 3,000,000 Update: 10 February 2012 Amazing! Acta. ACTA. ACTA.
---