ACTA & Generic drugs
THE DOHA DECLARATION ON THE TRIPS AGREEMENT AND PUBLIC HEALTH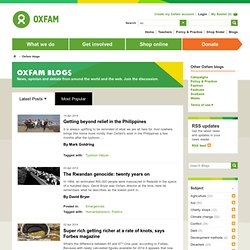 This week, food writer and UK poverty campaigner Jack Monroe is visiting Oxfam's projects in Tanzania. Here she writes about why she has gone on this trip to "meet women who have made... In Yemen, families who have been affected by the humanitarian and economic crisis have been receiving livestock to help them improve their income and rebuild their lives. For Suad, the donation of... Oxfam's Jane Beesley reports on a Christmas different from other years, among the survivors of Typhoon Haiyan in Tacloban, central Philippines. ... In the month since Typhoon Haiyan cut a deadly path across the central Philippines on 8 November, generous supporters have donated £5 million to Oxfam's response.
Oxfam: Secret plans to criminalize generic medicines could hurt poor people » Oxfam News Blog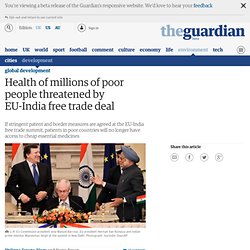 Health of millions of poor people threatened by EU-India free trade deal | Philippe Douste-Blazy and Denis Broun | Global development
L-R: EU Commission president Jose Manuel Barroso, EU president Herman Van Rompuy and Indian prime minister Manmohan Singh at the summit in New Delhi. Photograph: Gurinder Osan/AP Current negotiations on a free trade agreement (FTA) between the European Union and India are causing serious concern in many quarters over future access to cheap generic medicines used to treat some of the world's great public health threats: HIV, tuberculosis and malaria, and also cancer. Those fears are well founded: if the EU and India agree on stringent patent and border measures, India's role as the "pharmacy of the south" could well come to an end. The result could see patients in poor countries facing stock-outs, price increases and even having to pay the full cost of their treatment – meaning that only the richest among them will get treated.