ACTA & Generic drugs
In 2001, WTO Members adopted a special Ministerial Declaration at the WTO Ministerial Conference in Doha to clarify ambiguities between the need for governments to apply the principles of public health and the terms of the Agreement on Trade-Related Aspects of Intellectual Property Rights (TRIPS). In particular, concerns had been growing that patent rules might restrict access to affordable medicines for populations in developing countries in their efforts to control diseases of public health importance, including HIV, tuberculosis and malaria. The Declaration responds to the concerns of developing countries about the obstacles they faced when seeking to implement measures to promote access to affordable medicines in the interest of public health in general, without limitation to certain diseases. While acknowledging the role of intellectual property protection "for the development of new medicines", the Declaration specifically recognizes concerns about its effects on prices.
THE DOHA DECLARATION ON THE TRIPS AGREEMENT AND PUBLIC HEALTH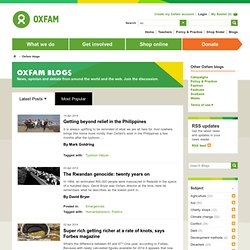 The candelit vigils took place in 20 countries around the world and were organised by Save the Children, Oxfam and other partners. Areeg Hegazi, Oxfam's Middle East Policy Adviser, was involved in the vigil that took place in Moustafe Mahmoud Square in Egypt. "As it was nearing dawn, we started to light up the candles, some of the young men and women started forming the letters 'Syria' in Arabic on the floor. Syrians... Read more Find out more about Oxfam's UK Poverty Programme.
Oxfam: Secret plans to criminalize generic medicines could hurt poor people » Oxfam News Blog
Health of millions of poor people threatened by EU-India free trade deal | Philippe Douste-Blazy and Denis Broun | Global development
L-R: EU Commission president Jose Manuel Barroso, EU president Herman Van Rompuy and Indian prime minister Manmohan Singh at the summit in New Delhi. Photograph: Gurinder Osan/AP Current negotiations on a free trade agreement (FTA) between the European Union and India are causing serious concern in many quarters over future access to cheap generic medicines used to treat some of the world's great public health threats: HIV, tuberculosis and malaria, and also cancer. Those fears are well founded: if the EU and India agree on stringent patent and border measures, India's role as the "pharmacy of the south" could well come to an end. The result could see patients in poor countries facing stock-outs, price increases and even having to pay the full cost of their treatment – meaning that only the richest among them will get treated.