Hydroelectric Power
Get flash to fully experience Pearltrees
Water has long been used as a source of energy, beginning with the Greeks use of water wheels over 2,000 years ago. For over a century, hydropower has been used to generate electricity from falling water. Hydroelectric power stems from the process of using water's energy as it flows from higher to lower elevation, rotating hydraulic turbines to create electricity. Tidal power, although not widely used, can also generate hydroelectricity by utilizing the same principle. Hydropower is considered to be a clean, renewable source of energy, emitting a very low level of greenhouse gases when compared to fossil fuels. It has a low operating cost once installed and can be highly automated.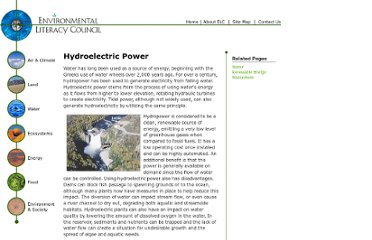 Hydropower advocates must be puzzled by President Obama's plan to build a nation powered by clean energy. As the Obama administration promotes an ambitious new goal to produce 80 percent of the nation's energy from clean resources by 2035, Obama's budget proposal for fiscal 2012 would slash funding for hydropower research and development by 21 percent. Talk about irony. Hydropower is the world's largest and most reliable form of renewable power, and it deserves a strong presence in any comprehensive plan to generate more clean energy in the U.S. Cutting funding for hydropower research and development amid deepening concerns about climate change is a crime against common sense. Improvements in turbine design and technology can significantly boost the capacity of existing hydro plants and help realize the power potential of America's ocean waves, tides and river currents.
[social_buttons] July 1, 2009 – The U.S. Department of Energy Secretary Steven Chu announced today that up to $32 million dollars of Recovery Act funding will be used to expand the harvest of hydroelectric power . "There's no one solution to the energy crisis, but hydro-power is clearly part of the solution and represents a major opportunity to create more clean energy jobs," said Secretary Chu.
Hydroelectric power must be one of the oldest methods of producing power. No doubt, Jack the Caveman stuck some sturdy leaves on a pole and put it in a moving stream. The water would spin the pole that crushed grain to make their delicious, low-fat prehistoric bran muffins.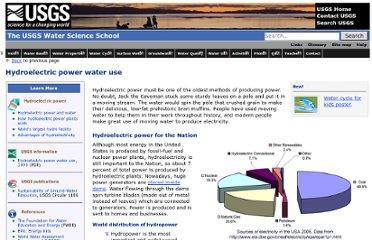 So just how do we get electricity from water? Actually, hydroelectric and coal-fired power plants produce electricity in a similar way. In both cases a power source is used to turn a propeller-like piece called a turbine, which then turns a metal shaft in an electric generator , which is the motor that produces electricity.