Internet
20 Things Happened on the Internet Last Year and Someone Drew a Picture of It
The Deep Web: The Internet's Obscure Data Mine - Technorati Technology
Deep Web. Invisible Web. The Hidden Internet.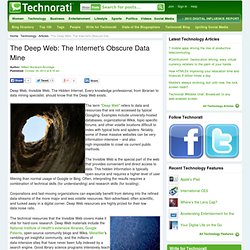 Back in October, I began a niche marketing experiment using Squidoo and good keyword research to generate traffic to a niche blog. Between good keyword use and Squidoo lenses, I wanted to generate a profitable, organic niche marketing campaign. I wrote one article to also promote this effort. Niche Marketing with Blogs and Squidoo
Niche Marketing with Squidoo | Why Everyone Should Use Squidoo f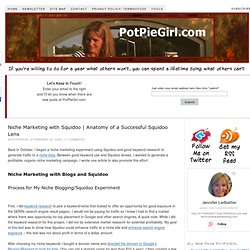 Six Best WordPress Plug Ins for Niche Websites | Easy and Profit
I make niche websites. I make a LOT of niche websites. I have this theory that while one niche website is good… many, many websites is WAYYY better!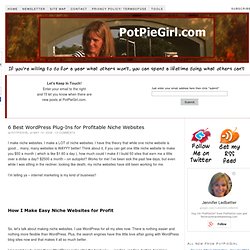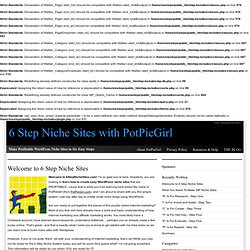 Welcome to 6 Step Niche Sites Welcome to 6StepNicheSites.com! I'm so glad you're here. Hopefully, you are looking to learn how to create easy WordPress niche sites that are PROFITABLE - cause that is what you'll be learning here today!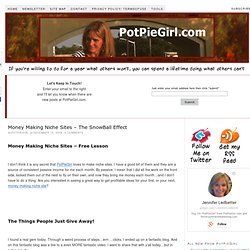 Money-Making Niche Sites - The SnowBall Effect Of Adsense Niche
Money Making Niche Sites – Free Lesson I don't think it is any secret that PotPieGirl loves to make niche sites. I have a good bit of them and they are a source of consistent passive income for me each month. By passive, I mean that I did all the work on the front side, kicked them out of the nest to fly on their own, and now they bring me money each month…and I don't have to do a thing. Are you interested in seeing a great way to get profitable ideas for your first, or your next, money-making niche site? The Things People Just Give Away!
I get a LOT of questions about niche websites. These questions are mainly about using free blog platforms from WordPress or Bloggers BlogSpot vs using your own domain and your own hosting – and all the confusion about how this all works. So, lets talk about Blogspot vs WordPress, Free vs Paid, and niche sites.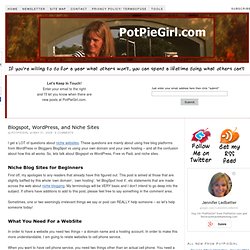 Niche Site Blog Options | WordPress vs BlogSpot - Free vs. Paid
Speed Test - dslreports.com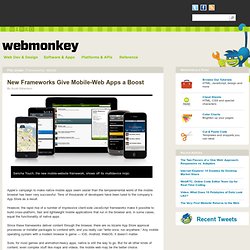 New Frameworks Give Mobile-Web Apps a Boost | Webmonkey | Wired.
Apple's campaign to make native mobile apps seem sexier than the temperamental world of the mobile browser has been very successful. Tens of thousands of developers have been lured to the company's App Store as a result. However, the rapid rise of a number of impressive client-side JavaScript frameworks make it possible to build cross-platform, fast and lightweight mobile applications that run in the browser and, in some cases, equal the functionality of native apps. Since these frameworks deliver content through the browser, there are no bizarre App Store approval processes or installer packages to contend with, and you really can "write once, run anywhere." Any mobile operating system with a modern browser is game — iOS, Android, WebOS, it doesn't matter.