Communication tech solutions
RFID projects have been pretty prominent recently, ranging from projects here in Instructables, to our local Silicon Chip magazine in Australia publishing a RFID door lock project in their November issue. Even I recently purchased a RFID door lock on eBay for $15 to lock my garage (so my front neighbor could get tools if he wanted to). We have known that the cheaper RFID technologies were pretty insecure for a number of years. Researchers have demonstrated cloners of all varieties, but simple RFID tags are still being used for access control.
A Universal RFID key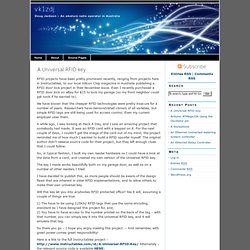 All times are GMT -5. The time now is 09:15 AM. Powered by vBulletin® Version 4.1.6 Copyright © 2014 vBulletin Solutions, Inc. All rights reserved. This website and its content is copyright of iPadForums.net - © iPadForums.net 2013.
Wifi Tether a Motorola Droid to an iPad - Apple iPad Forum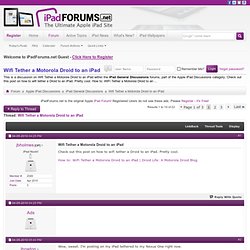 Wolfram|Alpha Widgets - Create, Share, and Embed Widgets for Free
The following are news announcements made during the past week. ARC Advisory Group Finds More Companies Plan on RFID to Manage Assets A growing number of companies are leaving bar codes behind and leveraging radio frequency identification to help manage their corporate assets, according to a new report from research and advisory services firm ARC Advisory Group. The report, entitled "RFID Enables Improvement for Mobility and Enterprise Asset Management," is based on a survey of 65 companies and accompanying research that examines the current status of and future plans for enterprise asset management (EAM) systems. Of those surveyed, 12 percent indicated they were already using RFID, but another 20 percent said they have budgeted to add the technology in their EAM systems this year. Most participants have multiple sites, and their responses represent input from more than 1,300 facilities.
RFID News Roundup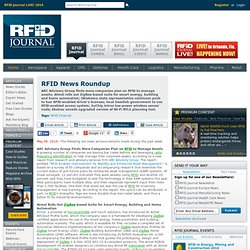 Welcome to The Hitchhiker's Guide to Packaging — The Hitchhiker's Guide to Packaging v1.0 documentation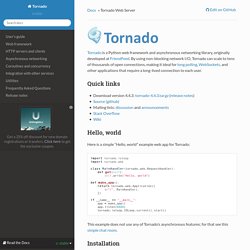 Tornado is a Python web framework and asynchronous networking library, originally developed at FriendFeed. By using non-blocking network I/O, Tornado can scale to tens of thousands of open connections, making it ideal for long polling, WebSockets, and other applications that require a long-lived connection to each user. Upgrade notes As of Tornado 3.2, the backports.ssl_match_hostname package must be installed when running Tornado on Python 2.