510 Mathematics
Los módulos del Curso de Especializacion en Matematica para Tercer Ciclo son los siguientes: Álgebra de Números Reales.Estudio de Funciones.Geometría Euclidiana.Trigonometría y Transformaciones geométricas en el plano.Teoría del Número.Teoría Combinatoria y Probabilidad.Estadística.Didáctica de las Matemáticas. Los módulos son independientes entre sí (ninguno de ellos es requisito de cualquier otro) y se desarrollan en 40 horas efectivas de trabajo presencial y 40 horas de trabajo individual y virtual por parte de los docentes.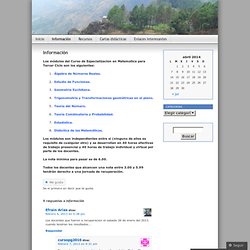 Información « Cursopg2010's Blog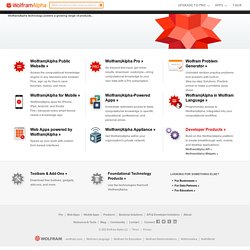 Wolfram|Alpha: Products
<span>To see full output on this page you need to enable JavaScript in your browser.&nbsp;&nbsp;&nbsp;<a href="http://www.wolframalpha.com/input/nojs.jsp">More info &raquo;</a></span> Products
Florida Virtual School - Student Activities & Resources
What is FLVS? We're glad you asked! Florida Virtual School is a public school but, as you can probably tell, we're not just any public school. We're online. This means no matter where you live you can access more than 120 courses, from Geometry to AP Art History and everything in between. What's more, our courses are just as real as the dedicated, certified teachers who teach them.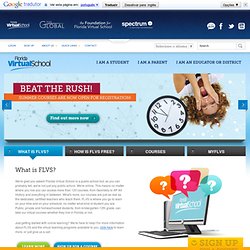 Free and Subscription Lessons - Comprehensive Web-based Algebra Course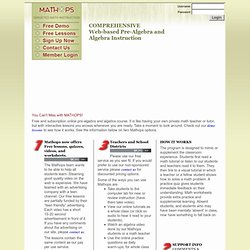 You Can't Miss with MATHOPS! Free and subscription online pre-algebra and algebra course. It is like having your own private math teacher or tutor, but with interactive lessons you access whenever you are ready. Take a moment to look around. Check out our demo lessons to see how it works.
Class.com is an industry-leading provider of online learning solutions that engage and inspire students and adult learners with innovative, media-rich courseware designed to help them succeed. Our secondary school courses, turnkey virtual school solutions, and instruction bring together the best of current technology and evidenced-based curriculum design. Contact us to learn about the online learning solutions we can create for you.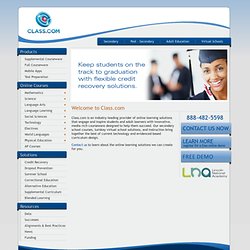 Class.com - eLearning That Works!
LearnAlberta.ca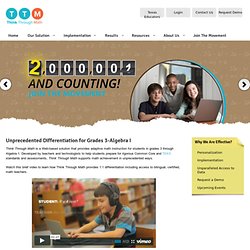 Online math supplemental tutoring solutions for middle & high schools by Apangea Learning
Think Through Math is a Web-based solution that provides adaptive math instruction for students in grades 3 through Algebra 1. Developed by teachers and technologists to help students prepare for rigorous Common Core and TEKS standards and assessments, Think Through Math supports math achievement in unprecedented ways. Watch this brief video to learn how Think Through Math provides 1:1 differentiation including access to bilingual, certified, math teachers.
Business IT Support, Healthcare consulting, EMR, Network Services, Computer Support, IT Consulting - Redding, Shasta County, Anderson | Apex Technology Management
Apex Technology Management is your partner in both quality Computer Support and the long-term success of your business. With service plans that are based on a flat monthly fee, you get customized Network Services for one predictable price. We are "customer obsessed", always dedicated to providing the premium IT services and support our valued clients can truly rely on. Our flat-rate IT Consulting lets you enjoy the benefits of world-class technology for a fixed monthly fee in Redding, Shasta County and Anderson. With Apex as your single point of contact for all things IT, you can: Enjoy increased productivity – less downtime translates into more work timeKeep focused on your bottom line – because we have your technology under controlMake a sound IT investment – by utilizing technology that pays for itself.Safeguard your business – we make certain your network is completely secureBreathe easy – say goodbye to surprise bills related to broken technology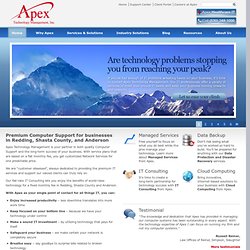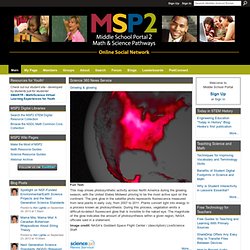 Growing & glowing Full Text: This map shows photosynthetic activity across North America during the growing season, with the United States Midwest proving to be the most active spot on the continent.
NSDL Middle School Portal for Math and Science Teachers
Figure This! Math Challenges for Families - Challenge Index
Shodor: A National Resource for Computational Science Education
Trabajos de Matemáticas
Ajedrez por computadora Sistemas inteligentes aplicados. Inteligencia estratégica. Ajedrez.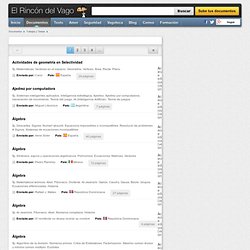 Graphmatica by kSoft
InterActMath.com