3dp Art
tracking the use of 3dp to make art gerald.barnett Jul 30
3D Printing's Rule 34 - Fabbaloo Blog - Fabbaloo
Charles Stross's latest science fiction novel, Rule 34, includes a whole lot of deep thinking on the implications of widespread 3D printing. We've discussed some of these issues before, but Stross's novel proposes another more aggressive solution: forbidden shapes. In other words, 3D printers could be rigged to detect and prevent the production of certain objects deemed illegal. The printers may even report you for attempting such, too. This isn't without precedent; for many years common office photocopiers have had secret built-in code to detect the copying of currency.
Entoforms | Future Fossils by macouno
3D printer used in Coraline animation
High-end 3D printer art - Boing Boing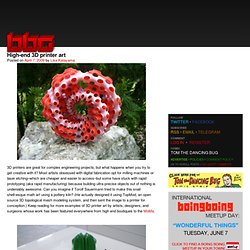 3D printers are great for complex engineering projects, but what happens when you try to get creative with it? Most artists obsessed with digital fabrication opt for milling machines or laser etching–which are cheaper and easier to access–but some have stuck with rapid prototyping (aka rapid manufacturing) because building ultra-precise objects out of nothing is undeniably awesome. Can you imagine if Torolf Sauermann tried to make this snail shell-esque math art using a pottery kiln? (He actually designed it using TopMod, an open source 3D topological mesh modeling system, and then sent the image to a printer for conception.)
High-end 3D printer art - Boing Boing
A complete guide from jewelry design to 3D printer
Whether you're here to shop, learn about how it's done, or just see some art, I hope you enjoy these designs. This is my full-time job, and I'm glad I can bring my work directly to you on this site. Prices are as low as I can make them and keep doing it: $30-85 for art and math minis, $200-500 for larger sculpture and math models, and laser glass runs $20 to 105, from keychains to Mega DNA. Thanks for visiting! More designs in more materials at Shapeways...