Iphone 3D
Trimensional application, iPhone 3D Scanner | Review Gadget Online
iPhone 4 vs Kinect controller ?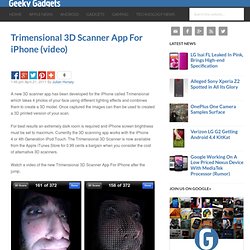 Trimensional 3D Scanner App For iPhone (video)
A new 3D scanner app has been developed for the iPhone called Trimensional which takes 4 photos of your face using different lighting effects and combines them to create a 3D model. Once captured the images can then be used to created a 3D printed version of your scan. For best results an extremely dark room is required and iPhone screen brightness must be set to maximum. Currently the 3D scanning app works with the iPhone 4 or 4th Generation iPod Touch.
The world's first 3D scanner for iPhone is here. Instantly capture 3D models of yourself, friends, and family, and share the amazing results with the world. Trimensional uses both the screen and the front-facing camera on your iOS device, detecting patterns of light reflected off your face to build a true 3D model. Not only is it incredible technology, but it's incredibly fun! Capture goofy expressions, view your face from any angle, and customize the look of the 3D rendering before sending it off to all of your friends.
Download Trimensional 1.02 for iPhone Free Trial - Capture 3D models of yourself, friends, and family, and share the amazing results with the world.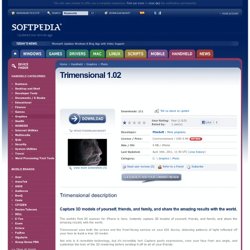 Trimensional, a 1 dollar app that turns your iPhone into a 3D scanner, has received an update that allows yours to e-mail animated videos of their 3D models. For a few extra dollars, professional artists and designers can extend the app's functionality to export their creation to 3D applications or CAD programs. Created by Grant Schindler, a research scientist in Georgia Tech's College of Computing, Trimensional uses the iPhone's screen to quickly shine different lighting patterns onto whatever's sitting in front of the phone. Then, using the front facing camera found on the iPhone 4, iPod touch 4G, or iPad 2, the app snaps a photo and boom!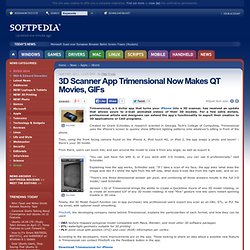 3D Scanner App Trimensional Now Makes QT Movies, GIFs