3D Printer Manufacturers
Preoviding a knowledge base of 3D printers and the people that manufacture them. luketheyeti May 19
3D Printers & 3D Production Systems | Stratasys Products
Stratasys Idea Series It's not just a 3D printer. It's an idea engine.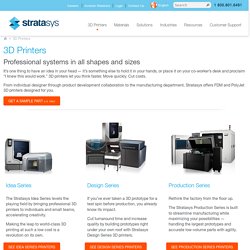 3D Printers Whatever you imagine, there's a Dimension 3D Printer to build it. View chart comparing BST 1200es, SST 1200es, and Elite 3D printers.
3D Printing Machine Selector Guide | Dimension 3D Printers
3D Systems has long been committed to providing great technology and choice to the growing 3D Printing segment. In 2009 we launched our first sub $10K 3D printer and began to better understand the barriers to broad utilization. We are now working on a multi-front strategy to democratize access and accelerate the adoption of 3D printing for the student, the hobbyist and ultimately, the consumer.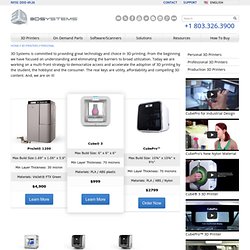 The Fastest, Most Affordable, Color 3D Printing ZPrinters set the standard for speed, color, affordability and ease of use. Our 3D printers suit a wide variety of customer needs , from high school education through the most demanding commercial environments. In addition, 3D Systems provides 3D printing materials to suit many applications.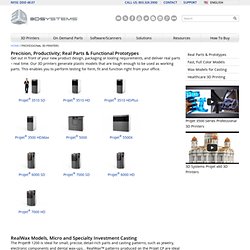 Electro Optical Systems
Optomec - Printed Electronics and Laser Additive Manufacturing Systems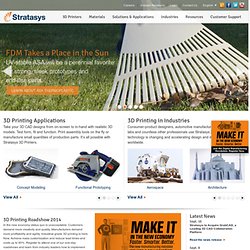 geometries - 3d printing and rapid prototyping > 3D-Printer > products_overview
The Objet Connex family of multi-material 3D printers are precision tools for turning creative ideas and designs into uniquely realistic models, parts and prototypes.
High-precision 3D printers for lost wax investment casting and mold making | Solidscape