3D Printer Manufacturers
Preoviding a knowledge base of 3D printers and the people that manufacture them. luketheyeti May 19
3D Printers & 3D Production Systems | Stratasys Products
Stratasys Idea Series It's not just a 3D printer. It's an idea engine.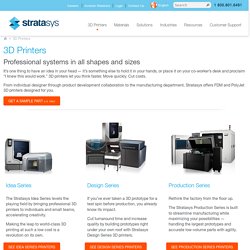 Bring Performance Prototyping In-House The Dimension 1200es features the largest build envelope of any Stratasys Design Series performance 3D printer. Running on Fused Deposition Modeling (FDM) Technology, it prints in nine colors of real ABSplus thermoplastic. This 3D printer lets you choose fine resolution or faster printing, with layer thicknesses of 0.254 mm (0.010 in.) or 0.33 mm (0.013 in.). Image Gallery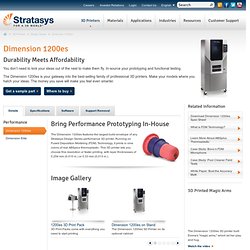 Electro Optical Systems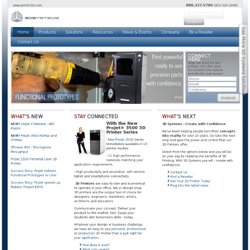 - New ProJet 3500 Series immediately available in 10 printer models - 11 high performance materials matching your application requirements - High productivity and resolution, with remote tablet and smartphone connectivity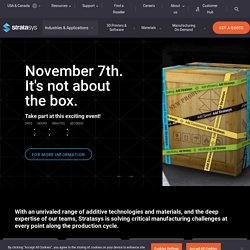 Striving for the Perfect Ride Check out the prototyping shop at Trek Bicycles, where designers obsess over the world's best bikes. Trek relies on the Objet500 Connex3 for ultra-realistic color, multi-material prototypes.
Optomec - Printed Electronics and Laser Additive Manufacturing Systems