21st Century Learning
We are a group of educators and technologists interested in anything to do with 21st century teacihng and learning, as well as using social media. edudemic Jun 21
How Teachers Can Best Use Education Technology 4.54K Views 0 Likes Edtech isn't the final solution for education's problems. It's a powerful addition to classrooms though, so it's time to ask: what is the point of education technology?
The History Of Online Education
Recently, I saw a post on a discussion board that asked, "Whatever happened to iBooks?" I found that a really entertaining concept, because my EdTechTeacher colleague – Greg Kulowiec – and I have spent hours on iBooks this summer in our workshops. In fact, iBooks is one of the first apps that we discuss, and one of the last ones that we reference. However, our use of this tool follows along a path from consumption to creation . In our workshops, we begin by discussing how Apple initially marketed the iPad as a device for consumption – watch a movie, read a book, browse the web….
Whatever Happened To iBooks?!
54958057922762884_tO4cSeJu.jpg (600×5327)
This page gathers all of the Bloomin' Apps projects in one place.Each of the images has clickable hotspots and includes suggestions for iPad, Google, Android, and Web 2.0 applications to support each of the levels of Bloom's Revised Taxonomy.The use of the triangle shape for Bloomin' apps projects was not used to help clear up the misunderstanding that the levels are hierarchical andthe top levels only make up a tiny portion of the cognitive processes.I have created a page to allow you to share your favorite Web 2.0, iOS, or Android app with others. Option 1 I was recently reflecting on the triangular shape the Bloom's taxonomies utilize. Since the cognitive processes are meant to be used when necessary, and any learner goes up and down the categories as they create new knowledge, I was thinking another type of image might be more explanatory.Here is my draft of the idea of the "interlocking of the cognitive processes" or the "Cogs of Cognition". Option 2 Option 3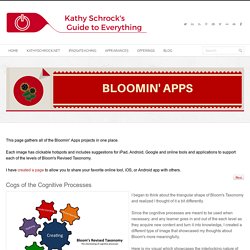 8 Nations Leading the Way in Online Education
Teaching Strategies Sarah Butrymowicz Jasmine Redeaux (left) and Nakesha Wilkerson team up to finish a worksheet in a "flipped" chemistry class at their Macon, Ga., high school, while other classmates work on a lab. By Sarah Butrymowicz When Portland, Ore., elementary school teacher Sacha Luria decided last fall to try out a new education strategy called "flipping the classroom," she faced a big obstacle. Flipped classrooms use technology—online video instruction, laptops, DVDs of lessons—to reverse what students have traditionally done in class and at home to learn.
Can the Flipped Classroom Benefit Low-Income Students?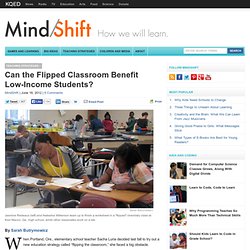 Defining 21 st century skills is an editorial matter. There are dozens of examples floating range with a range of authority behind them—some inspired, grassroots efforts, other core brands of multimillion dollar organizations making a national push. There is even debate as to whether they are truly necessary, the idea being that learning habits and priorities are timeless, and do not change because the world itself changes. But the scale and rate of change are unrelenting.
14 Habits For Learning In The 21st Century
"To evaluate the bonanza of apps, games, and websites that claim to have educational value, Common Sense Media, a non-profit organization best known for rating commercial media for age-level appropriateness, has developed a new rating system called Graphite. The site provides ratings of products in three categories: pedagogy, engagement, and support. Pedagogy is the highest weighted category, and is based on the depth and quality of content and how well it's integrated into the mechanics of the reviewed game or website.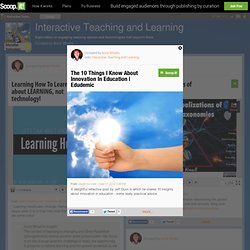 The 10 Things I Know About Innovation In Education | Edudemic | Interactive Teaching and Learning
33 Simple Ways To Stay Creative
The Edudemic Daily
Pictures: Empty Desks At The Washington Monument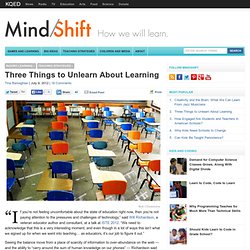 Inquiry Learning Teaching Strategies flickr:CDsessums "If you're not feeling uncomfortable about the state of education right now, then you're not paying attention to the pressures and challenges of technology," said Will Richardson, a veteran educator author and consultant, at a talk at ISTE 2012. "We need to acknowledge that this is a very interesting moment, and even though in a lot of ways this isn't what we signed up for when we went into teaching… as educators, it's our job to figure it out." Seeing the balance move from a place of scarcity of information to over-abundance on the web — and the ability to "carry around the sum of human knowledge on our phones" — Richardson said educators must start thinking of schooling differently. "This abundance has the potential to be amazing, but it's not amazing if we don't do anything with it," he said.
The 10 Things I Know About Innovation In Education
I write this while sitting at a marvelous presentation all about creativity at the 2012 CALI Conference . The presentation is all about encouraging you to creatively approach problems, recognizing when there's a solution, and how to basically be at your best. Which got me thinking about the current structure of education.
View the original Article. Written by Jackie Gerstein, Ed.D. June 16, 2012 at 3:26 pm If you have been following my blog series on The Flipped Classroom: The Full Picture, you know that I am using this opportunity, given all the press on flipped classroom, to discuss a model of teaching and learning based on experiential education. It is a model in which authentic, often hands-on, experiences and student interests drive the learning process, and the videos, as they are being proposed in the flipped classroom discourse, support the learning rather than being central or at the core of learning. The idea of experience being core to learning has been discussed by Dale Dougherty, the publisher of Make Magazine, in the context of Maker Education:
The Flipped Classroom: The Full Picture for Tinkering and Maker Education | Gilfus Education Group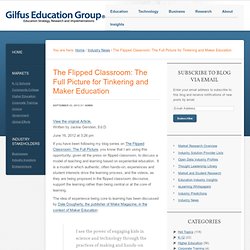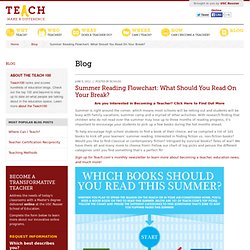 Are you Interested in Becoming a Teacher? Click Here to Find Out More Summer is right around the corner, which means most schools will be letting out and students will be busy with family vacations, summer camp and a myriad of other activities. With research finding that children who do not read over the summer may lose up to three months of reading progress, it's important to encourage your students to pick up a few books during the hot months ahead. To help encourage high school students to find a book of their choice, we've compiled a list of 101 books to kick off your learners' summer reading.
Summer Reading Flowchart: What Should You Read On Your Break? | Teach.com
Google Launches Endangered Languages Project
Hardware and Software Trends
The following is brought to you by MindMaple , creator of mind mapping software. To provide some inspiration for MindMaple's mapping contest , here are some creative ways mind mapping can be used for education to enhance learning. Mind mapping is probably best known as a tool for business organization and planning. However, mind mapping can also be an excellent tool for education, especially if you're willing to get creative. 1.
3 Ways Mind Mapping Can Be Used to Enhance Learning