What to put on a teachers iPad
Inspiration and Creativity
Transparent Curriculum
David Fisher sent a Note to DENSI 2012 - tbelt - Shorecrest Preparatory School Mail
Little Alchemy
Rethinking the Writing Process with the iPad – Karen Janowski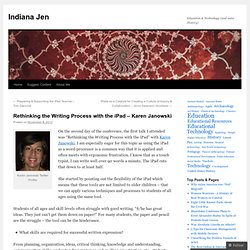 Karen Janowski Twitter Profile On the second day of the conference, the first talk I attended was "Rethinking the Writing Process with the iPad" with Karen Janowski . I am especially eager for this topic as using the iPad as a word-processor is a common way that it is applied and often meets with ergonomic frustration. I know that as a touch typist, I can write well over 90 words a minute. The iPad cuts that down to at least half. She started by pointing out the flexibility of the iPad which means that these tools are not limited to older children – that we can apply various techniques and processes to students of all ages using the same tool.
Leaving So Soon? Security Alert: You clicked on a link to About.com but are now leaving without viewing any of our content. This may have occurred because a site is using About.com's redirect link to maliciously redirect you to their (non-About.com) web page. It's a practice commonly called email spoofing , and About.com wants to make sure you know about it before you proceed. What would you like to do now?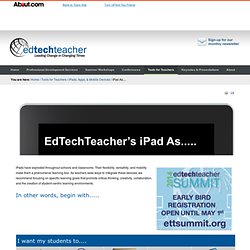 About.com: http://edtechteacher.org/index.php/teaching-technology/mobile-technology-apps/ipad-as
Rubric Cover Sheets How To Instructions Below you will find links to and descriptions of all the assignments we use for Choose Your Own Adventure. Click on the individual assignment links to get the full instructions and printable worksheets. The assignments are divided into three categories based on what skills you will use to complete them. History assignments for just about any topic! 5 Point Assignments 20-30 Minutes to complete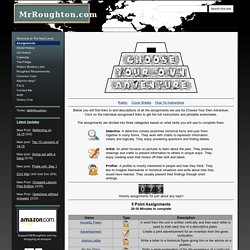 App-Tool-Grids-21st-century.jpg (1024×768)
<object classid="clsid:D27CDB6E-AE6D-11cf-96B8-444553540000" codebase="http://download.macromedia.com/pub/shockwave/cabs/flash/swflash.cab#version=9,0,28,0" width="920" height="518" title="scale"><param name="movie" value="/content/begin/cells/scale/Scale.swf" /><param name="FlashVars" value="mydate=2519" /><param name="quality" value="high" /><embed src="/content/begin/cells/scale/Scale.swf" quality="high" pluginspage="http://www.adobe.com/shockwave/download/download.cgi?P1_Prod_Version=ShockwaveFlash" type="application/x-shockwave-flash" width="920" height="518"></embed></object> Some cells are visible to the unaided eye The smallest objects that the unaided human eye can see are about 0.1 mm long. That means that under the right conditions, you might be able to see an ameoba proteus, a human egg, and a paramecium without using magnification.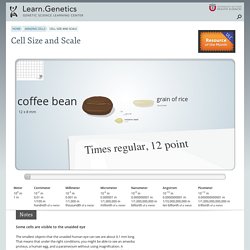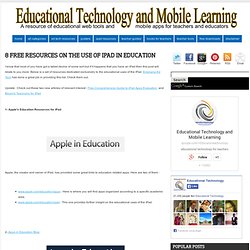 I know that most of you have got a tablet device of some sort but if it happens that you have an iPad then this post will relate to you more. Below is a set of resources dedicated exclusively to the educational uses of the iPad. Emerging Ed Tech has done a great job in providing this list.
iPhoneography
Middle School iPad Apps
Moving at the Speed of Creativity - Annotate, Correct and Edit Documents on Your iPad | Into the Driver's Seat