2012
Get flash to fully experience Pearltrees
July 10, 2012 — People at high risk of HIV infection can reduce their risk of acquiring the disease by taking antiretroviral drugs, according to Cochrane researchers. In an update of a systematic review first published in 2009, the researchers found that uninfected people in relationships with HIV-infected partners, men who have sex with men and those in other high risk groups are at a lower risk of becoming infected with the virus if they regularly take drugs that are normally prescribed to treat people with HIV. Antiretroviral therapy (ART) is the standard drug treatment for HIV in patients whose disease has progressed to a certain level. Antiretroviral drugs are also beginning to be used as prophylactics in people at high risk of acquiring the disease from sexual partners. The use of antiretroviral drugs in preventing as opposed to treating HIV infection is referred to as pre-exposure prophylaxis (PrEP).
Natural HIV control may rely on sequence of T cell receptor protein Protein on the surface of killer T cells appears to confer ability to suppress viral replication 10/Jun/2012 The rare ability of some individuals to control HIV infection with their immune system alone appears to depend – at least partially – on specific qualities of the immune system's killer T cells and not on how many of those cells are produced.
May 22, 2012 — Antibodies that help to stop the HIV virus have been found in breast milk. Researchers at Duke University Medical Center isolated the antibodies from immune cells called B cells in the breast milk of infected mothers in Malawi, and showed that the B cells in breast milk can generate neutralizing antibodies that may inhibit the virus that causes AIDS. HIV-1 can be transmitted from mother to child via breastfeeding, posing a challenge for safe infant feeding practices in areas of high HIV-1 prevalence. But only one in 10 HIV-infected nursing mothers is known to pass the virus to their infants. "That is remarkable, because nursing children are exposed multiple times each day during their first year of life," said senior author Sallie Permar, M.D., Ph.D., an assistant professor of pediatrics and infectious diseases at Duke.
Mar. 20, 2012 — Mount Sinai School of Medicine researchers have discovered that marijuana-like chemicals trigger receptors on human immune cells that can directly inhibit a type of human immunodeficiency virus (HIV) found in late-stage AIDS, according to new findings published online in the journal PLoS ONE . Medical marijuana is prescribed to treat pain, debilitating weight loss and appetite suppression, side effects that are common in advanced AIDS. This is the first study to reveal how the marijuana receptors found on immune cells -- called cannabinoid receptors CB1 and CB2 -- can influence the spread of the virus. Understanding the effect of these receptors on the virus could help scientists develop new drugs to slow the progression of AIDS.
Feb. 13, 2012 — Scientists from the Antwerp Institute of Tropical Medicine, Antwerp University Hospital and Antwerp University have tested a new 'therapeutic vaccine' against HIV on volunteers. The participants were so to say vaccinated with their own cells. The researchers filtered certain white blood cells out of the volunteer's blood, 'loaded' them outside the body and then gave them back. The immune system of the testees was better than before in attacking and suppressing the virus, the scientists reported in the journal AIDS . But they still cannot cure the disease.
February 13, 2012 INDIANAPOLIS -- One of the frustrations for scientists working on HIV/AIDS treatments has been the human immunodeficiency virus' ability to evade the body's immune system. Now an Indiana University researcher is testing a compound developed by a Harvard University colleague that could help put the immune system back in the hunt. It's not that the human immune system doesn't recognize HIV. Indeed, an infection causes the body to unleash antibodies that attack the virus, and initially some HIV is destroyed.
Feb. 12, 2012 — A novel discovery by researchers at NYU Langone Medical Center and colleagues reveals a mechanism by which the immune system tries to halt the spread of HIV. Harnessing this mechanism may open up new paths for therapeutic research aimed at slowing the virus' progression to AIDS. The study was published online ahead of print on February 12 in Nature Immunology . "A lot of research on viruses, especially HIV, is aimed at trying to understand what the body's mechanisms of resistance are and then to understand how the virus has gotten around these mechanisms," said co-lead investigator Nathaniel R.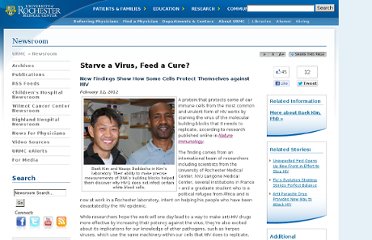 New Findings Show How Some Cells Protect Themselves against HIV February 12, 2012 Baek Kim and Waaqo Daddacha in Kim's laboratory.
Drug researchers hunting for alternative ways to treat human immunodeficiency virus (HIV) infections may soon have a novel target—its camouflage coat. HIV hides inside a cloak unusually rich in a sugar called mannose, which it uses to slip past the immune system before infecting its host's cells. Recently, however, biochemists discovered a family of chemical compounds that stick strongly to mannose. Understanding how this mechanism works could reveal a way to make drugs adhere to and kill HIV.
Jan. 4, 2012 — A new research report in the Journal of Leukocyte Biology suggests that a woman's ovarian cycle plays an important role in her susceptibility to infection. Specifically, researchers from Spain and Austria found that women are most susceptible to infection, such as Candida albicans or other sexually transmitted diseases, during ovulation than at any other time during the reproductive cycle. This natural "dip" in immunity may be to allow spermatozoa to survive the threat of an immune response so it may fertilize an egg successfully. "This could be an explanation why during ovulation females have more risk of being infected with sexual transmitted diseases like HIV or HPV," said Miguel Relloso, Ph.D., a researcher involved in the work from the Laboratorio de Inmunobiología Molecular at the Hospital Gregorio Marañón and Complutense University in Madrid, Spain.