2011 Trends
Mary Meeker's 2011 Presentation On Internet Trends [Slides] Kleiner Perkins partner and former Morgan Stanley analyst Mary Meeker is about to take the stage here at Web 2.0 Summit to present on Internet trends, as she does every year.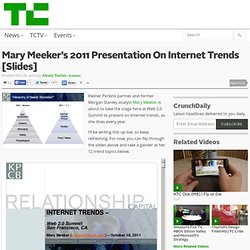 I'll be writing this up live, so keep refreshing. For now, you can flip through the slides above and take a gander at her 12 trend topics below. 1. Globality – We Aren't In Kansas Anymore… Meeker revealed that 81% of users of the top ten global internet properties are outside the USA, which makes global markets a force to be reckoned with. Structure 2011 live coverage — Cloud Computing News.
Structure 2011
Structure LaunchPad Finalists Highlight Cloud's Maturity Cloud Computing News. Identifies the Top 10 Strategic Technologies for 2011. STAMFORD, Conn., October 19, 2010 View All Press Releases Analysts Examine Latest Industry Trends During Gartner Symposium/ITxpo, October 17-21, in Orlando Gartner, Inc. today highlighted the top 10 technologies and trends that will be strategic for most organizations in 2011.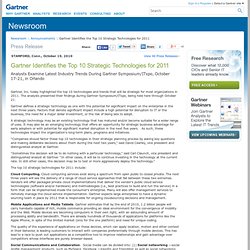 The analysts presented their findings during Gartner Symposium/ITxpo, being held here through October 21. Gartner defines a strategic technology as one with the potential for significant impact on the enterprise in the next three years. Factors that denote significant impact include a high potential for disruption to IT or the business, the need for a major dollar investment, or the risk of being late to adopt.
RSS - Immer auf dem Laufenden bleiben! - Aktuelle Artikel und Videos automatisch empfangen. Seite nicht mehr verfügbar Sehr geehrte Zuschauerin,sehr geehrter Zuschauer leider können wir Ihnen diese Seite nicht mehr anbieten, weil wir sie nicht unbegrenzt vorhalten dürfen.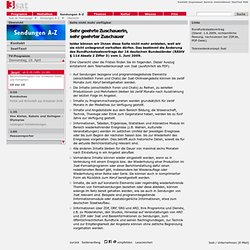 Das bestimmt die Änderung des Rundfunkstaatsvertrags der 16 deutschen Bundesländer (RÄStV § 11d Absatz 2 Ziffer 3) vom 1. Www.gartner.com/it/content/1503600/1503615/january_24_top_predictions_for_2011_dplummer.pdf.
---