News - the 2010 Top Ten
Top Ten US News Stories in 2010. The worst oil spill in the history of the petroleum industry started on Apr. 20, after an explosion at the BP-run Deepwater Horizon offshore drilling rig in the Gulf of Mexico killed 11 workers aboard and gushed close to 5 million barrels of crude into the Gulf's waters until it was sufficiently capped on July 15 (the undersea well was deemed "effectively dead" only on Sept. 19).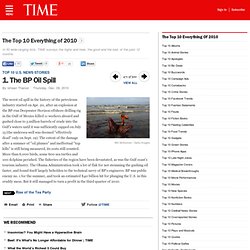 The extent of the damage after a summer of "oil plumes" and ineffectual "top kills" is still being measured, its costs still counted. More than 6,000 birds, some 600 sea turtles and 100 dolphins perished. The fisheries of the region have been devastated, as was the Gulf coast's tourism industry. Top Ten 2010 Religious Stories. When the local community board in late May approved a proposal to establish an Islamic center amid the strip clubs and liquor stores of downtown Manhattan, the outrage did not come from offended Muslims.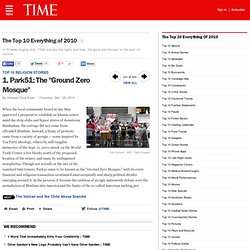 Instead, a litany of protests came from a variety of groups — some inspired by Tea Party ideology, others by still-tangible memories of the Sept. 11, 2001 attack on the World Trade Center a few blocks south of the proposed location of the center, and many by undisguised xenophobia. Though not actually at the site of the vanished twin towers, Park51 came to be known as the "Ground Zero Mosque," with its every financial and religious transaction scrutinized microscopically and sharp political divides emerging around it. The Top Ten Most Overexposed News Stories in 2010. No skulking back to the Alaska governor's mansion for this failed vice-presidential candidate.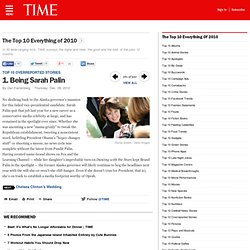 Sarah Palin quit that job last year for a new career as a conservative media celebrity at large, and has remained in the spotlight ever since. Whether she was anointing a new "mama grizzly" to tweak the Republican establishment, tweeting a nonexistent word, belittling President Obama's "hopey changey stuff" or shooting a moose, no news cycle was complete without the latest from Pundit Palin. Having created name-brand shows on Fox and the Learning Channel — while her daughter's improbable turn on Dancing with the Stars kept Brand Palin in the spotlight — the former Alaska governor will likely continue to hog the headlines next year with the will-she-or-won't-she cliff-hanger.
Top Ten Underreported Stories for 2010. Secretary of State Colin Powell cautioned President George W.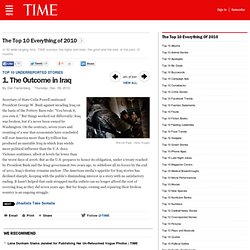 Bush against invading Iraq on the basis of the Pottery Barn rule: "You break it, you own it. " But things worked out differently: Iraq was broken, but it's never been owned by Washington. On the contrary, seven years and counting of a war that economists have concluded will cost America more than $3 trillion has produced an unstable Iraq in which Iran wields more political influence than the U.S. does. Violence continues, albeit at levels far lower than the worst days of 2006. Top Ten Oddball News Stories. How about this for the ultimate stocking stuffer: a diamond-encrusted, one-of-a-kind iPhone worth $8 million?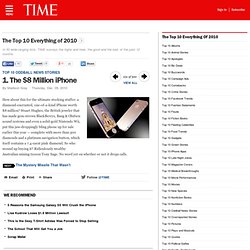 Stuart Hughes, the British jeweler that has made gem-strewn BlackBerrys, Bang & Olufsen sound systems and even a solid-gold Nintendo Wii, put this jaw-droppingly bling phone up for sale earlier this year — complete with more than 500 diamonds and a platinum navigation button, which itself contains a 7.4-carat pink diamond. So who wound up buying it? Ridiculously wealthy Australian mining tycoon Tony Sage. No word yet on whether or not it drops calls. Next The Mystery Missile That Wasn't. Top Ten Crime Stories. When police in Lima arrested Joran van der Sloot in May 2010 for the murder of Stephany Flores Ramirez, another mysterious saga appeared to be at an end.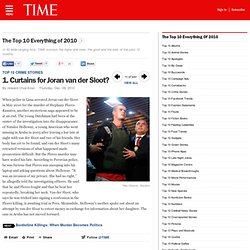 The young Dutchman had been at the center of the investigation into the disappearance of Natalee Holloway, a young American who went missing in Aruba in 2005 after leaving a bar late at night with van der Sloot and two of his friends. Her body has yet to be found, and van der Sloot's many retracted versions of what happened made prosecution difficult. But the Flores murder may have sealed his fate. Top Ten Global News Stories of 2010. The Jan. 12 earthquake that rocked the Haitian capital of Port-au-Prince may not have been the highest-magnitude tremor in recent memory, but it certainly seemed the most cataclysmic.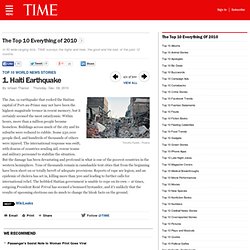 Within hours, more than a million people became homeless. Buildings across much of the city and its suburbs were reduced to rubble. Some 230,000 people died, and hundreds of thousands of others were injured.
---