KOMUNIKACJA
Five key lessons from The Naked Company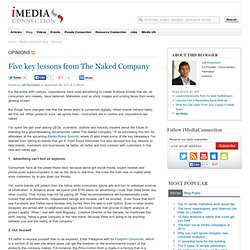 For the entire 20th century, corporations have used advertising to create fictitious stories that we, as consumers and viewers, have believed.
Private Screening: "The Naked Company"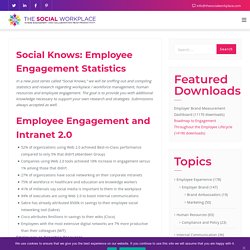 Social Knows: Employee Engagement Statistics
In a new post series called "Social Knows," we will be sniffing out and compiling statistics and research regarding workplace / workforce management, human resources and employee engagement. The goal is to provide you with additional knowledge necessary to support your own research and strategies. Submissions always accepted as well.
Enterprise 2.0 Best Practices
I had the opportunity to speak with and interview some of the top minds in the Enterprise 2.0 space, and although there aren't many, what follows is a summary of best practices from those active in the field today.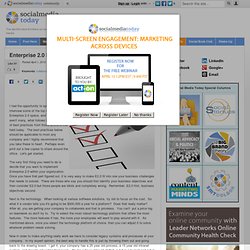 Dion Hinchcliffe has written a useful post titled Going beyond the hype: Identifying Enterprise 2.0 best practices , reviewing some of the work in the space, and with the intent of building a broader catalog of best practices.
There is no such thing as best practice for Enterprise 2.0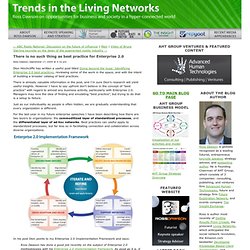 Flashback one year, and organizations were struggling to define Enterprise 2.0 — much less determine whether it could even provide value. But today, more pilots are being deployed, more results are being measured and more companies are identifying what's working and what isn't. Knowledge practitioners and information professionals now loosely agree on what E2.0 is, and they are starting to discover concrete benefits to the bottom line.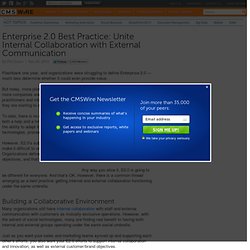 Enterprise 2.0 Best Practice: Unite Internal Collaboration with External Communication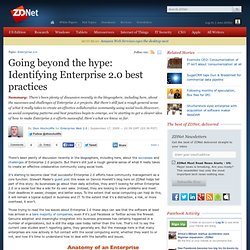 Going beyond the hype: Identifying Enterprise 2.0 best practices
There's been plenty of discussion recently in the blogosphere, including here, about the successes and challenges of Enterprise 2.0 projects. But there's still just a rough general sense of what it really takes to create an effective collaborative community using social tools.
Case study Enterprise 2.0 — Westaflex
Es gibt verschiedene Gründe dafür: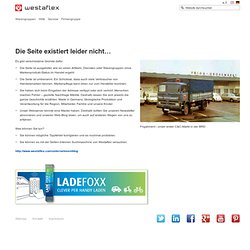 Enterprise 2.0 success: Yum! Brands
Taking us half way way through our ten part series on large companies realizing enterprise social media -- please read the overview here -- we queue up our next example. In the last post, we took a close look at the story of the global chemical firm BASF and the outcome of its carefully planned internal social networking effort .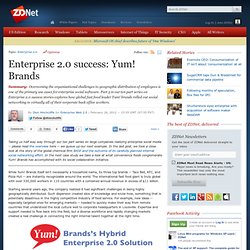 A Collection of 50+ Enterprise 2.0 Case Studies and Examples
Updated September 21, 2011 I've been chatting with a few folks about E2.0 case studies and found that there are some good sources of information out there but they appear to be spread out all over the place. I spent some time aggregating sources or individual E2.0 case studies here.
Social Media And Employee Communication
Social Media for Internal Company Communications by @JoeyShepp
In my last post I gave an overview of eProject , an Enterprise 2.0 tool for managing projects and enhancing collaboration. Here are two examples where this approach has worked that can added to the collection of Enterprise 2.0 success stories. Austin Hardware is an industrial business-to-business hardware development manufacturing and distribution company.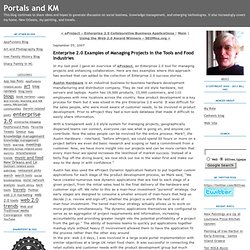 Enterprise 2.0 Examples of Managing Projects in the Tools and Food Industries
Implementing Enterprise 2.0 at Océ, Part One: Business Drivers
If you recall, I recently wrote an in-depth case study on how Vistaprint deployed Enterprise 2.0 initiatives within their organization. Next up in the E2.0 case study series is Océ; a printing company with over 21,000 employees around the world.
by Bill Ives This is the fifth in a six part series on Booz Allen 's award winning implementation of Enterprise 2.0, termed the Hello system .
Implementing Enterprise 2.0 at Booz Allen: Part Five – Lessons Learned
Don't Be Afraid of Social Media: Smart and Simple Ways to Use These Tools for Benefits Communication
By Jennifer Benz Social media is the buzz at every corporate communications or HR conference and the tools are growing more quickly than anything else online, yet few companies are effectively integrating these tools into their benefits or strategic HR communication.
Extensive List of over 30 Enterprise 2.0 Case Studies and Reports
This list is referenced in my post: A Socially Networked Company Makes for a More Human Workforce (via The Social Workplace )
By Jo Stratmann
Using social media to improve internal communications
Cisco Social Media Playbook: Best Practice Sharing
Social Networking Policies: Best Practices For Companies | The Metropolitan Corporate Counsel
Best Practices using internal social media (Digital Pharma Europe - Part 3) on Vimeo
3 Benefit Measures - The ROI of Internal Social Media Networks
Engaged Community is a Healthy Community - Best Practices in Internal Social Networking
Step 4 – Your Internal Social Media Audit | Energise 2-0
CEC Insider » "Usability Is Our Obsession" – UniCredit on Internal Social Media
Harness the Power of Internal Social Media
The Naked Company
Internal Call Center Communication Software
How Motorola uses social media to manage information overload
McDonald on Project Blogs and Wikis - For "Heavy-Duty" and "Innovation Oriented" teams - Traction Software
AT&T to save $80 million in productivity due to internal social media profiles
Are these the 10 best corporate blogs in the world?
Prezes Kompanii Piwowarskiej na czacie
The ROI of Internal Social Networking
Seeing around corners: tooling up for the future
The Melcrum Blog: Ensuring smooth CEO succession via video at AkzoNobel
Social tools improve service, research, collaboration
Collaborating With Customer Communities: Lessons From the Lego Group
Take it inside: seven steps to creating vibrant online collaborative communities
Five ways to engage: before you remake your intranet, find out what your employees really want it to deliver
Print publications can still work--if they're done right
Killer infographic! But does it solve TMI? - Free Online Library
Gap's social media policy a guide for other companies
New study highlights internal social media use
Half of U.S. businesses block social media. What's the point? | Video
7 PR disasters averted
Storytelling Beyond Words: New Forms of Journalism
TripAdvisor builds robust intranet in 10 weeks—from scratch
Creating 1 employee magazine at ArcelorMittal
The company with the WORST reputation in America
America's Most Reputable Companies
6 ways to protect your corporate reputation on social media
'Best employee magazine' adds social features, unites employees
2011 EC Award Winners
It's All About Connecting
69 percent of millennials rarely visit Facebook fan pages
Toolkit : How To Create A Network Of Communication Champions
PR wiedza / Z mediów