Tuio
We are proud to release the latest version of CCV - our goal with this release is to offer stable multi-camera support, enhance code quality and performance. These updates are a result of our Google Summer of Code involvement this year. A big thanks goes out to my student Yishi Gou who developed a new GUI based grid system which allows for much easier camera layout with up to a 16 cameras. Beyond the new GUI views we worked very hard on testing a wide range of cameras types (CMU, DirectShow, PS3, Kinect, Firewire, etc...) and adding more robust settings. Below you can find more demo videos, the installer for this release and as always please share your own feedback and any feature requests. This version contains many changes in both features and the codebase:
NUI Group - Natural User Interface Group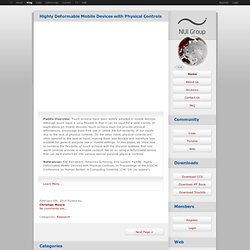 NUI Group - Natural User Interface Group
TUIO
Movid Main/Welcome to Movid
Welcome to Kivy — Kivy v1.0.7-dev documentation
The appendix contains licensing information and an enumeration of all the different modules, classes, functions and variables available in Kivy. Kivy 1.7.2 and 1.8 are now under MIT License. Previous version are still under LGPL 3 license. Kivy is released under the terms of the MIT License.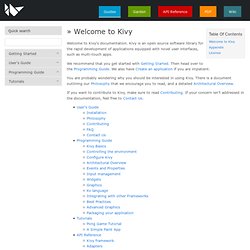 PyMT : Open source library for multitouch development
CocoNUIT framework showreel
robbeofficial/KinectTouch - GitHub
kinect - build a TUIO multitouch pad on any surface
Hand tracking from openNI through TUIO |
bamboo-tuio - Bamboo-TUIO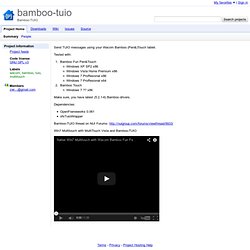 Send TUIO messages using your Wacom Bamboo (Pen&)Touch tablet. Tested with: Bamboo Fun Pen&Touch Windows XP SP2 x86 Windows Vista Home Premium x86 Windows 7 Proffesional x86 Windows 7 Proffesional x64 Bamboo Touch Windows 7 ?? x86 Make sure, you have latest (5.2.1-6) Bamboo drivers.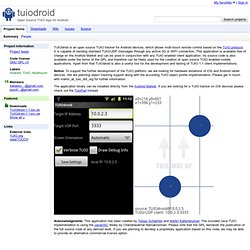 tuiodroid - Open Source TUIO App for Android
TUIOdroid is an open source TUIO tracker for Android devices, which allows multi-touch remote control based on the TUIO protocol. It is capable of sending standard TUIO/UDP messages through any active 3G or WIFI connection. This application is available free of charge on the Android Market and can be used in conjunction with any TUIO enabled client application.
Introduction to Movid - Movid on Vimeo