Tree
Open House: A 20 Room Vertical Treehouse Village in Korea. Open House was designed by raumlaborkorea (with the help of the community), and celebrated its grand opening last month.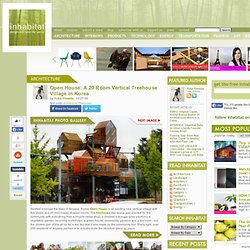 But it isn't technically "complete" – and that's the whole point! Raumlaborkorea's intention was for the village to keep growing and evolving over the years in response to the needs of Anyang as a type of "social sculpture." While it may appear to be just a building on the outside (albeit an intriguing one), Open House is really a "self-learning laboratory, constantly in creation and transformation for the collective research of the open community." Natural Architecture: Home-Grown Artistic Tree Houses. Patrick Dougherty is a builder and yet not an architect – he is perhaps best described as an artist and sculptor, a wood craftsman the likes of which most of us have never seen.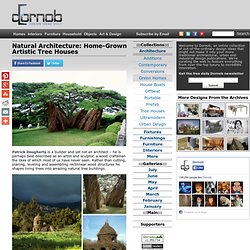 Rather than cutting, planing, leveling and assembling rectilinear wood structures he shapes living trees into amazing natural tree buildings. What started as simple arbosculptures quickly become inhabitable spaces and entire built environments. Whole-Tree Building: How to Craft Super-Natural Eco-Homes. The effect is astonishing: by using the natural shape of trees rather than milling them into dimensional lumber, the resulting architecture becomes organic and lifelike as if it were a living, breathing and growing structure – though correspondingly more difficult to construct, each custom branch and trunk needing to fit somehow in with the rest.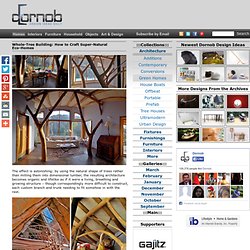 Aside from the breath-taking eco-aesthetic of his whole-tree houses and homes, Roald Gunderson's work has a number of benefits for the environment as well as a client's pocketbook. Time, energy and money are saved by skipping the normal steps of processing raw wood into standard wooden structural sizes. Also, less carbon is released into the air and the naturally curved wood branches are stronger than their straight-and-narrow counterparts. Finally, only weak and otherwise unused leftovers of the forest are employed – the invasive or otherwise secondary tree species that would not be milled in the normal course of logging anyway.
Historical Tree House, Fort, Restaurant & Resort Designs. Wood tree houses are rarely timeless, built as they are into the ever-changing natural environment and often constructed natural materials such as woods that surround them.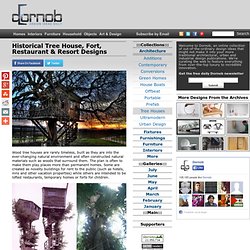 The plan is often to make them play places more than permanent homes. Some are created as novelty buildings for rent to the public (such as hotels, inns and other vacation properties) while others are intended to be lofted restaurants, temporary homes or forts for children. A shack in the sky is somehow so much more compelling than the same run-down little lodge structure sitting on the ground below, but it also more susceptible to the elements through its exposure. These beautiful-but-shoddy tree houses had to be abandoned as the pictures above show. Home-Grown Home: DIY Living Tree House Design Idea. Imagine: growing instead of building your own home and cultivating its organic and evolving structure, at one with the environment around it.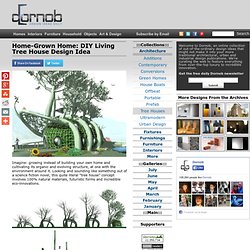 Looking and sounding like something out of a science fiction novel, this quite literal "tree house" concept involves 100% natural materials, futuristic forms and incredible eco-innovations. Designed as a kind of micro-ecosystem, this unique Fab Tree House is constructed around a lattice of trees covered by growing vines and eventually other plants both edible and decorative. Tree Houses: Educational, Stylish and Sustainable. Here is a building that practices what it preaches – a sustainable design, elevated so as not to disturb its surroundings, but that is also dedicated to educating people about the environment as well as eco-friendly design.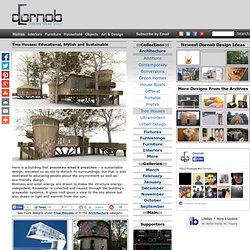 Biomass and solar energy are drawn to make the structure energy-indepedent. Rainwater is collected and reused through the building's graywater systems. Eco Systems: Footprint-Free Green Tree-House Resort Idea. There are good reasons for building large singular structures in many cases – and equally compelling justifications in other situations for breaking buildings into smaller pieces and integrating them systematically in their surrounding environment.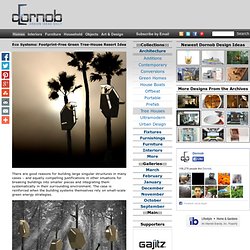 The case is reinforced when the building systems themselves rely on small-scale green energy strategies. This go-green approach builds on the classic cabins-in-the-forest model of conventional nature vacations, with a twist: each individual unit is carefully lofted and connected to a tree.
---