Tree
Open House: A 20 Room Vertical Treehouse Village in Korea
Open House was designed by raumlaborkorea (with the help of the community), and celebrated its grand opening last month. But it isn't technically "complete" – and that's the whole point! raumlaborkorea's intention was for the village to keep growing and evolving over the years in response to the needs of Anyang as a type of "social sculpture." While it may appear to be just a building on the outside (albeit an intriguing one), Open House is really a "self-learning laboratory, constantly in creation and transformation for the collective research of the open community."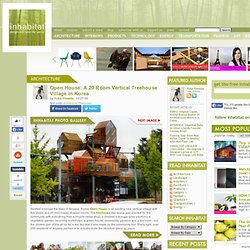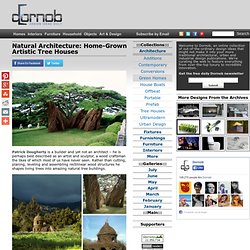 Natural Architecture: Home-Grown Artistic Tree Houses
Patrick Dougherty is a builder and yet not an architect – he is perhaps best described as an artist and sculptor, a wood craftsman the likes of which most of us have never seen.
Whole-Tree Building: How to Craft Super-Natural Eco-Homes
The effect is astonishing: by using the natural shape of trees rather than milling them into dimensional lumber, the resulting architecture becomes organic and lifelike as if it were a living, breathing and growing structure – though correspondingly more difficult to construct, each custom branch and trunk needing to fit somehow in with the rest. Aside from the breath-taking eco-aesthetic of his whole-tree houses and homes, Roald Gunderson's work has a number of benefits for the environment as well as a client's pocketbook.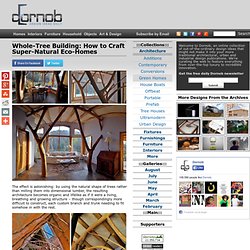 Historical Tree House, Fort, Restaurant & Resort Designs
Wood tree houses are rarely timeless, built as they are into the ever-changing natural environment and often constructed natural materials such as woods that surround them.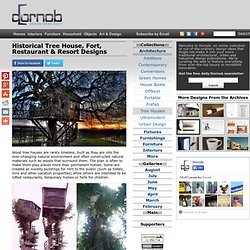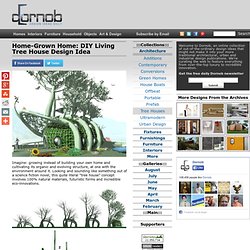 Imagine: growing instead of building your own home and cultivating its organic and evolving structure, at one with the environment around it.
Home-Grown Home: DIY Living Tree House Design Idea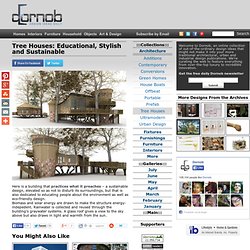 Here is a building that practices what it preaches – a sustainable design, elevated so as not to disturb its surroundings, but that is also dedicated to educating people about the environment as well as eco-friendly design.
Tree Houses: Educational, Stylish and Sustainable
There are good reasons for building large singular structures in many cases – and equally compelling justifications in other situations for breaking buildings into smaller pieces and integrating them systematically in their surrounding environment.
Eco Systems: Footprint-Free Green Tree-House Resort Idea