Linux
iTALC - OpenSource classroom management | Download iTALC - OpenSource classroom management software for free. What is GeeXboX ? GeeXboX is a free and Open Source Media-Center purposed Linux distribution for embedded devices and desktop computers.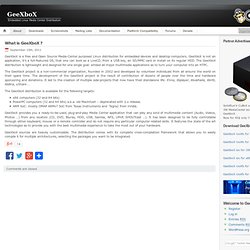 GeeXboX is not an application, it's a full-featured OS, that one can boot as a LiveCD, from a USB key, an SD/MMC card or install on its regular HDD. The GeeXboX distribution is lightweight and designed for one single goal: embed all major multimedia applications as to turn your computer into an HTPC. The GeeXboX project is a non-commercial organization, founded in 2002 and developed by volunteer individuals from all around the world on their spare time. APODIO. Audio Graphic Video Multimedia Linux. AndroidArt is the world's first website about Android applications for artists. www.androidart.org If you like ArtistX please consider making a small donation or visit our partners websites.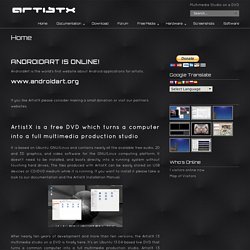 ArtistX is a free DVD which turns a computer into a full multimedia production studio. Puredyne. Get Puredyne one of three ways: (1) download and burn it on a CD or DVD, (2) purchase the Puredyne USB, or (3) download and create your own bootable USB stick. (1) Download and create a live CD or DVD Download the latest Puredyne version 9.11 - carrot and coriander - from one of these: NL, Amsterdam, primary server: GOTO10CZ, Prague, mirror: node9.orgUS, California, mirror: restruct.orgFR, Orléans, mirror: labomedia.orgGR, Crete, mirror: cc.uoc.gr HTTP, cc.uoc.gr FTPIT, Milan, mirror: recipient.ccDE, mirror: GunzenhausenSK, Bratislava, mirror: puredyne.multiplace.org mirror or by BitTorrent: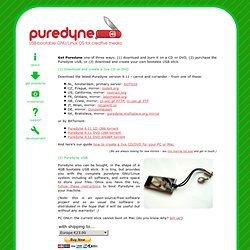 AV Linux - Install...Create... AV Linux is a free custom shop modded and rodded 32bit PAE computer Operating System designed to turn a regular old (or fairly new) PC or Intel Mac into an Audio/Graphics/Video workstation appliance.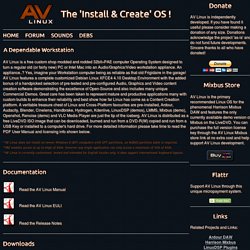 An appliance..? Yes, imagine your Workstation computer being as reliable as that old Frigidaire in the garage!
---