Gfx
‪Blender 2.5 Basic Game Engine Tutorial‬‏
‪Advanced Compositing in Blender 2.5‬‏
‪Blenderholic: 2D animation tutorial‬‏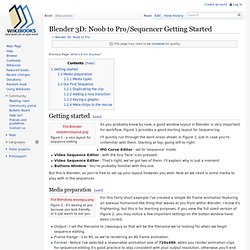 Previous Page: What's It For Anyway? As you probably know by now, a good window layout in Blender is very important for workflow, Figure 1 provides a good starting layout for Sequencing. I'll quickly run through the work areas shown in Figure 1, just in case you're unfamiliar with them. Starting at top, going left to right. IPO Curve Editor - set to 'sequence' mode.Video Sequence Editor - with the tiny 'face' icon pressed.Video Sequence Editor - That's right, we've got two of them, I'll explain why in just a moment.Buttons Window - You're probably familiar with this one.
Blender 3D: Noob to Pro/Sequencer Getting Started
Interior visualization with Blender and Octane Render Posted by Allan Brito on January 14th, 2014 ~ 0 Comments It is time to check another great project developed by an well known artist specialized on architectural visualization.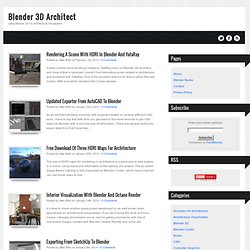 Animation in Blender 2.5 : CG Masters