Bot
Quadr copter + / WMP& arduino nano
The JJ - Copter" Open Air firsth day (Arduino, Nintendo Wii Motion Plus Nunchuck, Aeroquad)
Morphing Aircraft! Air Hogs SWITCHBLADE product review.
JJ-COPTER MK2 STABLE MODE (MEGA,Wii,GPS,Compass)
JJ-Copter (Arduino Mega Wii Sensor+ Aeroqua ver. 1.7.1 Mod +Conf ver. 2.3.1)
AeroQuad – build your own quadcopter
Yann's Techno Toys Blog - Shrediquette: an Arduino-based Tri-copter
Shrediquette: an Arduino-based Tri-copter The Shrediquette is a tri-rotor helicopter built by William Thielike from Germany. William is a PhD student in biology, who seems to have many talents: micro-controller system design, control, mechanical design, flying contraption construction, as well as film making. His tricopter is built around an Arduino Pro Mini micro-controller.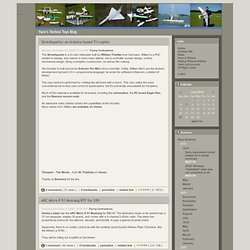 Shrediquette - a multirotor MAV by W. Thielicke
Tricopter - The Movie...