Bot
Quadr copter + / WMP& arduino nano
The JJ - Copter" Open Air firsth day (Arduino, Nintendo Wii Motion Plus Nunchuck, Aeroquad)
Morphing Aircraft! Air Hogs SWITCHBLADE product review.
JJ-COPTER MK2 STABLE MODE (MEGA,Wii,GPS,Compass)
JJ-Copter (Arduino Mega Wii Sensor+ Aeroqua ver. 1.7.1 Mod +Conf ver. 2.3.1)
AeroQuad – build your own quadcopter
Yann's Techno Toys Blog - Shrediquette: an Arduino-based Tri-copter
Shrediquette: an Arduino-based Tri-copter The Shrediquette is a tri-rotor helicopter built by William Thielike from Germany. William is a PhD student in biology, who seems to have many talents: micro-controller system design, control, mechanical design, flying contraption construction, as well as film making. His tricopter is built around an Arduino Pro Mini micro-controller.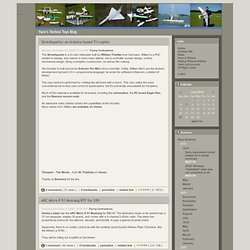 This morning, I did some wind tunnel tests with the GEMiNi chassis. The GEMiNi was designed for FPV air races at high flight velocities, therefore the aerodynamic properties are important (well, it was also designed to look good of course...). I measured the aerodynamic forces generated by the frame (excluding the influence of the propeller's downwash) at a flight velocity of 12 m/s (= 43 km/h, maybe half the top speed) in a wind tunnel using a 2-axes force balance.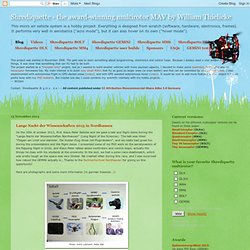 Shrediquette - a multirotor MAV by W. Thielicke
Tricopter - The Movie... on Vimeo