Strategies
Get flash to fully experience Pearltrees
mind mapping/thinking maps
Try Respondo!
Priming the Pump: Peter Elbow's prompts to help students explore topics, objects, places, issues Questions to help a student write about someone s/he has studied or read about: · Describe _ as an ordinary person.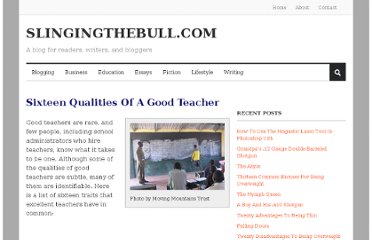 Photo by Moving Mountains Trust Good teachers are rare, and few people, including school administrators who hire teachers, know what it takes to be one. Although some of the qualities of good teachers are subtle, many of them are identifiable.
He was in the first third grade class I taught at Saint Mary's School in Morris, Minn.