Iwb
Free online tutorial for using Intervue. Free online tutorial for using SMARTBOARDS. Img44.imageshack.us/img44/6182/music.swf. Wiki-philologia - ΔΙΑΔΡΑΣΤΙΚΟΙ ΠΙΝΑΚΕΣ. Κουτσογιάννης Δ., ΑντωνοπούλουΣτ., Ακριτίδου Μ. 5.1.Εισαγωγή Από τη μέχρι τώρα συζήτηση είναι σαφέςότι η αξιοποίηση των ΤΠΕ στη διδασκαλία των γλωσσικών μαθημάτων γίνεται είτε μεπαιδαγωγική αφετηρία (π.χ. ποικίλα περι­βάλλοντα υποστήριξης της διδακτικήςδιαδικασίας) είτε με αφετηρία τα νέα δεδομένα που προκύπτουν για το περιεχόμενοτου γραμματισμού.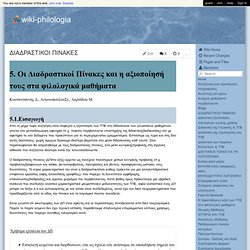 Whiteboards under the microscope. Millions of pounds have been spent on providing schools with interactive whiteboards in the belief that they could act as powerful aids to raising attainment, yet the boards are having no discernible impact on children's test scores.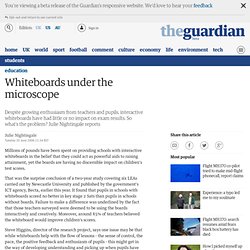 That was the surprise conclusion of a two-year study covering six LEAs carried out by Newcastle University and published by the government's ICT agency, Becta, earlier this year. It found that pupils in schools with whiteboards scored no better in key stage 2 Sats than pupils in schools without boards. Failure to make a difference was underlined by the fact that those teachers surveyed were deemed to be using the boards interactively and creatively. Interactive Whiteboards « Think Bank. We can show you how to make the best use of your Interactive Whiteboard in both Primary and Secondary school classrooms and also at colleges and university level.
We can provide Bespoke Beginners and Advanced sessions and either Subject specific or general sessions. We can train on Smart, Promethean or Easiteach software and have delivered IWB training to Educational, Commercial and Military customers in the UK and overseas over the last 10 years. Training options include: SMART Masters v10. Σχέδια μαθημάτων και πόροι για το SMART Board - SMART Exchange. Fusion Universal Management - Video Library. WB English.pdf. ΔΙΑΔΡΑΣΤΙΚΑ ΣΥΣΤΗΜΑΤΑ ΚΑΙ ΦΙΛΟΛΟΓΙΚΑ ΜΑΘΗΜΑΤΑ. Build My ActivClassroom : Our Solutions : Promethean. The ActivBoard 300 Pro is a feature-rich interactive whiteboard that combines graphics, motion and interactivity with integrated sound and dual-user functionality.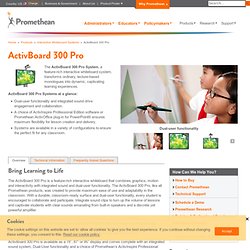 The ActivBoard 300 Pro, like all Promethean products, was created to provide maximum ease of use and adaptability in the classroom. With a durable, classroom-ready surface and dual-user functionality, every student is encouraged to collaborate and participate. Integrate sound clips to turn up the volume of lessons and captivate students with clear sounds emanating from built-in speakers and a discrete yet powerful amplifier. Every ActivBoard 300 Pro comes with a choice of Promethean ActivInspire software or Promethean ActivOffice, an ActivInspire plug-in for PowerPoint®, and access to Promethean Planet's 70,000+ free teacher resources and online professional development, providing everything teachers need to create more active, inspired and engaged classrooms.
ActivInspire software for the ActivClassroom : Promethean. With ActivInspire software, teachers transform traditional, lecture-based classrooms into learning environments infused with imaginative, interactive experiences that captivate students' attention while granting them the freedom to take ownership of their achievement.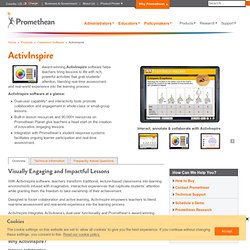 Designed to foster collaboration and active learning, ActivInspire empowers teachers to blend real-time assessment and real-world experience into the learning process. ActivInspire integrates ActivArena's dual-user functionality and Promethean's award-winning student response systems to support collaborative teamwork and ongoing assessment in the classroom. With access to premium content, including assessment templates and unlimited visual and auditory resources, ActivInspire provides you with all the building blocks you need to create differentiated lessons filled with rich, hands-on activities in a fraction of the time. Why ActivInspire? Εκπαιδευτική υποστήριξη - Ευφυής Εκπαίδευση. Search lessons by keyword. SMART board in the classroom. Teachers Love SMART Boards. The Whiteboard Blog | Supporting the use of technology in the classroom.
---