Games
Online Teaching: Kubbu. Great Women in History. Games With Words. Games at Sploder - Make your own Online Games Arcade, War Space & Platformer Games. Rhythmomachia: The Philosopher's Game. A Strategy Game of High Mathematical Precision To enjoy the full depth of Rhythmomachia, we recommend to read the rules on this page incrementally, and instantly try a few moves on the board.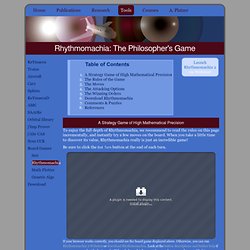 When you take a little time to discover its value, Rhythmomachia really is just an incredible game! Board Games. Turn-O-Phrase - Word Puzzles for Culture Buffs. Test your Geography Skills. Bitesize KS2 - Games - Questionaut. Brain Games & Brain Training. 26 Learning Games for Change | Serious Games | Online Learning Games. Note: Learning games have really taken off since I originally wrote this post a number of years ago (right before the 5th annual Games for Change Festival).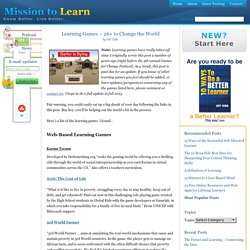 As a result, this post is past due for an update. If you know of other learning games you feel should be added, or have updates/perspectives concerning any of the games listed here, please comment or contact me. "Don't Gross out the World" interactive game about dining customs #geographyteacher. The Learning Edge. Flicktionary. Are you ready to play Five Card flickr?
---