Edu
Kathryn Hough
"By 2020, America will once again have the highest proportion of college graduates in the world." —President Barack Obama, Address to Congress, February 24, 2009 The National Education Technology Plan, Transforming American Education: Learning Powered by Technology , calls for applying the advanced technologies used in our daily personal and professional lives to our entire education system to improve student learning, accelerate and scale up the adoption of effective practices, and use data and information for continuous improvement. It presents five goals with recommendations for states, districts, the federal government, and other stakeholders.
Take the Pledge: Stand Up For Bullied Students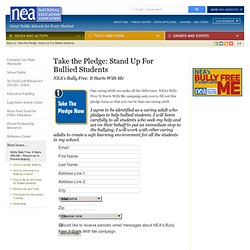 NEA's Bully Free: It Starts With Me One caring adult can make all the difference. NEA's Bully Free: It Starts With Me campaign asks you to fill out this pledge form so that you can be that one caring adult.
Google Earth continues to mesmerize young people with its ability to put the world's geographic information at their fingertips. Educators around the globe have created engaging classroom activities that go beyond geography to teach literature, history, math, environmental science, and more. The Google Earth for Educators Community provides all of the tips and tricks for using Google Earth as a teaching tool. On this site, you can view lesson plans for a variety of grade levels and subjects, discuss Google Earth teaching tactics with fellow educators, see student-created work, and read how other teachers are using Google Earth in the classroom. Visit the Google Earth for Educators Community
Earth: Google Earth for Educators