Stuff
How to write faster – learn Teeline shorthand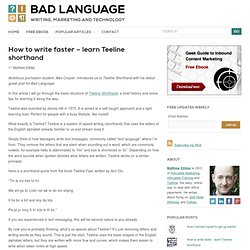 Ambitious journalism student, Alex Cooper, introduces us to Teeline Shorthand with his debut guest post for Bad Language. In this article I will go through the basic structure of Teeline Shorthand, a brief history and some tips for learning it along the way. Teeline was invented by James Hill in 1970. It is aimed at a self-taught approach and a light learning load. Perfect for people with a busy lifestyle, like myself. What exactly is Teeline?
Software für Projektmanagement, MindMaps, Wissensmanagement, Dokumentenmanagement, Dokumentenverwaltung - Freeware von Straub Softwareentwicklung
MindMapping jetzt mit genialer Textmarker-Analyse So fällt es jedem Anwender leicht, sich einen schwierigen Text zu erarbeiten, Fakten auswendig zu lernen oder Strukturen und Zusammenhänge zu verstehen: In der neuen Version 2007d von InfoRapid KnowledgeMap markiert der Anwender wichtige Passagen in einem Dokument mit Textmarkern in verschiedenen Farben. In Echtzeit baut das Programm daraus eine übersichtliche Mindmap auf. Viele Anwender haben Probleme damit, ausführliche und komplizierte Texte innerhalb kurzer Zeit auf die reinen Informationen herunterzubrechen. InfoRapid KnowledgeMap 2007d hilft in der neuen Version dabei und stellt extra für diesen Zweck eine neue Funktion bereit, die wohl weltweit einmalig ist - die automatische Mindmap-Generierung mit dem Textmarker. Bei diesem Verfahren lädt der Anwender einen Text in das Programm und beginnt bereits beim ersten Durchlesen damit, wichtige Stichwörter oder Passagen mit dem Textmarker zu kennzeichnen.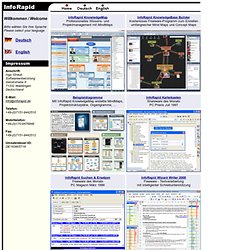 autokey - Desktop automation utility for Linux and X11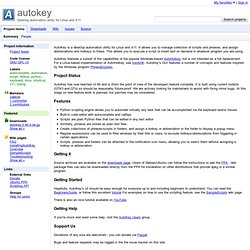 AutoKey is a desktop automation utility for Linux and X11. It allows you to manage collection of scripts and phrases, and assign abbreviations and hotkeys to these. This allows you to execute a script or insert text on demand in whatever program you are using. AutoKey features a subset of the capabilities of the popular Windows-based AutoHotkey, but is not intended as a full replacement. For a Linux-based implementation of AutoHotkey, see IronAHK. AutoKey's GUI features a number of concepts and features inspired by the Windows program PhraseExpress.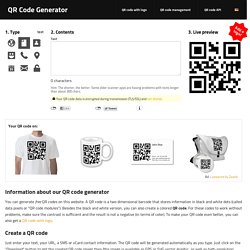 What is a QR code? A QR code is a two-dimensional code (2D code, matrix code), this means it contains data not only in one dimension (e.g. horizontally from left to right like the barcodes on the products in e.g. your grocery store) but also in a second dimension (vertical and horizontal). The acronym QR is short for "Quick Response". QR codes are also often called 2D barcodes. However, this notation is not correct, because it means "a two-dimensional code consisting of bars" although a QR code consists of pixels (so-called "modules") instead of bars. The QR code was invented by the automotive industry.
Exalabs is the innovation center of Exalead. Composed of passionate researchers and engineers, this high-skilled team dedicates its work to anticipate new uses and develop emerging applications to overcome the new information access challenges. Websites, images, videos, news, location, people, products…, you name it: there is no type of data that can stop their creativity.