Synzen
darrin black
ChristRapt inhale drenched cross of sanguinary Lue suffer sent rise"He'll"Chris & azure crownRue thriceRenounce nowFear Shame GuiltA literal withered figureSo love meN.A.ME.Otherwise?To & Too Make forMoreover more & more & never to much"All" for you...In apathy I am cross in empathy youAll is, & all is doso yes I sufferAnd you say it can be removed, & yes I am movedTo prefer you yet, I am painedFor it's all I knowSo now as to you save me, our you if what you sayis true, self centered saint, & from who? myself.For all are as I, save you.I teach, you preach, too each there own.So try, Yet in the end i wont cross i : Ontology.
synzen's Music Profile
Tiger Army is a psychobilly band from California. They have a very devoted following, as evidenced by the hundreds of photos of Tiger Army-related tattoos that can be found on the band's MySpace page and website. Their fourth album Music From Regions Beyond spawned the band's first radio single, "Forever Fades Away," which went to #1 on L.A.'s influential KROQ FM. The video for the track was seen on MTV2 and Fuse TV.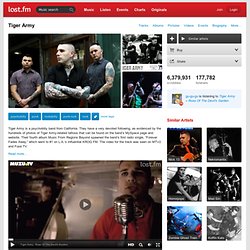 Tiger Army – Discover music, videos, concerts, & pictures at Las
hellcatrecords's Channel
Linkin Park is an American band from Agoura Hills, California. Formed in 1996, the band rose to international fame with their debut album, Hybrid Theory, which was certified Diamond by the RIAA in 2005 and multi-platinum in several other countries. Its following studio album, Meteora, continued the band's success, topping the Billboard 200 album chart in 2003, and was followed by extensive touring and charity work around the world. In 2003, MTV2 named Linkin Park the sixth greatest band of the music video era and the third best of the new millennium behind Oasis and Coldplay. Having adapted the nu metal and rap metal genres to a radio-friendly yet densely layered style in Hybrid Theory and Meteora, the band explored other genres in their next studio album, Minutes to Midnight, which was released in 2007.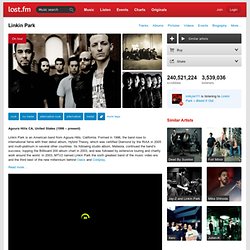 Linkin Park – Discover music, videos, concerts, & pictures at La
Welcome to YouTube! The location filter shows you popular videos from the selected country or region on lists like Most Viewed and in search results.To change your location filter, please use the links in the footer at the bottom of the page. Click "OK" to accept this setting, or click "Cancel" to set your location filter to "Worldwide".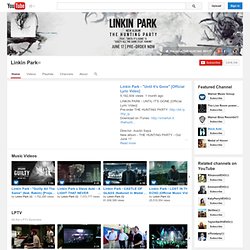 linkinparktv's Channel
DJ Krush – Discover music, videos, concerts, & pictures at Last.
DJ Krush (Hideaki Ishii) was born in 1962 in Tokyo, Japan. Gifted producer & DJ with a superb sense in mixing and composing his sound who's been greatly received in the international club scene. At an early age, Ishii dropped out of school, and joined a local gang, and a few years later, Yakuza. It was the movie "Wild Style" that got him into hip hop in the early 80's, and in 1987, he formed KRUSH POSSE which made numerous appearances in various media as the best hip hop act in Japan.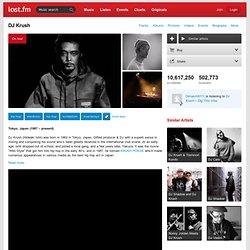 Considered a prominent figure in the development of instrumental hip-hop, DJ Shadow (real name Josh Davis) has proven himself with groundbreaking, genre-defining solo output on such respected labels as Solesides and Mo' Wax. DJ Shadow spent his teenage years in Davis, California and was a dj at the community radio station KDVS. During his time as a radio disc jockey, DJ Shadow was significant in developing the experimental instrumental hip-hop style associated with the California-based solesides record label. His early singles for the label, including In/Flux and Lost and Found (S.F.L.), were genre-bending works of art merging elements of funk, rock, hip-hop, ambient, jazz, soul, and used-bin found records.
DJ Shadow – Discover music, videos, concerts, & pictures at Last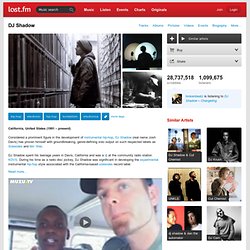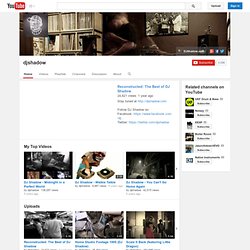 djshadow's Channel
Uploaded videos 1-10 of 27 2:57 DJ Shadow Playing The Organ, Live @ Ulster Hall, Belfast, North Ireland, UK djshadow 23,118 views 2 years ago DJ Shadow Playing The Organ, Live @ Ulster Hall, Belfast, North Ireland, UK on July 4th, 2010. http://www.djshadow.com/videos About DJ Shadow You Tube This is the official YouTube page for DJ Shadow.
Sneaker Pimps – Discover music, videos, concerts, & pictures at
Sneaker Pimps were a downtempo/trip-hop band which formed in Hartlepool, England in 1995. The band best known for their first album Becoming X released in 1996, and particularly its highest charting single "6 Underground". As line of flight and Frisk, DJs and childhood friends Chris Corner and Liam Howe (from Middlesbrough and Hartlepool in the NE of England) released two EPs: "Soul of Indiscretion" and "World as A Cone" in the early 1990s. While not nearly as complex as the song-based material they would produce, these bedroom-recorded mixes of sampled beats and folk sounds would form the blueprint for the later sound. While at art college in Reading, Liam met David Westlake and Joe Wilson, who would both contribute to the first album and join the band on tour.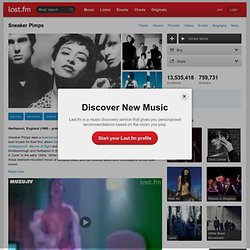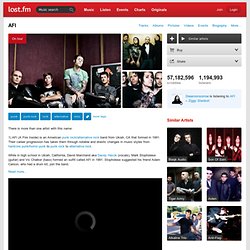 AFI – Discover music, videos, concerts, & pictures at Last.fm
There is more than one artist with this name: 1) AFI (A Fire Inside) is an American punk rock/alternative rock band from Ukiah, CA that formed in 1991. Their career progression has taken them through notable and drastic changes in music styles from hardcore punk/horror punk to punk rock to alternative rock. While in high school in Ukiah, California, David Marchand aka Davey Havok (vocals), Mark Stopholese (guitar) and Vic Chalker (bass) formed an outfit called AFI in 1991.
afireinside's Channel
Standard 18-column form of the periodic table. The colors used in the version of the table shown here signify different categories of elements, as listed below in the Layout section, under the larger table. The rows of the table are called periods; the columns are called groups, with some of these having names such as halogens or noble gases. Since, by definition, a periodic table incorporates recurring trends, any such table can be used to derive relationships between the properties of the elements and predict the properties of new, yet to be discovered or synthesized, elements. As a result, a periodic table—whether in the standard form or some other variant—provides a useful framework for analyzing chemical behavior, and such tables are widely used in chemistry and other sciences.
The Standard Model of particle physics is a theory concerning the electromagnetic, weak, and strong nuclear interactions, which mediate the dynamics of the known subatomic particles. It was developed throughout the latter half of the 20th century, as a collaborative effort of scientists around the world.[1] The current formulation was finalized in the mid-1970s upon experimental confirmation of the existence of quarks. Since then, discoveries of the top quark (1995), the tau neutrino (2000), and more recently the Higgs boson (2013), have given further credence to the Standard Model. Because of its success in explaining a wide variety of experimental results, the Standard Model is sometimes regarded as a "theory of almost everything".
Electron
History[edit] In the early 1700s, Francis Hauksbee and French chemist Charles François de Fay independently discovered what they believed were two kinds of frictional electricity—one generated from rubbing glass, the other from rubbing resin. From this, Du Fay theorized that electricity consists of two electrical fluids, vitreous and resinous, that are separated by friction, and that neutralize each other when combined.[17] A decade later Benjamin Franklin proposed that electricity was not from different types of electrical fluid, but the same electrical fluid under different pressures. He gave them the modern charge nomenclature of positive and negative respectively.[18] Franklin thought of the charge carrier as being positive, but he did not correctly identify which situation was a surplus of the charge carrier, and which situation was a deficit.[19]
Electromagnetism, or the electromagnetic force is one of the four fundamental interactions in nature, the other three being the strong interaction, the weak interaction, and gravitation. This force is described by electromagnetic fields, and has innumerable physical instances including the interaction of electrically charged particles and the interaction of uncharged magnetic force fields with electrical conductors. The word electromagnetism is a compound form of two Greek terms, ἢλεκτρον, ēlektron, "amber", and μαγνήτης, magnetic, from "magnítis líthos" (μαγνήτης λίθος), which means "magnesian stone", a type of iron ore.
A magnetic quadrupole Magnetism is a class of physical phenomena that includes forces exerted by magnets on other magnets. It has its origin in electric currents and the fundamental magnetic moments of elementary particles. These give rise to a magnetic field that acts on other currents and moments. All materials are influenced to some extent by a magnetic field. The strongest effect is on permanent magnets, which have persistent magnetic moments caused by ferromagnetism.
Electroencephalography
Hertz
Weak interaction
History of electromagnetism