Synzen
darrin black
synzen's Music Profile
Tiger Army – Discover music, videos, concerts, & pictures at Las
hellcatrecords's Channel
Linkin Park – Discover music, videos, concerts, & pictures at La
Welcome to YouTube! The location filter shows you popular videos from the selected country or region on lists like Most Viewed and in search results.To change your location filter, please use the links in the footer at the bottom of the page. Click "OK" to accept this setting, or click "Cancel" to set your location filter to "Worldwide".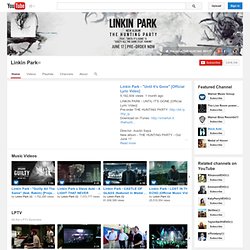 linkinparktv's Channel
DJ Krush – Discover music, videos, concerts, & pictures at Last.
DJ Shadow – Discover music, videos, concerts, & pictures at Last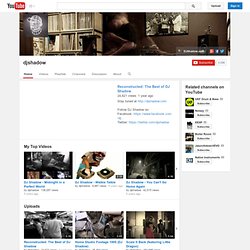 djshadow's Channel
Uploaded videos
Sneaker Pimps – Discover music, videos, concerts, & pictures at
AFI – Discover music, videos, concerts, & pictures at Last.fm
afireinside's Channel
Standard 18-column form of the periodic table.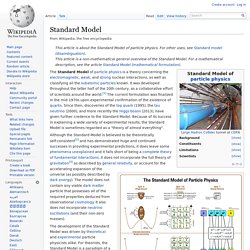 The Standard Model of particle physics is a theory concerning the electromagnetic, weak, and strong nuclear interactions, which mediate the dynamics of the known subatomic particles.
Electron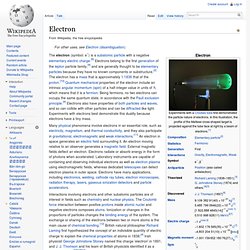 History[edit] In the early 1700s, Francis Hauksbee and French chemist Charles François de Fay independently discovered what they believed to be two kinds of frictional electricity; one generated from rubbing glass, the other from rubbing resin.
Electromagnetism, or the electromagnetic force is one of the four fundamental interactions in nature, the other three being the strong interaction, the weak interaction, and gravitation. This force is described by electromagnetic fields, and has innumerable physical instances including the interaction of electrically charged particles and the interaction of uncharged magnetic force fields with electrical conductors. The word electromagnetism is a compound form of two Greek terms, ἢλεκτρον, ēlektron, "amber", and μαγνήτης, magnētēs, "magnet".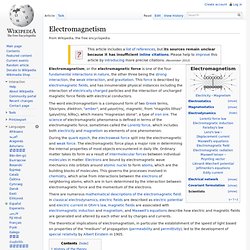 A magnetic quadrupole Magnetism is a class of physical phenomena that includes forces exerted by magnets on other magnets.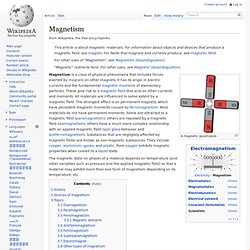 Electroencephalography
Lights flash at frequency f = 0.5 Hz (Hz = hertz), 1.0 Hz or 2.0 Hz, where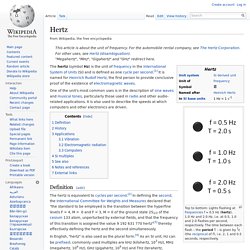 Hertz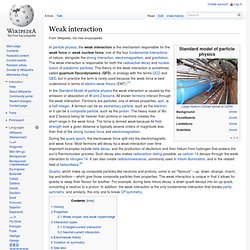 In particle physics, the weak interaction is the mechanism responsible for the weak force or weak nuclear force, one of the four fundamental interactions of nature, alongside the strong interaction, electromagnetism, and gravitation.
Weak interaction
History of electromagnetism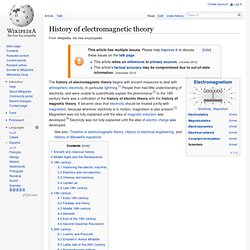 The history of electromagnetic theory begins with ancient measures to deal with atmospheric electricity, in particular lightning.[1] People then had little understanding of electricity, and were unable to scientifically explain the phenomena.[2] In the 19th century there was a unification of the history of electric theory with the history of magnetic theory.