Social Media in Latin America
www.centralamericadata.com/docs/Barometro_de_Presencia_Online_Top_30_Panama_Centroamerica.pdf
How Latin American Presidents Use Twitter for Good and Evil and Why | Antonio Altamirano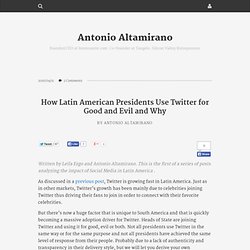 Written by Leila Ergo and Antonio Altamirano. This is the first of a series of posts analyzing the impact of Social Media in Latin America . As discussed in a previous post, Twitter is growing fast in Latin America. Just as in other markets, Twitter's growth has been mainly due to celebrities joining Twitter thus driving their fans to join in order to connect with their favorite celebrities. But there's now a huge factor that is unique to South America and that is quickly becoming a massive adoption driver for Twitter.
La marca más valiosa de América Latina: Telcel | Economía - Finanzas
El empresario mexicano Carlos Slim es hoy uno de los hombres más ricos del planeta, precisamente por haber constituido las principales compañías que más han crecido en los últimos tiempos. Y según un informe de Millward Brown, Telcel, una empresa de telefonía de México, es la empresa más valiosa del sur del continente, o sea, todo el continente menos Estados Unidos. La firma que investiga y estudia los mercados estableció que Telcel acumula un valor financiero estipulado en 10.850 millones de dólares, posicionándose como la compañía mejor valuada de casi todo el continente.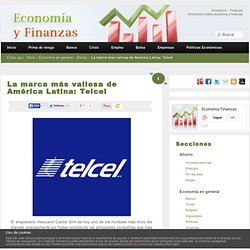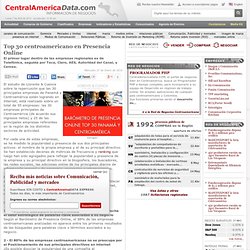 ©imagen: El estudio de Llorente & Cuenca sobre la repercusión que las 30 principales empresas de Panamá y Centroamérica están logrando en Internet, está realizado sobre un total de 55 empresas: las 30 empresas principales de Centroamérica (de acuerdo sus ingresos netos) y 25 de las principales empresas referentes en la región de los distintos sectores de actividad. Por cada una de estas empresas, se ha medido la popularidad y presencia de sus dos principales activos: el nombre de la propia empresa y el de su principal directivo. Se han establecido decenas de métricas de frecuencia y ranking que luego han sido agregados para reflejar la popularidad y presencia de la empresa y su principal directivo en la blogosfera, los buscadores, las redes sociales, las ediciones online de los principales diarios de información general y de economía, nacionales e internacionales.
Top 30 centroamericano en Presencia Online - CentralAmericaData :: Central America Data
State of Internet Latin America 2010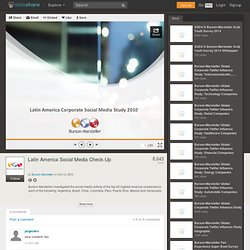 Latin America Social Media Check-Up
8,643 views Burson-Marsteller investigated the social media activity of the top 20 highest-revenue companies in each of the following: Argentina, Brazil, Chile, Colombia, Peru, Puerto Rico, Mexico and Venezuela. ... Burson-Marsteller investigated the social media activity of the top 20 highest-revenue companies in each of the following: Argentina, Brazil, Chile, Colombia, Peru, Puerto Rico, Mexico and Venezuela. Social media channels included in the study were Twitter, Facebook, YouTube and corporate blogs. Data was collected by Burson-Marsteller's global research team in June-August 2010. Statistics