Luxury fashion brands
Get flash to fully experience Pearltrees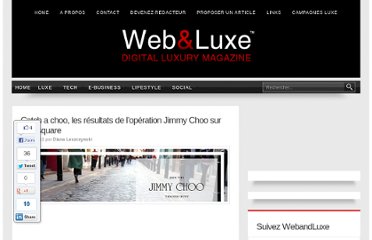 <br /><a href="http://www3.smartadserver.com/call/pubjumpi/42255/285624/6231/S/[timestamp]/?" target="_blank"><br /><img src="http://www3.smartadserver.com/call/pubi/42255/285624/6231/S/[timestamp]/?" border="0" alt="" /></a><br /> Annoncer ici
Loin de retomber rapidement dans l'anonymat comme certains le prédisaient, les blogueurs suscitent de plus en plus l'intérêt des griffes de luxe. Alors que ces dernières s'étaient jusqu'ici abstenues d'associer clairement leur image à celle des stars de la toile, certaines rumeurs laissent à penser que les choses seraient en train de changer, et ce notamment du côté de la rue Cambon... Si Boucheron n'hésite pas à inviter telles ou telles membres de la blogosphère à découvrir en exclusivité sa dernière collection de bijoux au sein de ses salons de la place Vendôme, dans son ensemble le petit monde du luxe ne semble pas encore tout à fait prêt à les considérer comme des journalistes à part entière, ni même comme des "it" girls influentes.
Louis Vuitton - Ad Campaign How Should Luxury Brands Engage in Social Media?
Alexander McQueen A few announcements in the past couple of weeks have made me ponder the place that real-time social media plays in fashion events. During Toronto Fashion Week, all social media was forbidden during events and shows; organizers blamed weak ticket sales for this shortsighted decision.
Luxury Brands and their adoption of social media is the topic du jour . The conversations are noisy, speculative and highly theoretical.
Social media and digital technology have forever changed the retail industry. In 2011, brands and retailers have reached a tipping point, digital innovations have decentralized commerce, and real-time consumer demand for designer merchandise has forever changed retail production cycles. Many fashion brands, mocked for their inability to move with the web because of a fear of accessibility, are no longer fighting the flow.