Luxe et médias sociaux
Balistik#Art s'est vu confié par la maison Dior le lancement buzz de «The Lady Noire Affair » un court-métrage de 6 minutes 30 réalisé par Olivier Dahan avec Marion Cotillard, diffusé exclusivement sur Internet. L'agence a imaginé un dispositif buzz online 360° : fil d'intrigue sur Twitter, widgets viraux, RP online internationales, avant-première blogueurs à Paris… Une campagne qui a déjà généré 2 millions de vues. Follow Lady Dior on Twitter… A J-24, le fil de l'intrigue démarre sur Twitter avec des accroches courtes de 140 caractères destinées à capter l'attention des leaders d'opinion et blogueurs attentifs à l'actualité du luxe et de la mode sur Internet.
Balistik*Art imagine un scénario viral pour le lancement de la nouvelle campagne de Dior Couture « The Lady Noire Affair » – Balistik*Art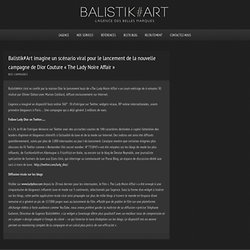 The new international study "MePublic – A Global Study on Social Media Youth" by Volkswagen and MTV Networks presents some interesting insight into media use and value ethics in the group of 14-to 29-year-olds (digital natives). No surprise that they will respond to one of the findings: Young people want to see networking apps extend to the car… and Volkswagen already works on that app. "With just under 500,000 fans on Facebook and over ten million visitors on YouTube since the company profile was set up at the end of 2008, Volkswagen already has one of the largest fan communities in the automotive industry. And together with our fans we are breaking new ground in the social web – as confirmed by the recent "App my Ride" competition where we gave prizes to the best developments for applications in car infotainment systems." Luca de Meo, Group Marketing Head, Volkswagen AG.
Social Media study on digital natives released by Volkswagen and MTV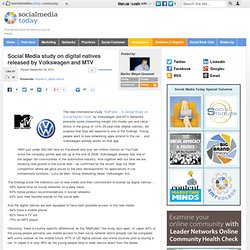 Annoncer ici Le récent développement de la présence digitale des marques de luxe a été logiquement accompagné par un développement des blogs traitant de ce sujet: les blogs luxe. A mi-chemin entre les blogs mode, les blogs lifestyle et les blogs marketing, les blogs luxe se veulent les témoins du virage digital que prennent les Grandes Maisons de luxe françaises et internationales.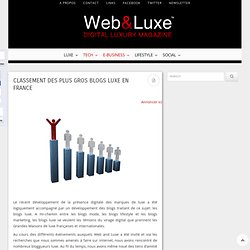 Classement des plus gros blogs luxe en France
Ykone: a complete fashion social media experience « The luxury industry and Social Media
Insights on Social Media Monitoring for Luxury Brands: Facebook, Twitter, Blogs, Forums
Nouvelle étude Benchmark Group : 17% des consommateurs de produits de luxe suivent au moins une marque sur les réseaux socia
Paris, le 13 janvier 2011 - Benchmark Group présente sa nouvelle étude "Les marques de luxe sur Internet : les meilleures pratiques sur les sites, l'opinon des clients". Alors que les marques de luxe multiplient actuellement les initiatives sur les réseaux sociaux, cette étude fait ressortir que 17 % de leurs clients déclarent les suivre sur ces supports, le plus souvent sur Facebook. La popularité des marques de luxe sur les réseaux sociaux "Suivez-vous une marque de luxe sur un réseau social ?"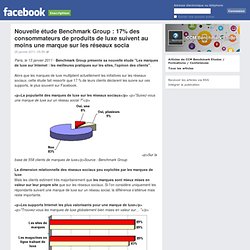 This post originally appeared on Forbes.com, where Mashable regularly contributes articles about social media, business and technology. For a sector as forward-thinking as the fashion industry, the reluctance with which it has ventured into e-commerce and other digital platforms — particularly social media — is more than a little perplexing. The affinity for traditional commerce and marketing channels is strong among many purveyors of luxury goods, both in the fashion sector and elsewhere. In an international survey of 178 premium and luxury firms in 2008, Forrester Research found that only one-third of them actively sold online, though eight out of every 10 affluent consumers uses the Internet to actively research and purchase luxury goods and services on a daily basis. That number has risen significantly since 2008, but is still strikingly low.
Luxury Brands Still Tread Lightly With Social Media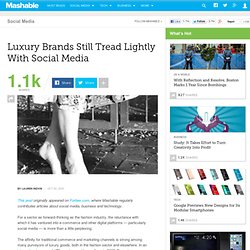 Luxury brands using social media | Cosmedia Consulting
Luxury Travel Bows to Social Media In Cannes, France, members of the elite International Luxury Travel Market crowd paid grudging respect to the power of the social media "crowd." The elite at the classy Riviera resort had to admit that the power and wisdom of Facebook, Twitter, and "invite only" travel web sites was changing the face of luxury travel, for good. Agence France Presse (AFP) reported that Klara Glowczewska, editor of Conde Nast Traveler, a glossy, upscale travel publication, admitted that Facebook, with its 600 million users "will have a dramatic impact on how affluent travelers make their travel decisions."
Luxury Travel Bows to Social Media - Technorati Travel
Six Impactful Social Media Opportunities for Luxury Brands Now
Last week, I had the opportunity to lead a pre-conference workshop at the Luxury Interactive conference covering social media opportunities for luxury brands. While the list of possibilities is endless, I outlined six areas where luxury companies could quickly and efficiently take their social media strategies to the next level: 1) Facebook's Open Graph Facebook's stated mission is to "make the work more open and connected," and the tools they have recently provided via their Open Graph have allowed brands, websites, etc. to join Facebook's social graph. One of the primary and easiest to implement functions is the "Like" button.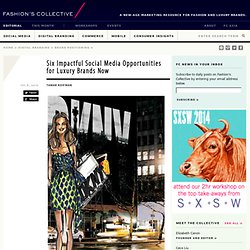 20inShareinShare20 One to many is outdated. One to niche is the true power. There is not a single consumer brand that does not at least consider investing in social media campaigns or community creation. Even if you decide not to embrace new media and the shift their use impose to marketing, PR and advertising departments, it is a "decision not to".
Luxury Brands & Social Media – Rise of the Ambassadors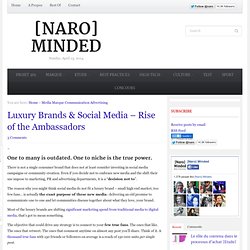 0inShareinShare0 Today is a day of arguments. Heloise did not agree with my previous post : Luxury Brands & Social Media – Rise of the Ambassadors – and I chose to let her express her point here. Let me just say I strongly disagree with her, but I'd like to share her views with you.
Luxury Brands Should Use Social Media Differently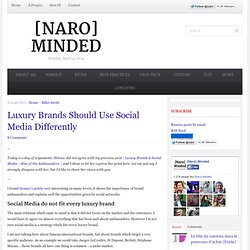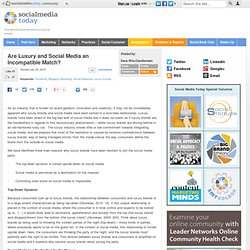 Are Luxury and Social Media an Incompatible Match?
As an industry that is known for avant-gardism, innovation and creativity, it may not be immediately apparent why luxury brands and social media have been locked in a love-hate relationship. Luxury brands have been afraid of the big bad wolf of social media and it does not seem as if luxury brands are the trendsetters in regards to this revolutionary phenomenon – rather luxury brands are driving behind in an old-fashioned rusty car. The luxury industry shows little or low commitment towards integrating social media, and we propose that most of the hesitation is caused by extreme contradictions between luxury brands' way of being managed strictly from the inside versus the way consumers define the brand from the outside on social media We have identified three main reasons why luxury brands have been hesitant to join the social media party: - The top-down dynamic is turned upside down on social media
The luxury industry and Social Media
LVMH's new blog: NOWNESS Posted by Josephine LIPP on March 27, 2010 · 1 Comment The biggest luxury industry group is embracing social media. After puting an end to its e-commerce website – eluxury.com- last June, LVMH has officially launched on Thursday 25 February NOWNESS.COM to the public.
LVMH's new blog: NOWNESS « The luxury industry and Social Media
Rachel Whiteread's Drawings | Source: NOWNESS NEW YORK , United States — In recent quarters, online sales were the only bright patch in a grim luxury retail landscape. But interestingly, in January of 2009, LVMH-owned eLuxury announced that it would cease e-commerce operations entirely and relaunch as a luxury destination focused completely on content. Fast-forward one year and the luxury industry still can't seem to get enough of the internet.
Digital Scorecard | NOWNESS − BoF – The Business of Fashion
Understanding Luxury Brands and Social Media
Samir Balwani is an emerging technology strategist at Morpheus Media, a firm specializing in Social Marketing, SEM, and SEO. You can follow him on Twitter @samirbalwani and get his newsletter. One of the biggest misconceptions by brand managers is that the web is not a luxury market.
webetluxe.com
Des Médias Sociaux dans l'univers du Luxe
Avec le développement du web 2.0, les maisons de luxe ne pouvaient pas y échapper. Elles sont aujourd'hui nombreuses à intégrer, progressivement mais sûrement, l'utilisation des réseaux sociaux dans leurs stratégies de e- communication. Voici 3 exemples qui justifient aisément ce propos: La marque a étonné, il y a quelques mois, en lançant sur Facebook une vidéo du défilé Printemps-Eté 2010 en live ! Leur page « The Art of Travel » sur Facebook compte aujourd'hui plus de 1.200.000 fans et est mise à jour très régulièrement avec des vidéos ou des photos inédites qui ne sont pas présentes sur leur site officiel. Il est en revanche impossible d'écrire sur le « wall » de leur page !
MÉDIAS SOCIAUX - Limites du crowdsourcing dans le luxe