Brazil
Indonesia, Brazil and Venezuela Lead Global Surge in Twitter Usage. August 11, 2010 Indonesia, Brazil and Venezuela Lead Global Surge in Twitter Usage Global Audience to Twitter.com Doubles in Past Year, as Latin American Audience Grows Fourfold Reston, VA, August 11, 2010 – comScore, Inc.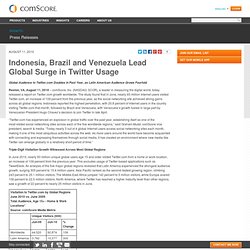 (NASDAQ: SCOR), a leader in measuring the digital world, today released a report on Twitter.com growth worldwide. The study found that in June, nearly 93 million Internet users visited Twitter.com, an increase of 109 percent from the previous year, as the social networking site achieved strong gains across all global regions. Brazil tops league of social media users | Social media agency London | FreshNetworks blog. In Brazil 86% of internet users regularly use social networks and other social media sites.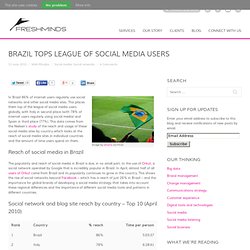 This places them top of the league of social media users globally, with Italy in second place (with 78% of internet users regularly using social media) and Spain in third place (77%). This data comes from the Nielsen's study of the reach and usage of these social media sites by country which looks at the reach of social media sites in individual countries and the amount of time users spend on them. Reach of social media in Brazil The popularity and reach of social media in Brazil is due, in no small part, to the use of Orkut, a social network operated by Google that is incredibly popular in Brazil. Amarok LiveTest Case Study.
Promu Trending les débuts Nike au Brésil | Médias sociaux. 22 de outubro de 2010 Por Ricardo de Paula em Campanhas A Nike Brasil juntamente com agência F/Nazca realizam a primeira ação publicitária no Brasil usando o Promoted Trending e o Promoted Tweet no Twitter.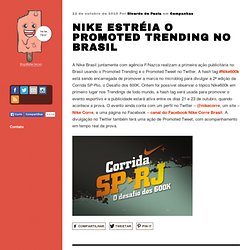 A hash tag #Nike600k está sendo encarregada de promover a marca no microblog para divulgar a 2ª edição da Corrida SP-Rio, o Desafio dos 600K. Ontem foi possível observar o tópico Nike600k em primeiro lugar nos Trendings de todo mundo, a hash tag será usada para promover o evento esportivo e a publicidade estará ativa entre os dias 21 e 23 de outubro, quando acontece a prova.
O evento ainda conta com um perfil no Twitter – @nikecorre, um site – Nike Corre, e uma página no Facebook – canal do Facebook Nike Corre Brasil. A divulgação no Twitter também terá uma ação de Promoted Tweet, com acompanhamento em tempo real da prova. Les médias sociaux titres des entreprises brésiliennes | Social Media. Les médias sociaux influencent les décisions d'achat de 25% des utilisateurs | Social Media. O fenômeno das redes sociais no brasil. Twitter Usage Statistics by Geography, Countries, Cities, Around the World. In our initial Twitter report published last June, one of the areas that looked at were the countries and cities where Twitter was being used.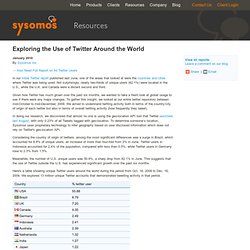 Not surprisingly, nearly two-thirds of unique users (62.1%) were located in the U.S., while the U.K. and Canada were a distant second and third. Given how Twitter has much grown over the past six months, we wanted to take a fresh look at global usage to see if there were any major changes. To gather this insight, we looked at our entire twitter repository between mid-October to mid-December, 2009. Brazil ranking second in Twitter users | Brazilian society | Brazilian real estate. "Au Brésil, les marques s'intéressent aux sites communautaires" Orkut en tête, les sites communautaires suscitent l'engouement de la population, et donc des marketeurs.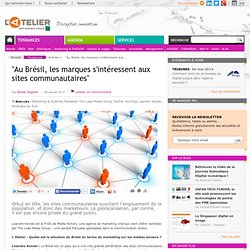 La géolocalisation, par contre, n'est pas encore prisée du grand public. Leandro Kenski est le P-DG de Media Factory, une agence de marketing viral qui vient d'être rachetée par The Lead Media Group – une société française spécialisée dans la communication online. L'Atelier : Quelle est la situation du Brésil en terme de marketing sur les médias sociaux ? Leandro Kenski : Le Brésil est un pays qui a une très grande pénétration des sites communautaires. Orkut, bien entendu, est en position dominante. On the social media campaign trail in Brazil. There's hardly a country in the world where social media are so widely used as in Brazil.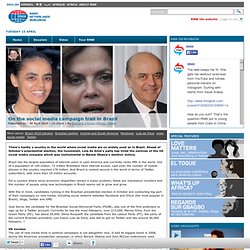 Ahead of October's presidential election, the incumbent, Lula da Silva's party has hired the services of the US social media company which was instrumental in Barack Obama's election victory. Brazil has the largest population of internet users in Latin America and currently ranks fifth in the world. Out of a population of 195 million, 72 million Brazilians have internet access. Last year, the number of mobile phones in the country reached 176 million. And Brazil is ranked second in the world in terms of Twitter subscribers, with more than 10 million accounts. Promoção "Pago com Meu Cartão de Débito Visa Electron"
---