Photography Stuff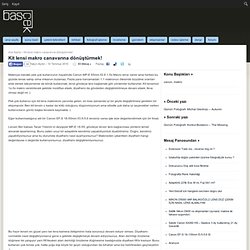 Kit lensi makro canavarına dönüştürmek! | BasÇek
Makroya meraklı pek çok kullanıcının hayalinde Canon MP-E 65mm f/2.8 1-5x Macro lensi vardır ama herkes bu güzide lense sahip olma imkanını bulamaz. Fazla para harcamadan 1:1 makronun ötesinde büyütme oranları elde etmek isteyenlerse de körük kullanmak, lensi gövdeye ters bağlamak gibi yöntemler kullanırlar. Kit lensimizi 1x-3x makro verebilecek şekilde modifiye etsek, diyaframı da gövdeden değiştirebilmeye devam etsek, fena olmaz değil mi :)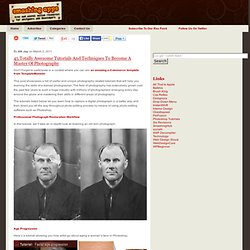 Don't Forget to participate in a contest where you can win an amazing e-Commerce template from TemplateMonster. This post showcases a list of useful and unique photography related tutorials that will help you learning the skills of a trained photographer. The field of photography has extensively grown over the past few years to such a huge industry with millions of photographers emerging every day around the globe and mastering their skills in different areas of photography. The tutorials listed below let you learn how to capture a digital photograph in a better way and then direct you all the way throughout photo-editing process by means of using photo-editing software such as Photoshop.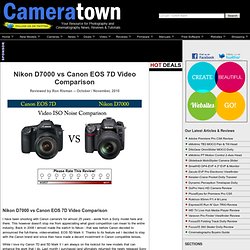 Nikon D7000 vs Canon EOS 7D ISO Noise Comparison
Nikon D7000 vs Canon EOS 7D Video Comparison I have been shooting with Canon camera's for almost 25 years - aside from a Sony model here and there. This however doesn't stop me from appreciating what good competition can mean to the entire industry.
Nikon D7000 vs. Canon EOS 7D - Could it be a 7D Killer?
A collection of photos taken at the right time!
A perfect photo has to be taken at the right place, on the right time, with the right camera, with the right model maybe and from the right angle of course. But sometimes if the angle is right and the timing is ok, it might lead to a couple of damn funny photos that seem to have a double sense. After more than two hours of hard "research", we've managed to compile this cool collection with some of the best photos taken at the right time. Stunning photos, funny photos, crazy photos and so on… Enjoy! Close This content has been recommended to you by Yavli.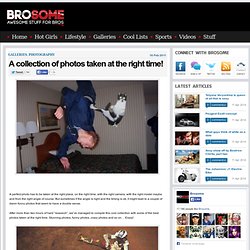 よわよわカメラウーマン日記
photography magazines - pdf-mags.com - Almost everything about PDF magazines
Ricoh has launched the Pentax 645Z, a medium-format camera with a 51.4 megapixel CMOS sensor. Boasting an articulated 3.2-inch LCD, top ISO of 204,800, 3 fps continuous shooting, and 1080/60i video, the 645Z is cold-resistant, dustproof and weather-resistant with 76 weather-seals. It's also compatible with the Pentax FluCard, offering wireless remote control and image sharing from the camera to a smartphone, tablet or computer.