Music
STRAWBERRY WINE ~ Deana Carter cover
I Can't Stand ORIGINAL Kappa Danielson and twin sister Kristi Starr
Trying to Find Atlantis cover by Twin Sisters Kristi Starr and Kappa Danielson
Ahanu Sleep Music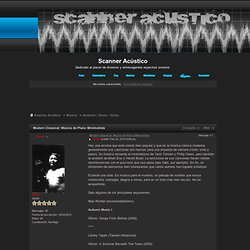 Modern Classical: Música de Piano Minimalista
Hay una escena que está siendo bien popular y que es la música clásica moderna, generalmente sus canciones son hechas para una orquesta de cámara (violin, viola y piano). Su música recuerda al minimalismo de Yann Tiersen y Philip Glass, pero también al ambient de Brian Eno y Harold Budd. La estructura de sus canciones tienen ciertas reminiscencias con el post-rock que usa piano (tipo Takk, por ejemplo). En fin, un sinnúmero de elementos bien interesantes que varios autores han logrado sintetizar.
Max Richter (born 1966) is a British composer . [ edit ] Early career Richter studied composition and piano at the University of Edinburgh , the Royal Academy of Music , and with Luciano Berio in Florence . [ 1 ] [ not in citation given ] After finishing his studies, Richter co-founded the contemporary classical ensemble Piano Circus. [ 2 ] He stayed with the group for ten years, commissioning and performing works by Arvo Pärt , Brian Eno , Philip Glass , Julia Wolfe , and Steve Reich . The ensemble was signed to Decca / Argo , producing five albums.
Max Richter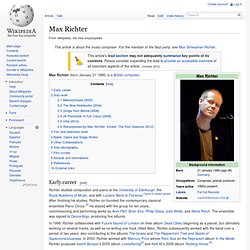 Achillea – Land of the Elves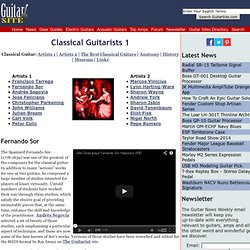 Fernando Sor The Spaniard Fernando Sor (1778-1839) was one of the greatest of the composers for the classical guitar. In addition to many "serious" works for one or two guitars, he composed a large number of studies intended for players of lesser virtuosity.
Classical Guitar: Artists & Performers - 1000 Great Guitar Sites on the Web
Ambient Nights - ambient-nights.org