Music
Janice Faber: "Gentle Shepherd" [2:34] - Live365 Player Window. STRAWBERRY WINE ~ Deana Carter cover. I Can't Stand ORIGINAL Kappa Danielson and twin sister Kristi Starr. Trying to Find Atlantis cover by Twin Sisters Kristi Starr and Kappa Danielson. Ahanu Sleep Music.
Modern Classical: Música de Piano Minimalista. Hay una escena que está siendo bien popular y que es la música clásica moderna, generalmente sus canciones son hechas para una orquesta de cámara (violin, viola y piano).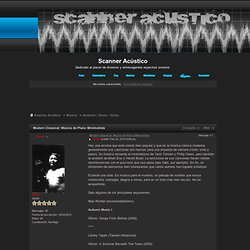 Su música recuerda al minimalismo de Yann Tiersen y Philip Glass, pero también al ambient de Brian Eno y Harold Budd. La estructura de sus canciones tienen ciertas reminiscencias con el post-rock que usa piano (tipo Takk, por ejemplo). En fin, un sinnúmero de elementos bien interesantes que varios autores han logrado sintetizar.
Max Richter. Max Richter (born January 21 1966) is a British composer.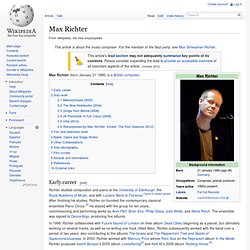 Early career[edit] Solo work[edit] Memoryhouse (2002)[edit] Achillea – Land of the Elves. Classical Guitar: Artists & Performers - 1000 Great Guitar Sites on the Web. Classical Guitar: Artists 1 | Artists 2 | The Best Classical Guitars | Anatomy | History | Museum | Links Fernando Sor The Spaniard Fernando Sor (1778-1839) was one of the greatest of the composers for the classical guitar.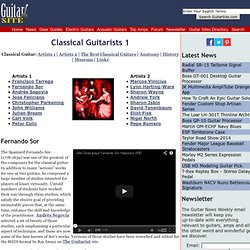 Web Metronome .com - a free online metronome.
---