Web Resources and Best of
Periodic Table of the Elements - Josh Duck. 16 Best Web Design Galleries for Inspiration. Web design galleries offer designers and developers creative inspiration on their own designs.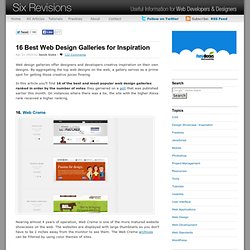 By aggregating the top web designs on the web, a gallery serves as a prime spot for getting those creative juices flowing. In this article you'll find 16 of the best and most popular web design galleries ranked in order by the number of votes they garnered on a poll that was published earlier this month. Free Webmaster Tutorials - Quackit.com.
Premium Graphic Design Resources. HTML5 FUN. Free Copy & Paste JavaScripts and other Scripts. Add JavaScripts, CGI and other scripts to your Web pages by just copying and pasting the code into your Web pages.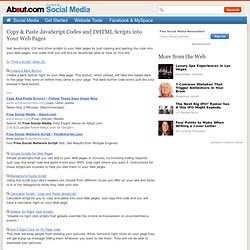 Use codes that you will find on JavaScript sites or here on this site. Create a Back ButtonCreate a back button right on your Web page. This button, when clicked, will take the reader back to the page they were on before they came to your page. This back button code works just like your browser's back button. Simple Scripts for Web PagesSimple javascripts that you can add to your Web pages in minutes, no knowing coding required. CSS: Rounded corner, gradient, drop shadow and opacity - Zeeshan Muhammad Khan - PHP, MySQL, CSS, Javascript. Dynamic Drive DHTML(dynamic html) & JavaScript code library.
W3Schools Online Web Tutorials. Webmonkey - The Web Developer's Resource | Wired.com. Web fonts with @font-face. Home / CSS3 Previews / Web fonts with @font-face Not exactly a feature which is new to CSS3, @font-face was first proposed for CSS2 and has been implemented in Internet Explorer since version 5!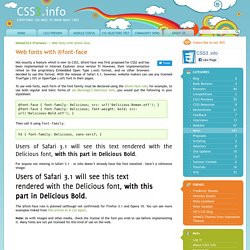 However, their implementation relied on the proprietary Embedded Open Type (.eot) format, and no other browsers decided to use this format. Web Fonts. Top 10 Social Media Presentations  I'm addicted to slideshare and after reading a bunch of re-tweets about the Top 10 Social Media Presentations I thought it might be useful to post them on Digital Buzz!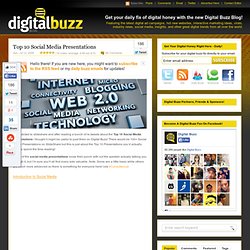 There would be 100+ Social Media Presentations on SlideShare but this is just about the Top 10 Presentations you'd actually want to spend the time reading! Some of the social media presentations loose their punch with out the speaker actually talking you through it, but I'm sure you'll all find every side valuable. Note: Some are a little basic while others are much more advanced so there is something for everyone here! Code Snippets. Wordmark.it.
---