Partners
Cumulus, International Association of Universities and Colleges of Art, Design and Media - Cumulus, International Association of Universities and Colleges of Art, Design and Media
Design Ignites Change
ICOGRADA | Leading Creatively
Society of Graphic Designers of Canada
o2 Global
SEGD
Winterhouse
In January 2009, Winterhouse Institute began a two-year project, funded by the Rockefeller Foundation with a $1.5 million grant, to develop collective action and collaboration for social impact across the design industry - and encompassing a range of other institutions that work on the needs of poor or vulnerable people. The funding will be used to develop specific programs for social impact by the design community, to host a major conference at Aspen in 2009, to develop case studies with the Yale School of Management, and to create an editorial website to monitor progress in the zone of design and innovation around social issues. The Rockefeller Foundation has taken the lead in galvanizing an important and constructive, but uncoordinated, phenomenon: design as mode of innovation leading to social change.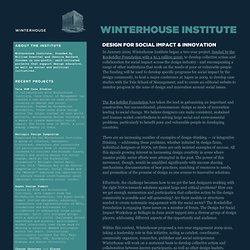 GreenBlue
Society of Graphic Designers of Canada
RGD Ontario
DMI Blog As we plan for the new DMI website and our portfolio of events, content, and education our blog dmi: dialog will serve as the platform for conversation. Our community spans the globe and crosses design disciplines and we value your insight. Please join in the conversation...
The Design Management Institute