Recherche sur le web
You can use most of the options we discussed in Google's Advanced Search Form in a regular search box query. If you're a frequent searcher or a "power searcher," this can save time because you don't need to open the Advanced Search page and fill in various boxes; instead, you can enter the refined query in almost any Google search box. You'll use advanced operators, query words that have special meaning to Google. Since the advanced operators are convenient for searching, Google Guide calls them search operators. Note: We recommend that you skip ahead to the Part Understanding Results unless you're an experienced Google user or you want to know how to use Google's advanced operators. 1.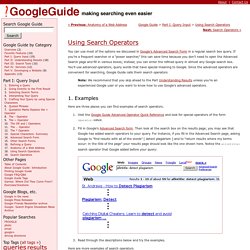 Quel est le comportement des internautes vis-à-vis des moteurs de recherche ? - Actualités du Réf
Yahoo! Search Academy : comment les internautes utilisent-ils les moteurs de recherche ?,Référencement,actualités du Net,référencement efficace
Comment les internautes utilisent-ils les outils de recherche (nombre de mots clés, etc.) ?
Comment les internautes utilisent les moteurs de recherche
Depuis le lancement de Google Suggest en août dernier, vous vous êtes sans doute déjà habitué à obtenir des suggestions de recherche en temps réel lorsque vous saisissez une requête — si vous vous trouvez sur Google.com. Mais qu'en est-il de Google en Grande-Bretagne, Inde, Irlande, ou Australie ? Aujourd'hui, nous sommes heureux d'annoncer le lancement international de Google Suggest.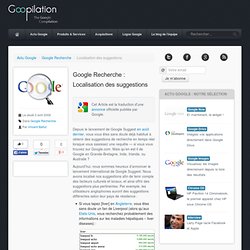 Google Recherche : Localisation des suggestions
Bien entendu, vous connaissez ! Qui ne connait pas le moteur de recherche le plus rapide et le plus utilisé du Web ! A vrai dire, sans Google, Internet aurait un autre goût... En effet, quel plaisir de pouvoir rechercher parmi plus de trois milliards de pages indexées n'importe quel mot et de le trouver en quelques dixièmes de secondes. Gratuitement, s'il vfous plaît ! Vous connaissez donc Google.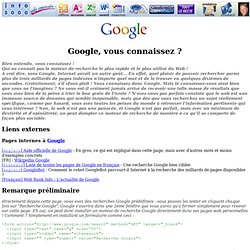 Google, vous connaissez ?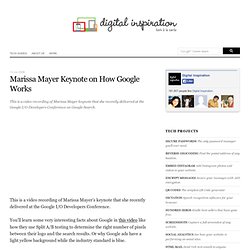 This is a video recording of Marissa Mayer keynote that she recently delivered at the Google I/O Developers Conference on Google Search. This is a video recording of Marissa Mayer's keynote that she recently delivered at the Google I/O Developers Conference. You'll learn some very interesting facts about Google in this video like how they use Split A/B testing to determine the right number of pixels between their logo and the search results. Or why Google ads have a light yellow background while the industry standard is blue. When you perform a query on Google, it will hit anywhere between 700 – 1000 machines across different Google data centers before returning the search results on your screen – and the whole process takes less than a second. Marissa Mayer also shares some interesting facts about user behavior:
Marissa Mayer Keynote on How Google Works
Options de résultats de recherche - Centre d'aide Recherche sur le Web Google
Pour filtrer et personnaliser les résultats de recherche qui s'affichent, utilisez les options et les outils situés en haut de la page de résultats. Vous pouvez, par exemple, choisir de n'afficher que les blogs mis à jour au cours des dernières 24 heures ou les photos d'une couleur spécifique. Vous souhaitez modifier vos paramètres de recherche ? Rendez-vous sur la page google.com/preferences pour modifier les paramètres tels que SafeSearch, l'historique des recherches, le nombre de résultats par page, la langue et l'emplacement d'affichage des résultats de recherche. Comment utiliser les outils et les filtres de recherche