RECONSTRUCTING
Le Haut Fly | How To | Découpe + Conserver. For the trim on the armholes, cut two strips of the remaining off-cuts of the T-shirt or vest (you can take part of the sleeve if you have used a T-shirt).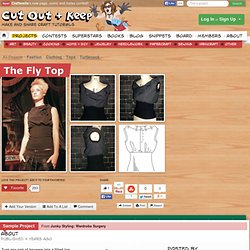 Make these strips a bit longer than half the length of the armhole (when laid out flat) and 5 cm (2 in.) wide. Sew together the 5 cm (2 in.) widths on each strip, creating two circles. Ruffled Top From A Men's Shirt. Turn under 1/2" of an inch, and stitch about 3/8" from the edge to finish, notching as you go.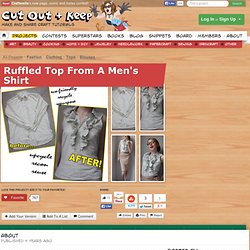 (If you want a more finished look, cut the armscye 3/4" outside of your markings, turn once and topstitch; turn again and topstitch to create a bound seam. I find this very difficult along a curve, as often the armscye becomes tighter and smaller the more times you turn the edge, and notching the inside on such a small seam allowance is quite difficult. If anyone has any tips, I'd love to hear them!) TUTORIELS. Trpattern. Upload trcuttingschool.com Subscription preferences Loading...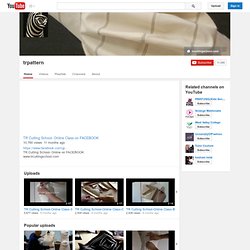 Avec une chemise de l'Homme « ★ By Xilaa ★ Pour inaugurer ce nouvel espace, je profite de l'occasion pour vous présenter ma dernière pêche dans l'armoire de Monsieur … J'avais déjà lorgné sur cette chemise depuis quelques temps, mais il semblait trop l'apprécier pour la subtiliser ;-) Voilà qui est fait … j'avoue que j'en ai même profité pour choisir mon prochain ouvrage … mais là … silence … je patiente un peu !
Sait-on jamais ! Une encolure froncée, des ourlets roulottés et je me suis régalée en ajoutant mes petits boutons mignons en forme de coeur ! Je regrette juste de ne pas en avoir eu assez pour les placer sur les manches … il va falloir que j'y retourne ! Crafterhours: upcycle. T-Shirt to Tank: A Tutorial by Jen from Upcycled Education August 17, 2011 By crafterhours 195 Comments This is one of my favorite t-shirt refashions of all time.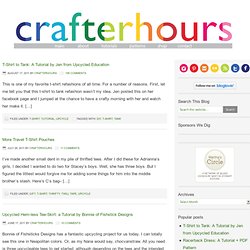 Atelier AF! magasiner avec des tabliers enfants faits à la main la chemise des vieux papa. Mode habillement - Mode femme - Createurs de mode.com. Bricolage - College Fashion. DIY Tutorial: "Paint" Splatter Heels Ever since I read this CF post on paintbrush and paint splatter prints, I can't seem to get this spring trend out of my head.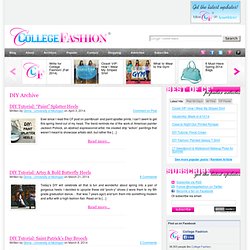 The trend reminds me of the work of American painter Jackson Pollock, an abstract expressionist artist. He created drip "action" paintings that weren't meant to showcase artistic skill, but rather the […] Studios ette. Tee-soi Itse Valas. You can find the tutorial in English here.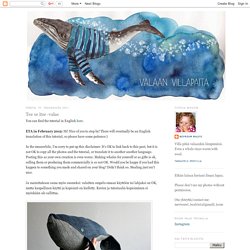 ETA in February 2012: Hi! Nice of you to stop by! Girl. Inspired.: clothing makeover. Tutoriel ~ ~ chemise à volants. I have been a big fan of Down East Basics and Shade for a few years now.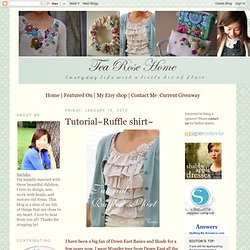 I wear Wonder tees from Down East all the time. They are comfortable, modest (hide everything I need to hide and when I bend over it doesn't flash people) and since it is not baggy, I wear it under a cardigan all the time. Upcycle. If you're stopping over from MADE, thanks for visiting and be sure to take a look around at my other stuff.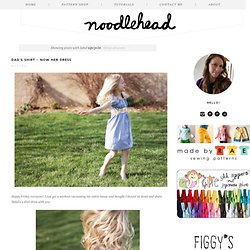 Let's hear it for the boys! Have a few old pairs of khaki pants laying around? Maybe even some with a few stains on them? By sophie b. l'éco-design à la française. Quick fix sac d'épicerie :: un tutoriel. We had grapes this weekend.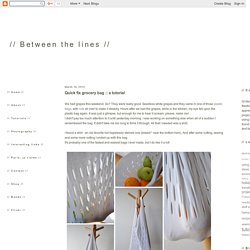 So? They were really good. Tutoriels. My front porch has desperately been needing planters for awhile now! I'm way too cheap to spend lots on pots. So I got to thinking what I could use for planters instead of having to buy pots.... I remembered seeing some old drawers in our shed. Couture / . MILCH »COLLECTION. Récup | Couleur Machine. Les sacs et cabas - Chèresloques, créateur de vêtements recyclés.
»Junky Styling maintenant en magasin. Click on our logo below to visit our new online shop, where you'll find pieces from our current Autumn Winter '11 collection and a selection of Junky classics. (Alternatively, the web address is ) Junky Styling – Wardrobe Surgery – £19.99.
---