Psychomotricité
Héloïse Allard - Ergothérapeute
Le cartable fantastique - dyspraxie ressources
childcareland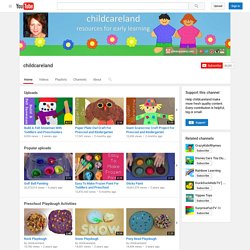 Welcome to YouTube! The location filter shows you popular videos from the selected country or region on lists like Most Viewed and in search results.To change your location filter, please use the links in the footer at the bottom of the page. Click "OK" to accept this setting, or click "Cancel" to set your location filter to "Worldwide".
do2learn FineMotor skills
Gymn-eau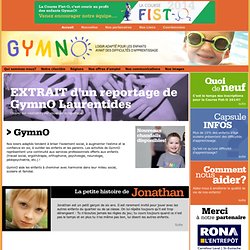 Nos loisirs adaptés tendent à briser l'isolement social, à augmenter l'estime et la confiance en soi, à outiller les enfants et les parents. Les activités de GymnO représentent une continuité aux services professionnels offerts aux enfants (travail social, ergothérapie, orthophonie, psychologie, neurologie, pédopsychiatrie, etc.) ! GymnO aide les enfants à cheminer avec harmonie dans leur milieu social, scolaire et familial.
Your Therapy Source - resources for school based occupational therapy and physical therapy
Your Therapy Source, Inc. is a team of professionals with years of experience in pediatric therapy and special education. Our books and activities are great resources for occupational and physical therapists in school based and pediatric practice. In addition, our books are wonderful for teachers and parents who want to incorporate sensory motor activities at home and in the classroom. Many of our books are available in printed or electronic format. NEWSLETTER for Pediatric Occupational Therapists and Pediatric Physical Therapists - Sign up for our free newsletter which includes information, activities and/or hand outs for pediatric therapists, type email address in box and click on GO button to receive our newsletters.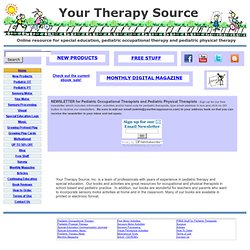 Ergothérapie de la maison à l'école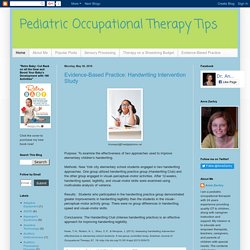 Pediatric Occupational Therapy Tips
Children with special needs often struggle with language, motor, and sensory processing skills. Difficulties in one or more of these areas may impact how a child interacts with the world. For example, a child with a language delay may have fewer social interactions throughout the day. Because children learn by engaging with the world around them, it is critical that all children have unlimited opportunities for learning. Here are several strategies for helping a child with special needs learn through engagement.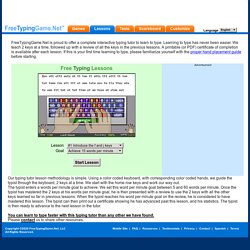 Free Touch Typing Lessons - Comprehensive 30 lesson typing tutor including home row.
Our typing tutor lesson methodology is simple. Using a color coded keyboard, with corresponding color coded hands, we guide the typist through the keyboard, 2 keys at a time. We start with the home row keys and work our way out. The typist enters a words per minute goal to achieve. We set this word per minute goal between 5 and 60 words per minute. Once the typist has mastered the 2 keys at his words per minute goal, he is then presented with a review to use the 2 keys with all the other keys learned so far in previous lessons.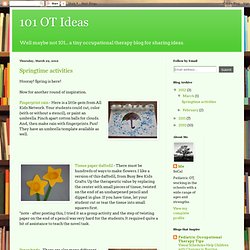 101 OT Ideas
Ahhhh, snowflakes. There has to be 101 different ways to make a snowflake. I am currently making 4 different versions with my students. Here are some fabulous examples for inspiration. Old-fashioned Snowflake I have to start with the classic folded paper cut out snowflake.