Restos
La Perla might be West Queen West's newest nightspot but don't call it a bar. Owner Arturo Anhalt is adamant that La Perla is a cantina in the traditional Mexican style. For those of us whose exposure to Mexican culture has so far been limited to late night Beef Gordita Supremes at Taco Bell or cheap street eats at El Trompo, Anhalt explains the difference. In his native Mexico City, a cantina is a regular hang-out where locals go to drink, talk, and soak in the atmosphere. "A bar is trendy," he says.
La Perla
Insomnia Restaurant & Lounge
Fresh Restaurants - Gourmet Vegetarian Dining Restaurant in Toronto Gourmet Vegetarian Dining Restaurants
Kalendar Restaurant & Bistro – Welcome
Sushi on Bloor Website
Housed in a former butcher shop that dates from the 1950s, Czehoski is a favourite in contemporary dining. Feast on our delicious, locally sourced menus and check out our unique interiors. From the original hardwood flooring with knife-drop details, butcher-block countertops and glass deli case we have preserved a piece of Toronto history. A proud member of the farm to table movement, Czehoski uses as many local, organic and sustainable ingredients as possible. From our fresh breads from Ace Bakery, our quality meats from St. Lawrence and Kensington Markets, and delectable desserts by Auntie May, we always strive to bring the freshest ingredients straight to your plate.
czehoski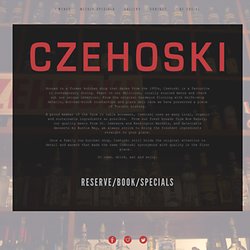 Futures Bakery & Cafe Toronto - Bakery in Annex