Restos
La Perla might be West Queen West's newest nightspot but don't call it a bar.
La Perla
Insomnia Restaurant & Lounge
Fresh Restaurants - Gourmet Vegetarian Dining Restaurant in Toronto Gourmet Vegetarian Dining Restaurants
Kalendar Restaurant & Bistro – Welcome
Sushi on Bloor Website
At this decades-old Chinatown landmark, most faces are buried deep in steaming bowls of pho. Brimming with rice noodles, raw sirloin and succulent, fatty brisket, the broth has a beefy baseline, but it's a bit greasy and is lacking the requisite cinnamon notes. Bun is a better choice, with cold vermicelli, iceberg lettuce, carrot and daikon topped with several piggy treats. A sweet-salty-sour nuoc mam dressing ties the whole dish together.
Pho Hung | Vietnamese | Restaurants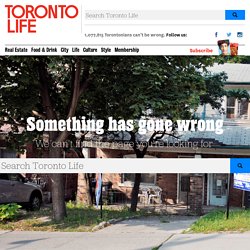 czehoski
Futures Bakery & Cafe
Futures Bakery & Cafe Toronto - Bakery in Annex