Zend framework
Zend Framework by examples (ZfEx)
Framework 2.0 Roadmap - Zend Framework 2.0
Zend Framework 2.0 will be the first major version following the 1.x series, and as such is the first time BC breaks will be allowed.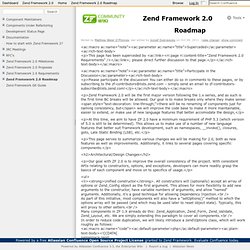 Zend Framework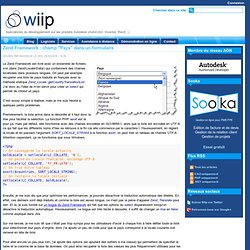 Le Zend Framework est livré avec un ensemble de fichiers xml (dans Zend/Locale/Data/) qui contiennent des chaines localisées dans plusieurs langues.
Zend Framework : champ "Pays" dans un formulaire
La communauté Francophone du Zend Framework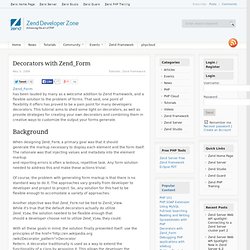 Zend_Form has been lauded by many as a welcome addition to Zend Framework, and a flexible solution to the problem of forms. That said, one point of flexibility it offers has proved to be a pain point for many developers: decorators.
Decorators with Zend_Form
Atelier Zend Framework : Donnez de la puissance à vos modèles