Zend framework
Zend Framework by examples (ZfEx)
Framework 2.0 Roadmap - Zend Framework 2.0
<ac:macro ac:name="note"><ac:parameter ac:name="title">Superceded</ac:parameter><ac:rich-text-body> <p>This page has been superceded by <ac:link><ri:page ri:content-title="Zend Framework 2.0 Requirements" /></ac:link>; please direct further discussion to that page.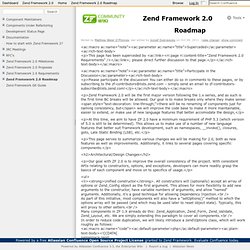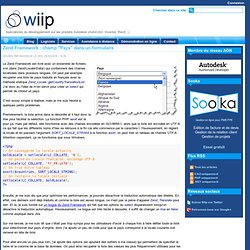 Le Zend Framework est livré avec un ensemble de fichiers xml (dans Zend/Locale/Data/) qui contiennent des chaines localisées dans plusieurs langues.
Zend Framework : champ "Pays" dans un formulaire
La communauté Francophone du Zend Framework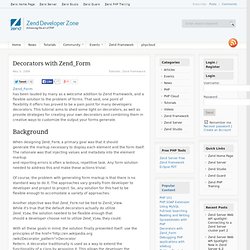 Zend_Form has been lauded by many as a welcome addition to Zend Framework, and a flexible solution to the problem of forms. That said, one point of flexibility it offers has proved to be a pain point for many developers: decorators.
Decorators with Zend_Form
Atelier Zend Framework : Donnez de la puissance à vos modèles