Frameworks PHP
is an event-driven(EDP), component-based web framework similar as architecture to ASP.NET. It is a tool, which will help you to build any php-based website in a very very easy, fast, reliable, safe and well-organized way. It comes with 40+ components, 70+ demos and many tutorials. The framework has very short learning curve, so anyone can start using it efficiently in less than 3 hours.
QPHP - Framework PHP
Seagull - Framework PHP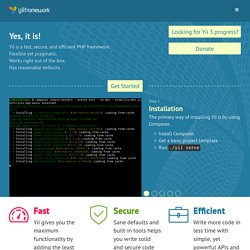 Yii comes with rich features: MVC, DAO/ActiveRecord, I18N/L10N, caching, authentication and role-based access control, scaffolding, testing, etc. It can reduce your development time significantly. Books on Yii
evoCore - Framework PHP
evoCore is the framework at the heart of the b2evolution blogging application. It is freely available for anyone to use. It is dual licensed so you can choose to use it either under the GNU GPL or the Mozilla MPL license. The b2evolution project, for example, is using it under the GNU GPL. What makes it different? We realize there are dozens of freely available PHP frameworks out there.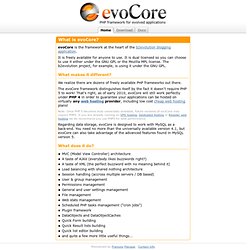 Lion - Framework PHP
If you feel you have reached this page in error, please contact the web site owner: It may be possible to restore access to this site by following these instructions for clearing your dns cache. If you are the web site owner, it is possible you have reached this page because: The IP address has changed.There has been a server misconfiguration.The site may have been moved to a different server. If you are the owner of this website and were not expecting to see this page, please contact your hosting provider.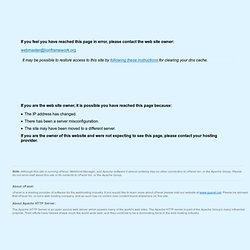 20 frameworks PHP » Sentido Web
PRADO 3.2.3 is released! November 26, 2013 The PRADO Team is proud to announce the formal release of PRADO 3.2.3. Even being a patch release, it packs some important changes.First, it's the first release since the move to github: the revision numbering scheme is different, using git's hashes instead of subversion's number; the download location has changed aswell. Second, the long-awaited patch by javalizard adding even priorities, class and object behaviors, dynamic events and global events has been merged. To start experimenting it, have a look at TComponent's documentation.
Solar Framework for PHP 5: Home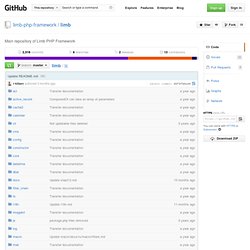 README.md Русский Limb PHP Framework
Limb PHP Framework
Des versions de maintenance pour toutes les branches actives de Jelix sont disponibles : Jelix 1.2.13, Jelix 1.3.8, Jelix 1.4.5 et Jelix 1.5.3. Comme d'habitude, vous êtes encouragés à mettre à jour vos applications avec ces versions. Elles corrigent quelques bugs. Voyez la liste des changements pour savoir lesquels.