Social
MyLikes raises $5.6 million for social endorsements. MyLikes, an advertising platform based on spreading personal product endorsements through social networks, announced today that it raised a $5.55 million round led by Khosla Ventures.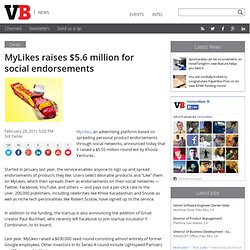 Started in January last year, the service enables anyone to sign up and spread endorsements of products they like. Users select desirable products and "Like" them on MyLikes, which then spreads them as endorsements on their social networks — Twitter, Facebook, YouTube, and others — and pays out a per-click rate to the user. 200,000 publishers, including celebrities like Khloe Karadashian and Snooki as well as niche tech personalities like Robert Scoble, have signed up to the service. Facebook Turns 'Like' Into Its Newest Ad - Advertising Age - Digital. Online Retailers Socialize Shopping. A March 2010 study from the e-tailing group and PowerReviews found that one-half of Internet users research online before making any type of purchase—on the Web, in a store or through any other method.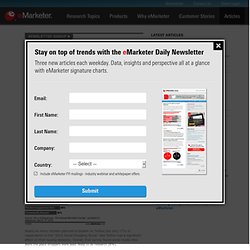 They typically said doing their own research online saved them time and made them more confident about their purchases. Retailers' sites played an important role in the research process, and respondents said the most critical capability for a retailer to have was customer reviews. A lack of user-generated reviews would cause nearly one-half (49%) of respondents to leave a retailer's site. Though the "2010 Social Shopping Study" found that customer reviews had a strong influence on the purchases of 71% of respondents—while only 25% said the same about Facebook fan pages—an earlier e-tailing group study of Web merchants found Facebook had caught on so strongly that more planned a presence on the social networking site in the next year than would have customer reviews.
How To Use Facebook Ads For Social Recruiting. Social recruiting is all the rage right now when it comes to finding new employees to hire.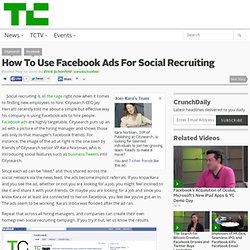 Citysearch CEO Jay Herratti recently told me about a simple but effective way his company is using Facebook ads to hire people. Facebook ads are highly targetable. Citysearch puts up an ad with a picture of the hiring manager and shows those ads only to that manager's Facebook friends. For instance, the image of the ad at right is the one seen by friends of Citysearch senior VP Kara Nortman, who is introducing social features such as business Tweets into Citysearch.
Coupons Drive Sales on Social Media. Advertisers Employ Social Media  Google seems to have nailed the online search advertising market, finding the magic formula to attract both advertisers and consumers.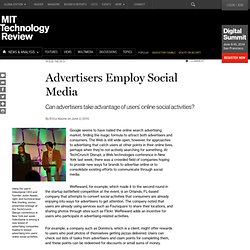 The Web is still wide open, however, for approaches to advertising that catch users at other points in their online lives, perhaps when they're not actively searching for something. At TechCrunch Disrupt, a Web technologies conference in New York last week, there was a crowded field of companies hoping to provide new ways for brands to advertise online or to consolidate existing efforts to communicate through social media. Almost 65 Million Facebook Users "Like" Things Daily.
Want to know how popular Facebook likes are?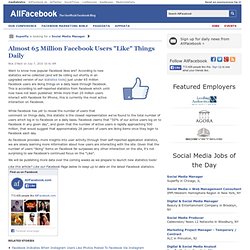 According to new statistics we've collected (and will be rolling out shortly in an upgraded version of our statistics tools) just under 65 million Facebook users are liking things on a daily basis through Facebook. This is according to self-reported statistics from Facebook which until now have not been published. While more than 20 million users interact with Facebook for iPhone, this is currently the most active interaction on Facebook.
While Facebook has yet to reveal the number of users that comment on things daily, this statistic is the closest representation we've found to the total number of users which log in to Facebook on a daily basis. Facebook claims that "50% of our active users log on to Facebook in any given day", and given that the number of active users is rapidly approaching 500 million, that would suggest that approximately 26 percent of users are liking items once they login to Facebook each day. MyLikes Raises $630,000 Seed Round, All From Ex-Googlers. Social marketing is just starting to bubble up and everybody wants in.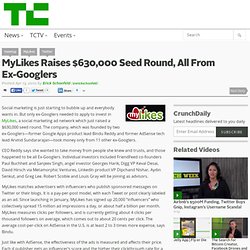 But only ex-Googlers needed to apply to invest in MyLikes, a social marketing ad network which just raised a $630,000 seed round. The company, which was founded by two ex-Googlers—former Google Apps product lead Bindu Reddy and former AdSense tech lead Arvind Sundararajan—took money only from 11 other ex-Googlers. CEO Reddy says she wanted to take money from people she knew and trusts, and those happened to be all Ex-Googlers. Thinking Out Loud: What's Driving Groupon? Dan Frommer, Business Insider In the current issue of the New Yorker, columnist James Surowiecki, who I generally admire, gets it exactly wrong when it comes to Groupon.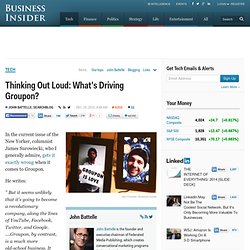 He writes: Amazon Now Taps Into Facebook For Social Product Recommendations. It appears that Amazon has rolled out a new social feature integrating Facebook into your recommendations.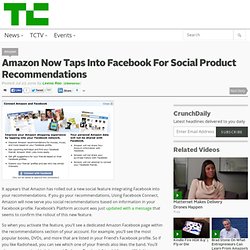 If you go your recommendations, Using Facebook Connect, Amazon will now serve you social recommendations based on information in your Facebook profile. Facebook's Platform account was just updated with a message that seems to confirm the rollout of this new feature. So when you activate the feature, you'll see a dedicated Amazon Facebook page within the recommendations section of your account. For example, you'll see the most popular books, DVDs, and more that are listed in your Friend's Facebook profile. So if you like Radiohead, you can see which one of your friends also likes the band. Facebook to Advertisers: Get More Social. When Mike Murphy joined Facebook in March 2006, he was coming aboard a promising startup with 5 million users, nearly all of whom were in college.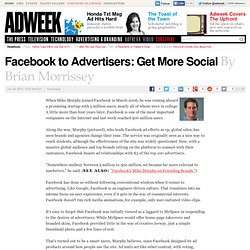 A little more than four years later, Facebook is one of the most important companies on the Internet and last week reached 500 million users. Along the way, Murphy (pictured), who leads Facebook ad efforts as vp, global sales, has seen brands and agencies change their tune. The service was originally seen as a nice way to reach students, although the effectiveness of the site was widely questioned. Now, with a massive global audience and top brands relying on the platform to connect with their customers, Facebook boasts ad relationships with 83 of the top 100 advertisers. "Somewhere midway between 5 million to 500 million, we became far more relevant to marketers," he said.
---