Mobile
Credit Card Cos: Who's Doing What in Mobile Payments?: Tech News and Analysis « Visa is making a strategic investment in mobile payment provider Square, providing the start-up with an undisclosed sum of money as well as a new advisory board member.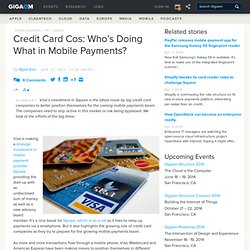 It's a nice boost for Square, which is on a roll as it tries to ramp up payments via a smartphone. But it also highlights the growing role of credit card companies as they try to prepare for the growing mobile payments boom. As more and more transactions flow through a mobile phone, Visa, Mastercard and American Express have been making moves to position themselves in different ways to take advantage of this trend.
It's not just a passing interest for these companies. Visa Gives Square A Big Wet Kiss. Starbucks Starts Accepting Mobile Payments Nationwide. Nearly 6,800 company-operated Starbucks stores in the U.S. will begin accepting mobile payments Wednesday.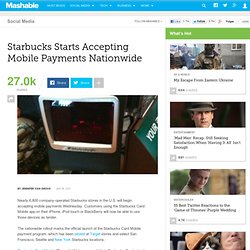 Customers using the Starbucks Card Mobile app on their iPhone, iPod touch or BlackBerry will now be able to use those devices as tender. The nationwide rollout marks the official launch of the Starbucks Card Mobile payment program, which has been piloted at Target stores and select San Francisco, Seattle and New York Starbucks locations. Starbucks Card Mobile [iTunes link] lets users add their Starbucks Cards, track rewards and reload cards as needed via PayPal or credit card. To pay with their phone, app users simply select "touch to pay" and hold up the barcode on their mobile device screen to the 2-D scanner at the register.
An Android application is also said to be in the works, but the company has yet to disclose a release date. KreditFly launches mobile payments system with credit guarantees (exclusive) Online games have seen huge windfalls thanks to the free-to-play business model, where a user plays for free and then pays money for virtual goods.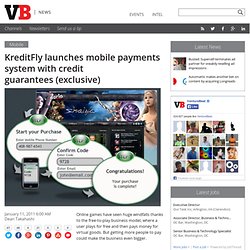 But getting more people to pay could make the business even bigger. That's where mobile payments start-up KreditFly comes in. KreditFly is launching a mobile payments system that makes it much easier for gamers to get off the fence and pay for virtual items. And it carries little risk for merchants, who won't get stuck with the tab so easily when users fail to pay. THE GOOGLE INVESTOR: Will Google's Mobile Payment System Replace Credit Cards? Bump's Mobile Data Swapping API Now Open To Everyone. Last December, mobile data swapping startup Bump opened up its iPhone API in a small, private beta.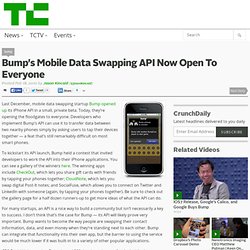 Today, they're opening the floodgates to everyone. Developers who implement Bump's API can use it to transfer data between two nearby phones simply by asking users to tap their devices together — a feat that's still remarkably difficult on most smart phones. To kickstart its API launch, Bump held a contest that invited developers to work the API into their iPhone applications. Bump 2.0 Is Live, Adds Social Networks, Wireless Photo Transfer. Bump, the innovative mobile app that lets you exchange contact information by bumping your phone together with someone else's, just announced the availability of version 2.0 in the iTunes app store.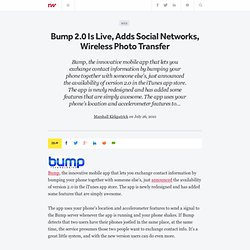 The app is newly redesigned and has added some features that are simply awesome. The app uses your phone's location and accelerometer features to send a signal to the Bump server whenever the app is running and your phone shakes. If Bump detects that two users have their phones jostled in the same place, at the same time, the service presumes those two people want to exchange contact info. It's a great little system, and with the new version users can do even more. Cellphone Payments Offer Alternative to Cash. Zong Emerges: Facebook Deal And $15 Million In Funding. We've been tracking mobile payments provider Zong since 2008 – in a nutshell, it lets you pay for things, particularly virtual goods online, via direct billing to your mobile phone.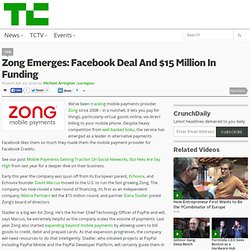 Despite heavy competition from well-backed boku, the service has emerged as a leader in alternative payments. Facebook likes them so much they made them the mobile payment provider for Facebook Credits. Monnaie mobile : des services innovants portés par les usagers « MOBACTU / by @loallard. Certains considèrent le mBanking comme relevant d'une innovation disruptive, au sens où il aura permis un accès à des services bancaires à des populations rejetées par les institutions bancaires dans les pays en développement.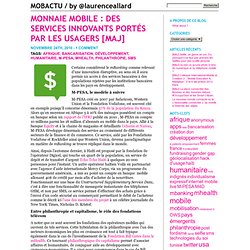 M-PESA, le modèle à suivre Ainsi, depuis l'automne dernier, à Haïti est proposé par la fondation de l'opérateur Digicel, qui touche un quart de la population, un service de dépôt et de transfert d'argent Tcho Tcho Haiti à quelques 20 000 personnes pour l'instant. Un autre opérateur haïtien Voilà en partenariat avec l'agence d'aide internationale Mercy Corps, via un programme du gouvernement américain, a mis au point un compte en banque mobile allouant 40$ de crédit par mois afin d'acheter de la nourriture. PayPal Looks Beyond eBay to a Mobile Future. Facebook Arrives in Tanzania. "You know Facebook?"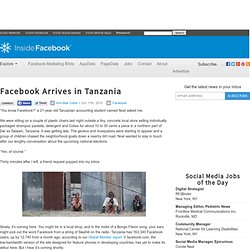 A 21-year-old Tanzanian accounting student named Noel asked me. We were sitting on a couple of plastic chairs last night outside a tiny, concrete local store selling individually packaged shampoo packets, detergent and Cokes for about 10 to 30 cents a piece in a northern part of Dar es Salaam, Tanzania. It was getting late. The geckos and mosquitoes were starting to appear and a group of children chased the neighborhood goats down a nearby dirt road. Noel wanted to stay in touch after our lengthy conversation about the upcoming national elections.
---