Mobile
Visa is making a strategic investment in mobile payment provider Square, providing the start-up with an undisclosed sum of money as well as a new advisory board member.
Credit Card Cos: Who's Doing What in Mobile Payments?: Tech News and Analysis «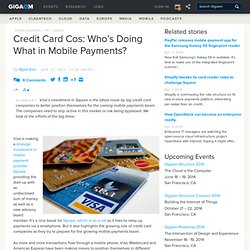 Visa Gives Square A Big Wet Kiss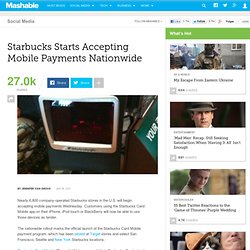 Nearly 6,800 company-operated Starbucks stores in the U.S. will begin accepting mobile payments Wednesday. Customers using the Starbucks Card Mobile app on their iPhone, iPod touch or BlackBerry will now be able to use those devices as tender.
Starbucks Starts Accepting Mobile Payments Nationwide
Online games have seen huge windfalls thanks to the free-to-play business model, where a user plays for free and then pays money for virtual goods.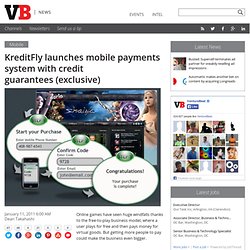 KreditFly launches mobile payments system with credit guarantees (exclusive)
THE GOOGLE INVESTOR: Will Google's Mobile Payment System Replace Credit Cards?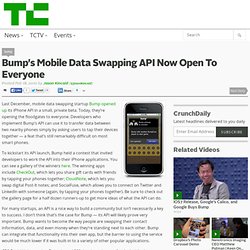 Last December, mobile data swapping startup Bump opened up its iPhone API in a small, private beta.
Bump's Mobile Data Swapping API Now Open To Everyone
Bump 2.0 Is Live, Adds Social Networks, Wireless Photo Transfer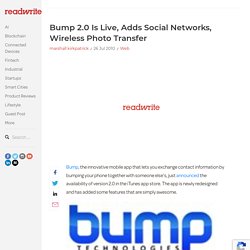 Bump, the innovative mobile app that lets you exchange contact information by bumping your phone together with someone else's, just announced the availability of version 2.0 in the iTunes app store. The app is newly redesigned and has added some features that are simply awesome. The app uses your phone's location and accelerometer features to send a signal to the Bump server whenever the app is running and your phone shakes.
Cellphone Payments Offer Alternative to Cash
We've been tracking mobile payments provider Zong since 2008 – in a nutshell, it lets you pay for things, particularly virtual goods online, via direct billing to your mobile phone. Despite heavy competition from well-backed boku, the service has emerged as a leader in alternative payments. Facebook likes them so much they made them the mobile payment provider for Facebook Credits.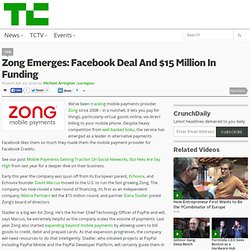 Zong Emerges: Facebook Deal And $15 Million In Funding
Monnaie mobile : des services innovants portés par les usagers « MOBACTU / by @loallard
Certains considèrent le mBanking comme relevant d'une innovation disruptive, au sens où il aura permis un accès à des services bancaires à des populations rejetées par les institutions bancaires dans les pays en développement. M-PESA, le modèle à suivre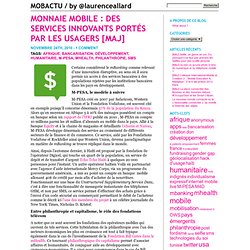 PayPal Looks Beyond eBay to a Mobile Future
"You know Facebook?" a 21-year-old Tanzanian accounting student named Noel asked me.
Facebook Arrives in Tanzania