Gaming
Visa Buys Virtual Goods Monetization Platform PlaySpan For $190 Million In Cash. PlaySpan, a virtual goods monetization platform, has been acquired by Visa.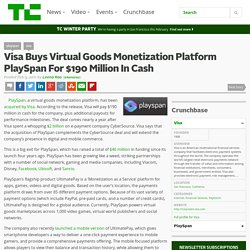 According to the release, Visa will pay $190 million in cash for the company, plus additional payouts for performance milestones. The deal comes nearly a year after Visa spent a whopping $2 billion on e-payment company CyberSource. Facebook's Big Credits Push Shows Itself in CityVille, Other Top Social Games. Over the past year, Facebook has steadily worked to make Credits the only payments option on its platform, but has given few specifics details on what it's doing during the transition.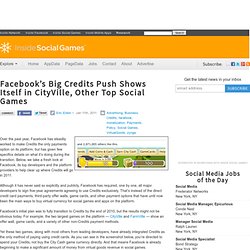 Below, we take a fresh look at Facebook, its top developers and the platform providers to help clear up where Credits will go in 2011. Although it has never said so explicitly and publicly, Facebook has required, one by one, all major developers to sign five-year agreements agreeing to use Credits exclusively. That's instead of the direct credit card payments, third-party offer walls, game cards, and other payment options that have until now been the main ways to buy virtual currency for social games and apps on the platform. Facebook's initial plan was to fully transition to Credits by the end of 2010, but the results might not be obvious today. For example, the two largest games on the platform — CityVille and FarmVille — show an offer wall, game cards, and a variety of other non-Credits payment methods. Zynga targets Indian gaming market with new in-game payment methods. 10 January '11, 12:31pm Follow Social gaming company Zynga, the company best known for games such as Mafia Wars and Farmville, is looking to develop its interests in the Indian market by offering customers a variety of new payment options that include game cards, internet banking and SMS payments.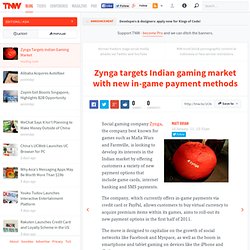 Closing the Gift Shop: Facebook Redefines Credits. We know some of you may be saddened by the news of Facebook closing down its Gift Shop, but we have just one thing to say: good riddance to virtual junk.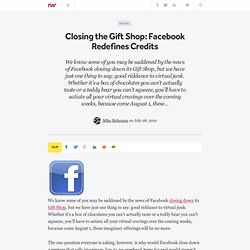 Whether it's a box of chocolates you can't actually taste or a teddy bear you can't squeeze, you'll have to satiate all your virtual cravings over the coming weeks, because come August 1, these imaginary offerings will be no more. The one question everyone is asking, however, is why would Facebook close down a venture that sells imaginary, low-to-no-overhead items for real-world money?
Facebook's product manager for games and credits Jared Morgenstern wrote in a blog post that "closing the Gift Shop may disappoint many of the people who have given millions of gifts, but we made the decision after careful thought about where we need to focus our product development efforts. Ifeelgoods Aims To Help Retailers Replace Traditional Incentives With Virtual Goods.
Here's an interesting one: a new startup aims to help retailers replace traditional promotions and incentives such as coupons and discounts with virtual goods and virtual currencies for a wide range of social games and networks.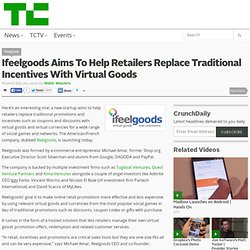 The American/French company, dubbed Ifeelgoods, is launching today. Ifeelgoods was formed by e-commerce entrepreneur Michael Amar, former Shop.org Executive Director Scott Silverman and alumni from Google, DAOODA and PayPal. The company is backed by multiple investment firms such as Tugboat Ventures, Quest Venture Partners and Kima Ventures alongside a couple of angel investors like Adbrite CEO Iggy Fanlo, Vincent Worms and Nicolas El Baze (of investment firm Partech International) and David Scacco of MyLikes.
Marketing Virtual Goods: Q&A with Zynga's Mark Pincus. Businesses that sell anything online can learn a thing or two from Zynga, the fast-growing social-gaming company that has managed to create real markets for virtual goods.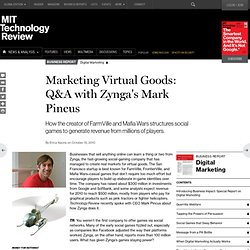 The San Francisco startup is best known for FarmVille, FrontierVille, and Mafia Wars–casual games that don't require too much effort but encourage players to build up elaborate in-game identities over time. The company has raised about $300 million in investments from Google and Softbank, and some analysts expect revenue for 2010 to reach $500 million, mostly from players who pay for graphical products such as pink tractors or fighter helicopters.
Technology Review recently spoke with CEO Mark Pincus about how Zynga does it. TR: You weren't the first company to offer games via social networks. Will Zynga Become the Google of Games? Marketing Virtual Goods: Q&A with Zynga's Mark Pincus. Zynga links FarmVille and other games with American Express rewards. Membership has its privileges — even in the virtual worlds of social games.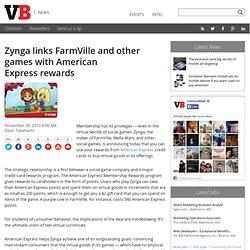 Zynga, the maker of FarmVille, Mafia Wars, and other social games, is announcing today that you can use your rewards from American Express credit cards to buy virtual goods in its offerings. The strategic relationship is a first between a social game company and a major credit-card rewards program. The American Express Membership Rewards program gives rewards to cardholders in the form of points. Users who play Zynga can take their American Express points and spent them on virtual goods in increments that are as small as 200 points, which is enough to get you a $2 gift card that you can spend on items in the game.
A purple cow in FarmVille, for instance, costs 540 American Express points.
---