Gaming
PlaySpan, a virtual goods monetization platform, has been acquired by Visa. According to the release, Visa will pay $190 million in cash for the company, plus additional payouts for performance milestones. The deal comes nearly a year after Visa spent a whopping $2 billion on e-payment company CyberSource.
Visa Buys Virtual Goods Monetization Platform PlaySpan For $190 Million In Cash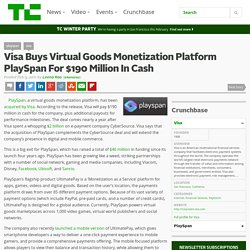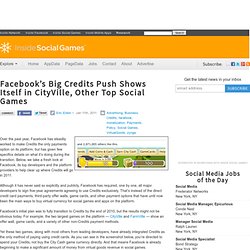 Over the past year, Facebook has steadily worked to make Credits the only payments option on its platform, but has given few specifics details on what it's doing during the transition. Below, we take a fresh look at Facebook, its top developers and the platform providers to help clear up where Credits will go in 2011. Although it has never said so explicitly and publicly, Facebook has required, one by one, all major developers to sign five-year agreements agreeing to use Credits exclusively. That's instead of the direct credit card payments, third-party offer walls, game cards, and other payment options that have until now been the main ways to buy virtual currency for social games and apps on the platform. Facebook's initial plan was to fully transition to Credits by the end of 2010, but the results might not be obvious today. For example, the two largest games on the platform — CityVille and FarmVille — show an offer wall, game cards, and a variety of other non-Credits payment methods.
Facebook's Big Credits Push Shows Itself in CityVille, Other Top Social Games
Social gaming company Zynga, the company best known for games such as Mafia Wars and Farmville, is looking to develop its interests in the Indian market by offering customers a variety of new payment options that include game cards, internet banking and SMS payments. The company, which currently offers in-game payments via credit card or PayPal, allows customers to buy virtual currency to acquire premium items within its games, aims to roll-out its new payment options in the first half of 2011.
Zynga targets Indian gaming market with new in-game payment methods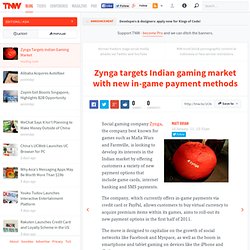 Closing the Gift Shop: Facebook Redefines Credits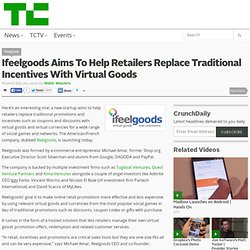 Ifeelgoods Aims To Help Retailers Replace Traditional Incentives With Virtual Goods
Here's an interesting one: a new startup aims to help retailers replace traditional promotions and incentives such as coupons and discounts with virtual goods and virtual currencies for a wide range of social games and networks. The American/French company, dubbed Ifeelgoods, is launching today. Ifeelgoods was formed by e-commerce entrepreneur Michael Amar, former Shop.org Executive Director Scott Silverman and alumni from Google, DAOODA and PayPal. The company is backed by multiple investment firms such as Tugboat Ventures, Quest Venture Partners and Kima Ventures alongside a couple of angel investors like Adbrite CEO Iggy Fanlo, Vincent Worms and Nicolas El Baze (of investment firm Partech International) and David Scacco of MyLikes.
Marketing Virtual Goods: Q&A with Zynga's Mark Pincus
Will Zynga Become the Google of Games?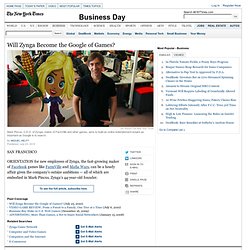 Jim Wilson/The New York Times Mark Pincus, C.E.O. of Zynga, maker of FarmVille and other games, aims to build an online entertainment empire as important as Google is to search. ORIENTATION for new employees of Zynga, the fast-growing maker of games like FarmVille and Mafia Wars, can be a heady affair given the company's outsize ambitions — all of which are embodied in Mark Pincus, Zynga's 44-year-old founder.
Marketing Virtual Goods: Q&A with Zynga's Mark Pincus
Zynga links FarmVille and other games with American Express rewards
Membership has its privileges — even in the virtual worlds of social games. Zynga, the maker of FarmVille, Mafia Wars, and other social games, is announcing today that you can use your rewards from American Express credit cards to buy virtual goods in its offerings. The strategic relationship is a first between a social game company and a major credit-card rewards program. The American Express Membership Rewards program gives rewards to cardholders in the form of points. Users who play Zynga can take their American Express points and spent them on virtual goods in increments that are as small as 200 points, which is enough to get you a $2 gift card that you can spend on items in the game. A purple cow in FarmVille, for instance, costs 540 American Express points.