Gamification
Serious Games? Definitely. Gameification? Too Early To Say.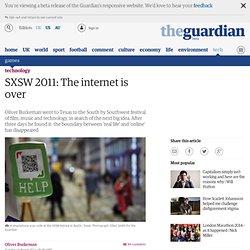 If my grandchildren ever ask me where I was when I realised the internet was over – they won't, of course, because they'll be too busy playing with the teleportation console – I'll be able to be quite specific: I was in a Mexican restaurant opposite a cemetery in Austin, Texas, halfway through eating a taco. It was the end of day two of South by Southwest Interactive, the world's highest-profile gathering of geeks and the venture capitalists who love them, and I'd been pursuing a policy of asking those I met, perhaps a little too aggressively, what it was exactly that they did. What is "user experience", really?
SXSW 2011: The internet is over | Technology
Gamification may have been the buzzword of 2010, but its influence shows no sign of abating in 2011. It is a term derided by game designers, misunderstood by brands and unknown to consumers. So as you set out to "gamify" your business, what are the cardinal rules of gamification? 1.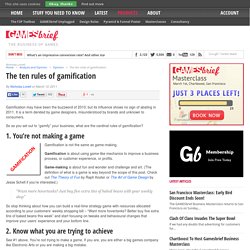 The ten rules of gamification
in Share 0 in Share Recently, Gamification has become an increasingly important part of this mix, using game mechanics to enhance UX and guide user behaviour. When it's done well, the rewards can be impressive; boosting engagement and brand awareness as well as vastly increasing direct conversion, shareability and repeat business. But what exactly do we mean when we use the term?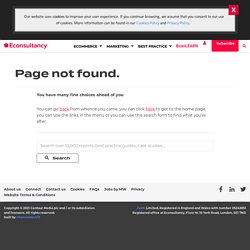 Gamification: what are the rules?
Le double jeu de la gamification » Article » OWNI, Digital Journalism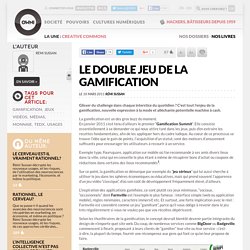 Glisser du challenge dans chaque interstice du quotidien ? C'est tout l'enjeu de la gamification, nouvelle expression à la mode et alléchante potentielle machine à cash. La gamification est un des gros buzz du moment. En janvier 2011 s'est tenu d'ailleurs le premier "Gamification Summit". Elle consiste essentiellement à se demander ce qui nous attire tant dans les jeux, puis d'en extraire les recettes fondamentales, afin de les appliquer hors du cadre ludique. Au coeur de ce processus se trouve l'idée que le gain de points, l'acquisition d'un statut, sont des moteurs d'amusement suffisants pour encourager les utilisateurs à recourir à un service.
Par Rémi Sussan le 01/03/11 | 9 commentaires | 6,610 lectures | Impression La gamification est un des gros buzz du moment. En janvier 2011 s'est tenu d'ailleurs le premier "Gamification Summit".
Les ambiguités de la gamification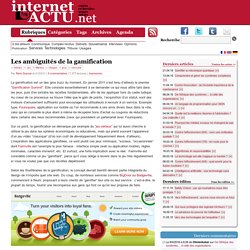 Check-in - Check-IN Audace - Les nouveaux mystères de San Francisco…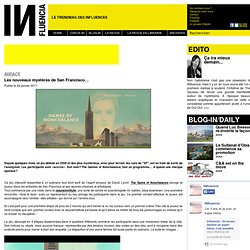 Les nouveaux mystères de San Francisco… Publié le 29 janvier 2011 Depuis quelques mois, un jeu débuté en 2008 et des plus mystérieux, avec pour terrain les rues de "SF", est en train de sortir de l'anonymat. Les participants sont «accros».
Gamification: The Art of Turning Work Into Play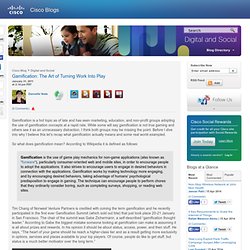 Gamification is a hot topic as of late and has seen marketing, education, and non-profit groups adopting the use of gamification concepts at a rapid rate. While some will say gamification is not true gaming and others see it as an unnecessary distraction, I think both groups may be missing the point. Before I dive into why I believe this let's recap what gamification actually means and some real world exampled.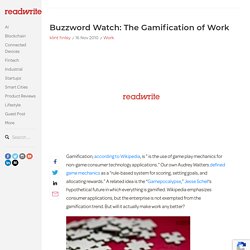 Gamification, according to Wikipedia, is " is the use of game play mechanics for non-game consumer technology applications."
Buzzword Watch: The Gamification of Work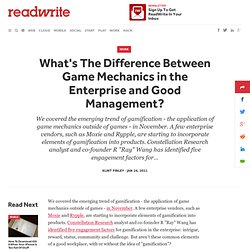 We covered the emerging trend of gamification - the application of game mechanics outside of games - in November.
What's The Difference Between Game Mechanics in the Enterprise and Good Management?
BranchOut Tries to "Gamify" Career Networking on Facebook: Tech News and Analysis «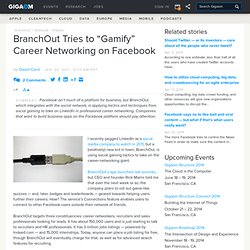 I recently pegged LinkedIn as a social media company to watch in 2011, but a (relatively) new kid in town, BranchOut, is using social gaming tactics to take on the career-networking giant. BranchOut's app launched last summer, but CEO and founder Rick Marini told me that over the next week or so, the company plans to roll out game-like quizzes — and, later, badges and leaderboards — geared towards helping users further their careers. How?
One of the biggest emerging conversations over the past year in Silicon Valley is around "gamification."
MediaShift Idea Lab . How Can We 'Gamify' the News Experience?
Rajat Paharia is a new breed of business consultant. For a monthly fee he promises to invigorate stale websites by turning them into video games. Visitors become players. If they perform certain tasks, such as commenting on articles or e-mailing links to friends, they earn points or badges. Paharia's company, San Jose-based startup Bunchball, has performed more than 50 online makeovers for NBC (GE), Playboy, and other large websites.
"Gamification": A Growing Business to Invigorate Stale Websites
With RewardVille, Zynga Will Pay You To Play Its Games
Jobs 2.0: Data-centric Jobs for Generation Y: Online Collaboration «
While some may say that Generation Y are slackers, I think they're just waiting around for the next crop of interesting jobs.
Cubeduel Launches Social Game on… LinkedIn?
If you haven't yet played around with Cubeduel, do it now. It won't make you any smarter, but it's an oddly entertaining way to browse through your coworkers from years gone by in a hilarious, cage match format. Cubeduel is an unexpected opportunity to evaluate head to head match-ups that you just wouldn't see in the wild. Who would I rather have worked with in that telecom job I had ten years ago: Ramu from accounting, or Nathalie from sales? Predictably, I had never really thought about that question before. Fun!
One of the biggest trends we've seen on the Web in the past year has been the growing "Gamification" of websites and online services.
As websites become games, understand the trend with the Gamification Encyclopedia
Seth Priebatsch: The game layer on top of the world
SCVNGR Pulls in $15M for Real World Gaming Expansion: Tech News and Analysis «
Social Gaming And Career Opportunity Platform Gild Hits 100K Users
Not motivated? Make a game of it - Page 4
Soyons sérieux, jouons! (5/5) : Le jeu est l'arme de la subversion
Soyons sérieux, jouons ! (4/5) : Le jeu est le futur du travail