Recipes
Get flash to fully experience Pearltrees
Makes 6 Servings
This is seriously so easy and so fun! I've seen these t-shirt scarves floating around the web and I got inspired to try it myself and add a little personal flair with re-claimed leather and some broken jewelry. My buddy and fellow HelloGiggler Rachel Specter came over and we got to slicing and dicing and stretching and scarfing.
Labels can be quite expensive, so I thought today I would share how I make mine. There are lots of fantastic tutorials out there by other crafty people, but mine is a little bit different - I am going to show you how to design a logo to use on your labels as well.
Every girl needs a skirt for heading to the market; a market skirt with a pocket for fruit (and a stash of candy). It's the perfect skirt for hanging out and sharing sodas with friends. Whatever your flavor; we have the color.
February 21st, 2012
On Fridays, I teach cooking classes to two kids in our neighborhood.
I'm sorry.
Now I don't want to over sell this, so I'm going to be conservative and simply say, that these are...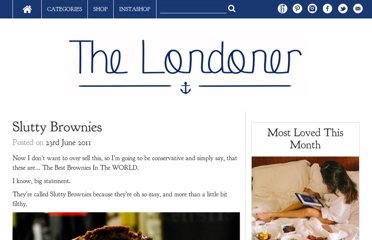 I love mojitos. A bubbly concoction of rum, mint and lime, they're especially refreshing.
I am not sure if it is the kids, everyday life or what, but I have come to really enjoy a cocktail or two every now and again. Combine that with my never ending desire to try something new in the kitchen and I just had to try making my own Kahlua. The main thing I found is that the longer I let this Kahlua rest, the better it tasted as it mellowed out. It is truly delicious and a wonderful hostess gift.