Crafts/DIY
Lattice Crochet Neck Warmer pattern by Alicia Robichaud
Crayon Art
One of my daily rituals is browsing the DIY section of Pinterest. If any of you do the same, then I'm sure you have seen the melted drippy crayon art. Intrigued by the concept of melted wax, I started playing around with crayons and hair dryers.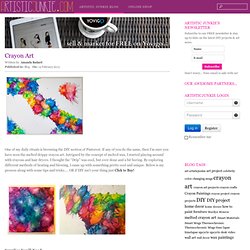 Crayon Art
Tardis Valentine Card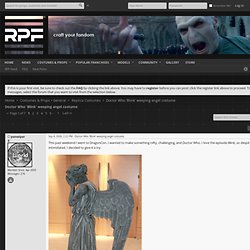 This past weekend I went to DragonCon. I wanted to make something nifty, challenging, and Doctor Who. I love the episode Blink, so despite being a little intimidated, I decided to give it a try.
Doctor Who 'Blink' weeping angel costume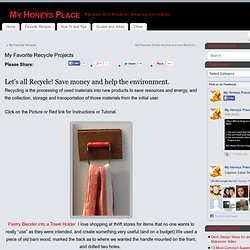 Recycling is the processing of used materials into new products to save resources and energy, and the collection, storage and transportation of those materials from the initial user. Click on the Picture or Red link for Instructions or Tutorial. Pastry Blender into a Towel Holder I love shopping at thrift stores for items that no one wants to really "use" as they were intended, and create something very useful (and on a budget).We used a piece of old barn wood, marked the back as to where we wanted the handle mounted on the front, and drilled two holes.
My Favorite Recycle Projects - My Honeys Place
Diary of a Quilter - a quilt blog: Tutorials
It's hard to find a good present for our grandma (actually, she's my mom, but Anya's grandma). "I have everything," she says always. Ok, we will not buy a present, we will make it! My mom has a beautiful garden in Russia. She grows everything there: potatoes, cucumbers, tomatoes, carrots, cabbage, apples, strawberries, black and red currants, gooseberries... and it's not all.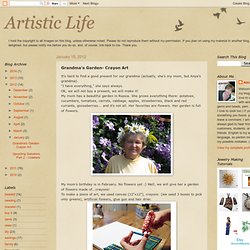 Displayed on a shelf in the entry way of my mother's home is a book entitled To A Child Love Is Spelled T-I-M-E. I have often thought about that statement and how much truth it holds. It's easy for us to say "I love you" but those three words, devoid of action and the gift of our quality time, are simply that—just words. As we celebrate this season of sentiment and affection, let us show our littlest valentines just how special they really are.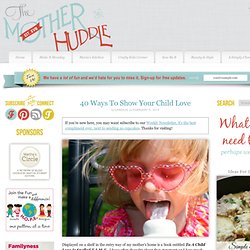 _lxiizxhJ4R1qidtweo1_500.jpg (JPEG Image, 332 × 700 pixels)
Do you dress up for Halloween? I have never been big into the holiday, but with the kids dressing up now it is so much more fun. The twins are going as Ragedy Anne and Andy this year! If you are looking for just a little something to wear, masks are an easy way to subtly dress it up.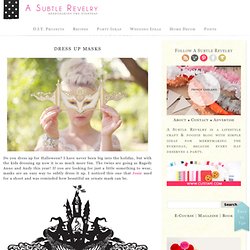 dress up masks | A Subtle Revelry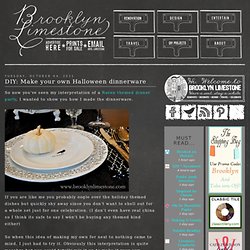 So now you've seen my interpretation of a Raven themed dinner party, I wanted to show you how I made the dinnerware. If you are like me you probably oogle over the holiday themed dishes but quickly shy away since you don't want to shell out for a whole set just for one celebration. (I don't even have real china so I think its safe to say I won't be buying any themed kind either) So when this idea of making my own for next to nothing came to mind, I just had to try it.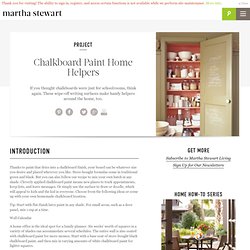 Thanks to paint that dries into a chalkboard finish, your board can be whatever size you desire and placed wherever you like. Store-bought formulas come in traditional green and black. But you can also follow our recipe to mix your own batch in any shade. Cleverly applied chalkboard paint means new places to track appointments, keep lists, and leave messages. Or simply use the surface to draw or doodle, which will appeal to kids and the kid in everyone.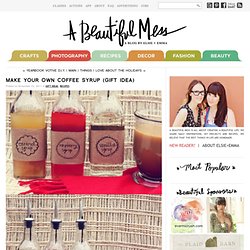 Do you have any coffee lovers on your holiday gift list this year? (If not, feel free to go ahead and put me on your list!) This is a cute little idea for making your own flavored coffee syrups that you can use at home to take your morning cup of joe to the next level.
Water Marble Tutorial. Supplies: orange stick or toothpick, shot glass or cup (the smaller the circumference, the less polish you end up wasting), room temp. water, nail polish, tape (optional, but it helps with the clean up) I like to begin by prepping my nails with base coat and one coat of polish.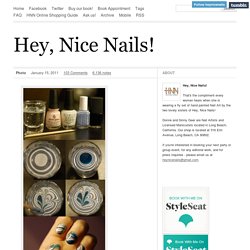 Weekend Roundup Up to anything fun this weekend? I think we might head out on a camping trip tomorrow morning. It'll be Edie's first time, I hope it goes okay and that everyone gets some sleep. We just need to find a good spot!