Arts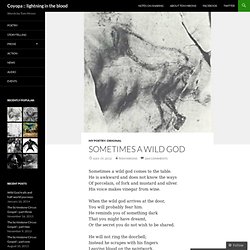 Sometimes a Wild God | Coyopa :: lightning in the blood
Sometimes a wild god comes to the table. He is awkward and does not know the ways Of porcelain, of fork and mustard and silver. His voice makes vinegar from wine. When the wild god arrives at the door, You will probably fear him. He reminds you of something dark That you might have dreamt, Or the secret you do not wish to be shared.
Before I Die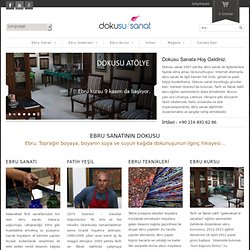 GELENEKSEL TÜRK EBRU SANATI
Dokusu Sanata Hoş Geldiniz. Dokusu sanat 2007 yılında, ebru sanatı ile ilgilenenlere faydalı olma amacı ile kurulmuştur. İnternet sitemizde, ebru sanatı ile ilgili hemen her türlü, görsel ve yazılı bilgiyi bulabilirsiniz. Dokusu sanat kurulduğu günden beri, merkezi İstanbul'da bulunan, Tarih ve Tabiat Vakfı ebru eğitim seminerlerini idare etmektedir. Bunun yanı sıra Litvanya, Letonya, Ukrayna gibi dünyanın farklı ülkelerinde, farklı üniversite ve özel organizasyonlarda, ebru sanatı eğitimleri düzenlemekte ve sergiler tertip etmektedir.
Atelier des Elfes.Création de Bijoux.Tour d'oreille. Diadème elfique.
Création de Bijoux elfiques Ce site propose quelques bijoux immédiatement disponibles en ligne (livrés en 48h par la Poste) mais ce sont surtout des exemples de ce que je peux fabriquer pour vous. Délai de fabrication de 3 semaines environ. En effet, je travaille principalement sur commande à partir de vos mesures, de vos idées, de vos dessins ou photos.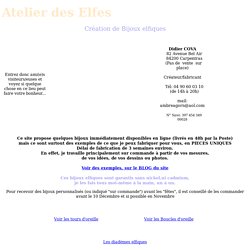 Le blog que vous cherchez n'est plus accessible depuis cette adresse. Vous pouvez le consulter à l'adresse suivante : asso-lea.over-blog.com Liste des articles du blog asso-lea.over-blog.com : Une promesse réalisée en don pour le Japon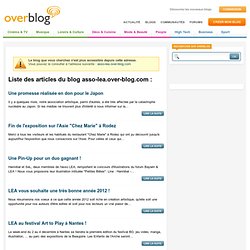 Les Enfants de l'Arche - Association Artistique - Edition BD Artbook Photo Illustrations Jeunesse Roman
Vicky Butterfly fait prendre tout son sens au concept de candeur. Pour s'en convaincre, il suffit de contempler la délicatesse qui émerge de chacun des ses gestes ou tout simplement de lire son interview ! Notre première interview était avec une allemande, il fallait donc bien à un moment revenir aux sources. C'est chose faite, avec cette fois ci la brûlante Xarah Von Den Vielenregen qui sera une des guest stars du Paris Burlesque Festival !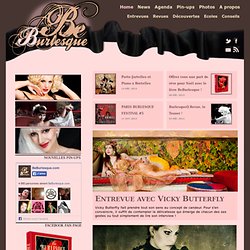 Be Burlesque | Le site que les pin-ups adorent !