Arts
Sometimes a Wild God | Coyopa :: lightning in the blood. Sometimes a wild god comes to the table.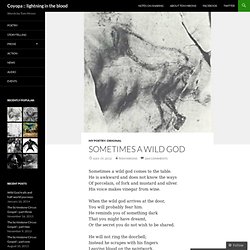 He is awkward and does not know the ways Of porcelain, of fork and mustard and silver. His voice makes vinegar from wine. When the wild god arrives at the door, You will probably fear him. He reminds you of something dark That you might have dreamt, Or the secret you do not wish to be shared. Before I Die. GELENEKSEL TÜRK EBRU SANATI. Atelier des Elfes.Création de Bijoux.Tour d'oreille. Diadème elfique.
Les Enfants de l'Arche - Association Artistique - Edition BD Artbook Photo Illustrations Jeunesse Roman. Be Burlesque | Le site que les pin-ups adorent ! Origami.
Photo. Contes. Peinture. Musique. Danse. Illustration. Sculpture.
---