Design Brief Support
Www.mh1webdesign.com/files/design_brief.pdf. How to write a brief for a website. If you're reading this, the chances are that you have been given the task of writing a brief for a new website or a redesign of your old website.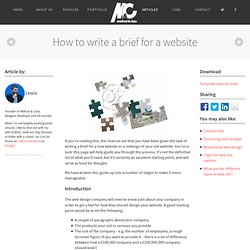 You're in luck: this page will help guide you through the process. It's not the definitive list of what you'll need, but it's certainly an excellent starting point, and will serve as food for thought. We have broken this guide up into a number of stages to make it more manageable. Introduction. 7 Basics to Create a Good Design Brief. There are a number of basic parts that any good design brief includes.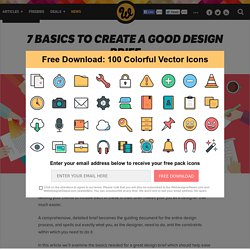 Getting your clients to include each of these in their brief makes your job as a designer that much easier. A comprehensive, detailed brief becomes the guiding document for the entire design process, and spells out exactly what you, as the designer, need to do, and the constraints within which you need to do it. In this article we'll examine the basics needed for a great design brief which should help ease your design work and avoid any problems with your clients. The Ultimate Design Brief. A few times a month we revisit some of our reader's favorite posts from throughout the history of FreelanceSwitch.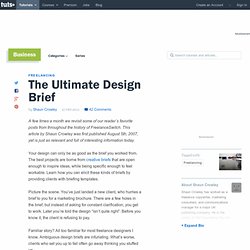 This article by Shaun Crowley was first published August 5th, 2007, yet is just as relevant and full of interesting information today. Your design can only be as good as the brief you worked from. The best projects are borne from creative briefs that are open enough to inspire ideas, while being specific enough to feel workable. Learn how you can elicit these kinds of briefs by providing clients with briefing templates.
---