Syhassett
"My life has a superb cast, but I can't figure out the plot." ~ Ashleigh Brilliant I LOVE to create. That's my favorite thing to do along with being with my family and friends and babysitting my three grandchildren!!
More Smocking......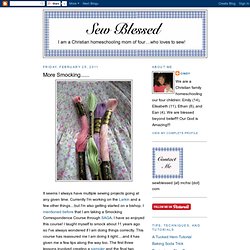 It seems I always have multiple sewing projects going at any given time. Currently I'm working on the Larkin and a few other things....but I'm also getting started on a bishop. I mentioned before that I am taking a Smocking Correspondence Course through SAGA. I have so enjoyed this course! I taught myself to smock about 11 years ago so I've always wondered if I am doing things correctly. This course has reassured me I am doing it right.....and it has given me a few tips along the way too.
smARTist® Career Blog
by Ariane Goodwin, Ed.D. Bridge the gap between making art and making a living, … one tip at a time Your smARTip for the week: ==========================Opportunity==========================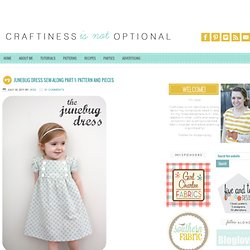 And now for the Junebug dress tutorial/sew along. (without much fanfare apparently) You'll need: 1-2 yards of fabric, depending on child's size.
a Simply~Charmed Life Feeling good when you feel bad Trips are awesome until you come home I love being with friends, chatting about where we see our life headed, making plans, and figuring out my next steps. This past weekend I got to be with some friends and it was fantastic. Re-entry into my life after such an amazing trip should be seamless. I've […]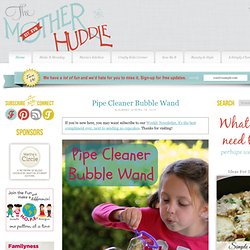 Following the Star | d365 Advent Devotional Series
Paper Paintings
signature sun tea classroom in the milk house studio I have been asked to "test the waters" by the folks at Madeline Island School of the Arts. They are hoping to put me on the class list next year. As it turns out, mixed media classes are not filling up as well as others on the Island. Why is that?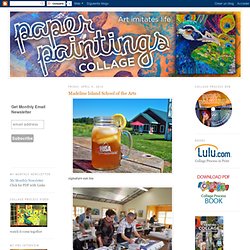 I received an email from Rachel and asked her if she was interested in sharing her story here. She sent the following about her experience with drinking. I am sure she would welcome your comments.
I'm just F.I.N.E.-- Recovery in Al-Anon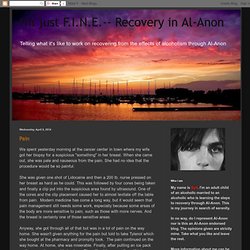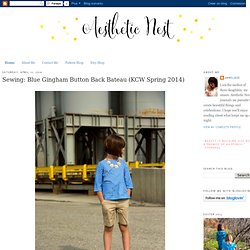 (And you're getting a not-so-sneak peek at my next pattern: The Romantic Dress. It's sewn in another beautiful Anna Maria Horner design: Field Study Sinister Swarm in Blueberry.) This little piece is simple to sew and simple to wear. It's a great piece for transitional weather and layering any time of the year other than the hottest months.
Aesthetic Nest
Texas Freckles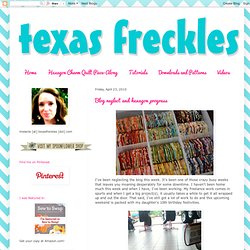 I don't have much worthwhile to say today, but I wanted to post, so here we go. It's RaNdOM fRiDaY! I was inspired by Nichole's pinwheel sampler blocks and decided to try one. I loved making it, so yesterday I made a few more after deciding to cut into my Hope Valley. I guess I'm joining the Pinwheel Sampler Quilt-Along at P.S. i quilt? I hate irons.
Blogsy for iPad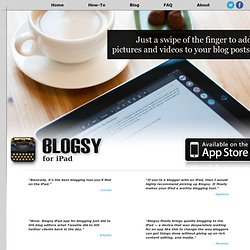 Drag & Drop Videos Drag & Drop your, or anyone's, YouTube or Vimeo videos into your blog post. Just take your finger and slide the video into your blog post. And you can just double-tap on the video to open the Video Settings menu to easily choose size, alignment and embed type.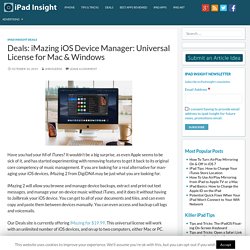 Google Play Movies & TV is a new app for the iPad and iPhone that lets you watch movies and TV shows that you bought or rented through Google Play. The app has a very bare bones UI, with just 3 sections – Watch Now, My Movies, and My TV Shows. Watch Now shows your most recently viewed item. My Movies and My TV Shows show your recently purchased or rented items in those categories. You can't rent or buy anything within the app itself (due to App Store restrictions), but it will show any movies or shows you've paid for in the Google Play Store instantly. I haven't spent enough time in the Google Play Movies & TV store yet to see how good the range of selections is, but I'm happy to see another source of content available on the iPad – and especially another one that supports Google's excellent Chromecast device.
Free Pincushion Patterns
Hi there, lovely ladies! How's your day? I hope you are all fine. I have recently discovered an Etsy shop which sells a variety of cute and adorable party decoration items and the stuff. I am sure most of you already know Erin.
one-of-my-favorite-etsy-shop-lucky-star
Craftiness Is Not Optional sewing, crafts, and parties Durathon Iron review and giveaway April 17, 2014 By Jess 2 Comments Hey, all. I'm pretty sure most of you have irons.
For my third project for my HOLY MOLY I HAVE TOO MANY CRAFT BOOKS challenge, I decided to venture into new territory...smocking. The project comes from this book, Smocking for Beginners. The book's title is very misleading...Beginners?!!?? With a crafter's eye glance through the book's content, I beg to differ. Just look at these projects : Pretty gnarly stuff.
a craft blog: Project 3 - A New Technique Tried
Stitchery Dickory Dock
Im Just A Guy Who Quilts: Bundles of Joy Quilt { A Tutorial }
10 Tools To Upload Facebook Photos
Momastery
Linguine bunnybuns... From outer space! *With pattern* - CROCHET
Baby Monsters! Very basic amigurumi -- EDIT: Photo-tutorial added! - CROCHET